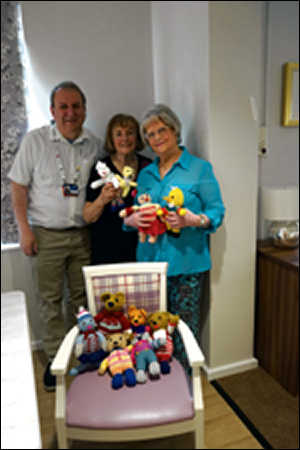 NEEDLE WORK: Alan Benstock with Norma Wineberg, Leia Conway and a selection of the cuddly toys for Ukrainian children
THE Knit n' Natter group has returned to Monday mornings at Sheila Saunders Lawn, part of the Queenshill estate.
The group, led by Norma Wineberg, hasn't met for more than two years because of the pandemic.
The team of knitters has been hard at work producing bonnets and blankets for the premature baby unit at St James's Hospital, blankets for rough sleepers in Leeds, and a variety of items for organisations in Israel.
The knitters also responded to a request from Manchester Airport volunteer chaplain Alan Benstock for cuddly toys for child refugees from Ukraine.
"Across the region, faith groups have been knitting toys for the refugees arriving at the airport," explained Alan. "For the young child refugees, to be given a bright colourful toy shows they are welcome in the UK and is a distraction from the trauma they are escaping from."
To read more on this story, subscribe to our new e-edition. Go to E-edition.jewishtelegraph.com.
---
If you have a story or an issue you want us to cover, let us know - in complete confidence - by contacting newsdesk@jewishtelegraph.com, 0161-741 2631 or via Facebook / Twitter