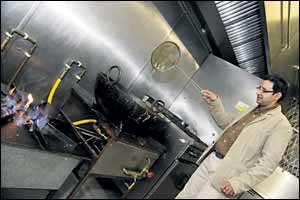 TASTY: Tariq Khan checks on the production process at Swaad's London premises
Paul Harris meets a Pakistani-born Muslim who has formulated a unique blueprint for Middle East peace
BEING Pakistani and founding and running a strictly kosher London food company is unusual enough.
Add into the mix that Muslim-born Tariq Khan is agnostic and that he is presently completing a doctorate in Zionism and the story becomes even more interesting.
Learn from Tariq that all the profits from Swaad Foods will benefit education of Palestinian children and the story becomes even more intriguing.
Discover then that the company's sales manager is the son of a Pakistani Jewish mother and you feel compelled to find out more.
Tariq himself was educated in a radical Pakistani institution and gives the distinct impression that this is what has influenced his life and career.
He studied in a madrassa that taught religion only "in a very anachronistic way which sees life in just black and white with no grey areas".
He explains: "The combination of my research into Zionism and my passion for food gave me the idea for Swaad, after visiting Israel a couple of times and discovering that authentic Indian food wasn't available for the kosher market.
"I'm also concerned about the political situation in the Middle East and have friends on both sides of the divide.
"The actual and perceived hatred of Palestinian children [for Israelis] is quite deep - quite enormous - and I believe you have to pass that hurdle before you can live your life in any sense of the word."
It was that realisation that persuaded him to set up a charity to pay for secular-based education for young Palestinians.
If those youngsters had access to the best possible education at grassroots level, Tariq believes, instead of having education "just for living, and learning for living they could have learning for leading.
"They could go just beyond the living." he adds. "They could provide leadership for that region, then there's a chance for peace to survive.
"Otherwise I think that all this talk about peace is very thin on the ground unless a new generation perceives things differently".
Terrorists tended to have little education, he pointed out.
Tariq determined that it was important that such a charity should not be controlled by whoever provided the funding but by a commercial enterprise, which was where the concept of Swaad was born.
He hopes that the kosher Indian food company will grow into a multi-million pound enterprise which does not operate as a charity, with 100 per cent of its profits going to the education project called 'Iqra'.
That translates as "read", although Tariq points out, it goes far beyond just that.
He recalls that the first word that came to the prophet Mohammed was 'read', but that meant not merely to read and write but to question.
"He didn't say you have to believe in me. He said that you need to think," explained Tariq.
"The second word which is most important in the Koran is 'think'. So this is one of the basic driving forces behind Swaad."
Tariq wants to start with Palestinian children because that is "one of the areas where I believe that we need to have a testing ground because it is very painful to see that the Muslim world is covered by so many dictatorships, kings".
He adds that this system needs to be a success as a role model for the rest of the Muslim world.
He hopes that eventually the plan would extend automatically to Israeli children too.
"If I can change the perception of these growing children to other nations and make them aware of their own potential that would benefit the Israeli side," he insists. "I do not see them as two different, disengaged entities.
"Engaging them in a sustainable way, they become part of the same landscape and benefit from each other. Only then does peace stand a chance."
He explained that the funds would pay for a new curriculum, books, teacher training and buildings.
"Teacher training is the most important because if you can train these teachers how you want these kids to develop lateral thinking and thinking in different ways without giving them the solutions instead of them searching for solutions, it is a type of investment which is more important.
"But I want to run a whole school, the whole basic package."
He feels that because Israel has its own education system it would not be benefit in the same way.
But he does envisage the establishment of universities and colleges in the Palestinian territories which would operate exchanges with Israel whereby young people from both sides could study in each other's institutions.
"So you have a real cultural milieu instead of just studying textbooks," he explains.
He describes as "wonderful" the experiences I he enjoyed with the Jewish community once he started Swaad, mentioning particularly was the sustained economic and social interaction.
"That gives you the depth of understanding of that culture that doesn't come otherwise," he said.
The route to his interest in Zionism is fascinating.
Tariq, now 49, read industrial relations in Islamabad before taking an MPhil in Soviet studies in Glasgow.
He recalls: "In the middle of my studies the Soviet Union disintegrated, so I spent some time trying to figure out which were the most crucial foreign policy issues to concentrate on.
"There were three areas - China, India and Israel.
"Zionism intrigued me most in light of its impact on the Muslim world."
It was an article written in Punjab in the 1920s by Nobel Prize nominee Allama Mashriqi who had met Einstein in Germany that influenced Tariq.
"He was so involved in a campaign against Zionism that he trained, raised and financed 10,000 people to go and fight in Palestine.
"He wrote to the Egyptian Prime Minister asking if he would help transport these people to Palestine but he didn't want to get involved at that time.
"It intrigued me and that was why I chose Zionism rather than the other two super-powers."
And he has been studying the subject for the past three years.
Born in Gujranwala, Pakistan, Tariq arrived in Britain in 1986.
He entered the restaurant trade and also dealt in fireplace accessories.
Three years ago he visited Israel for the first time and it was whilst dining at the famous Tandoori Restaurant in Tel Aviv, that the plan for kosher Indian cuisine came to him.
Together with a business partner, Sylvia Moses, they started Moses Tandoori in London, under Beth Din supervision.
It was, in his words, "a testing area" for his eventual plans but never stood a chance of being sufficiently profitable to fund the foundation he envisaged.
He says that Muslim acquaintances expressed more surprise at the time than the Beth Din which seemed unconcerned about the involvement of a Pakistani lapsed Muslim.
"These barriers are just of our own making. We make them and they just won't come down," he lamented.
Tariq incredibly still holds down a full time job in the housing benefits department of the London borough of Ealing, while also running Swaad in North Acton, London.
What did the London Beth Din feel about a Pakistani-born Muslim (albeit now an agnostic) running a kosher food company?
"I had a few discussions with them," recalled Tariq, "and they had my previous history. They knew that I was aware of the kashrut laws and very strict with regulations and procedure."
But what was their reaction to the fact that Swaad would benefit Palestinian education?
"I didn't bring that to London Beth Din because to all intents and purposes I wanted it to stand on its own feet as a commercial enterprise.
"Food in itself is not a charity but 100 per cent of the funds will go towards the charity.
"That's why I decided, let's make it profitable and get it off the ground and I want to run it on corporate and commercial principles .
"I still haven't told the London Beth Din, but I would like to involve the whole community eventually."
Tariq says that once Swaad is running profitably he plans to devote himself full time to the company and the charity, which at present has one person dedicated to working for it.
Meanwhile Swaad is producing 26 pre-packed kosher Indian meals, the majority of which are vegetarian, but include chicken and beef too.
And helping to promote sales is Benjamin May, 24, whose mother Elishama was born in Karachi where she lived until the age of 12.
Apparently, just one Jewish lady remains there and cares for the cemetery.
For those wanting to sample Swaad's wares, they are available from among other outlets, Shefa Mehadrin and Boyko's in Manchester, Peter Myers Kosherie in Leeds and Giffnock Deli in Glasgow. Boyko's also wholesale the products