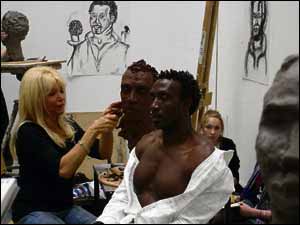 GOING FOR GOLD: Frances Segelman with athlete Linford Christie
John Fisher is impressed to meet Frances Segelman, who has had a phenomenal career as sculptor to royalty and the stars
SHE'S had a brilliant 30-year sculpting career, creating more than 100 amazing lifelike busts of royalty, celebrity icons and top-listed personalities who are household names.
Mention the Queen, the Duke of Edinburgh, Billy Bremner, Bruce Forsyth, Sir David Frost, Sven Goren Eriksson, Jack Rosenthal or Cherie Blair and Leeds-born Frances Segelman has sculpted them all.
The 1999, 9ft statue which captures the fiery energy of soccer legend Billy Bremner with his arms outstretched and fists clenched, which Frances sculpted for Leeds United at Elland Road, has become something of a Leeds landmark along with the town hall and Kirkstall Abbey.
"As a sculptor there can be few things more rewarding than seeing your work in the heart of the community," Frances notes.
It was while she was sculpting the Scottish footballer that Frances received a call from the Duke of Edinburgh's office at Buckingham Palace asking to see her portfolio, which eventually led to a commission in 2000 to sculpt the Queen's husband.
The request for a sculpture of the Duke came through London Youth, where he had been patron of the charity for 25 years, and the bust was required to commemorate the anniversary.
In fact, so successful was the finished sculpture that Frances was motivated to write personally seven years later, as she actually thought the same sculptor should do the Queen as well as the Duke of Edinburgh - her request was to meet with Royal approval.
"With the Royal Family you go back for different sittings which could be spread over months - they gave me three or four sittings for the Queen and the Duke of Edinburgh," Frances tells me.
The task of sculpting the royals was no mean feat as Frances had to capture the likeness in a reasonably short session.
"The Duke was very talkative actually and spoke a lot about his own art work, his watercolours and his carriage racing and also his favourite artists," recalled Frances.
"The Queen was also very chatty - in fact, too chatty because when you have only an hour and a half to do the work you savour the time. You know it's wonderful to be with her, but on the other hand you have to produce something."
There are three busts of the Queen. The first one is at Baden Powell House, the headquarters of the Scouts Association in Kensington. The second (unveiled by the Duchess of Cornwall) was done for Barnardos and the third was delivered to Buckingham Palace at the end of 2009.
It now stands side by side with the bust of the Duke, which is how Frances originally visualised them.
Frances is a fellow of the Royal Society of Arts and an associate of the Royal Society of British Sculptors. She works from her riverside gallery by St Katherine's Dock, London, as well as from her portrait studio in Pond Square in Highgate Village.
Born in Leeds, Frances - with traffic-stopping good looks - was always interested in the character behind the face and learned a lot about studying personalities at the cinema.
Her paternal family was steeped in the world of film. Her grandfather Sydney Segelman was one of four brothers - the others were Jack, Oscar and Gerald - who formed the JOGS circuit, controlling 20 northern cinemas.
Gerald was lessee of the Forum, a famous picture palace on Chapeltown Road and one that Frances frequented often.
Later on, Frances' father Stanley took over the lease of another popular cinema - the Empire in Rawdon.
So she was brought up in a world of make-believe, watching the movies from the age of five.
"My grandparents lived close by and I was an only child," she said. "I had lots of uncles and aunts and friends who made a fuss of me, which was very nice."
Frances was just 14 when she was spotted by a modelling agency while at Gateways school.
"I was married at 17 (to Max Goldberg)," she said. "I absolutely loved modelling and I did that until I left Leeds to live in London when I was 21, but didn't pursue a career there.
"In London, I lived a life of luxury. At first I didn't do any work, but gradually I turned to my sculpting. I'd always loved art and been very passionate about it. Sculpture was a hobby. I once did a bust of my father when I was very young."
Frances didn't go to art school per se, but went on a sculpture course, attending classes once a week to learn about the procedure one has to go through to build a sculpture. After that she just "read and read and read" about art and human anatomy until it became a real passion. And from then on she "just kept doing it".
One day a local vicar, having seen some of her work, inquired if she could teach at his community centre.
"I was reluctant at first but he insisted, so I started part-time in this little arts centre in a suburb of London and I absolutely loved it," she recalled.
"From then on, we started having exhibitions for the group and someone said, 'Oh come on Frances, sculpt something for the class'. So I did - I sculpted the vicar.
"There were crowds of people there. I realised then that I could do this very fast work in two hours flat - but only in front of a lot of people. And my speed sculpting took off from there."
When it came to marketing and actually selling her work, Frances believed in starting at the top.
So she went to leading London store Harrods to see if they would buy her work.
It was the early Nineties and they had just opened a new space called The Egyptian Room. They were impressed and she was commissioned to do seven bronze groups and even a bust of Sir Francis Drake (1993).
What Frances looks for in a perfect sitter is the character of the person.
With just 30 minutes to chat prior to the actual sculpting, she manages to scrutinise their personality, study their expressions, and observe how they sit, relax and hold themselves. "People are individual and unique," she says.
She sculpted disgraced MP John Profumo in 2003, a few years before he died.
Frances did that for Toynbee Hall, the East End's centre for social reform where Profumo had gone to work after his resignation, devoting his energies to helping alcoholics, drug addicts, ex-convicts, the elderly, the sick and lonely.
"But during our sessions he turned out to be a very naughty boy indeed," Frances recalled.
"He was a bit of a monkey actually, so we had to have someone sitting in the room with me while I was sculpting him."
The next commission Frances will be working on is a bust of London Lord Mayor Boris Johnson.
"That should be fascinating," she says excitedly.
Frances has two children - John is married to Josette and they have a son Dillon. Daughter Victoria is married to Justin Harris, from Leeds, and they have a son Charlie. Her mother, Sonia Stankler, lives in Leeds.