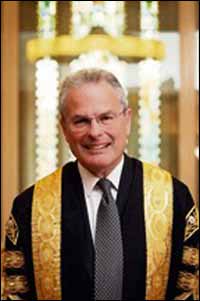 LORD DYSON: "I was never a rebellious teenager - in fact, I probably gave my parents a fairly easy ride."
John Fisher chats to Lord Dyson, Justice of the Supreme Court of the UK, about his early days in Leeds - and discovers how childhood experiences involving corporal punishment haunted his schooldays.
THE announcement that every Justice of the Supreme Court of the UK will in future be styled as Lord or Lady signifies that Leeds-born Sir John Dyson is now known as Lord Dyson.
The Queen signed the warrant to ensure that all Justices of the Court are described and addressed in a similar manner.
In a long and distinguished law career, Lord Dyson is used to handing out punishment to fit the crime.
But corporal punishment - an integral part of education in the Fifties and Sixties - and dished out regularly to children, was an abiding memory from his early years.
John was five when he attended Ingledew College in Leeds where he was regarded as a star pupil. However, children were repeatedly punished.
"We were given the sole of the slipper quite regularly and some teacher would suddenly hurl pieces of chalk at pupils, which could be lethal," he recalled.
John's family lived in Belvedere Road and there was this little private school nearby owned by Miss Rider.
The schoolchildren would often walk past his house.
One winter, when John was seven, there was a lot of snow about and on impulse he hurled a snowball at one of the children.
Grey-haired Miss Rider - tall, thin and stooping - saw this and decided to administer her own brand of punishment.
"She took me by the hand and escorted me up the road back to her school," said John.
"Miss Rider then proceeded to lock me in the premises and left me alone for 15 minutes which for a small child seemed like an eternity.
"The idea that this could happen today is inconceivable. Behave like that today and a person would be in deep trouble."
Corporal punishment was again to rear its ugly head when John attended Leeds Grammar School.
In the senior school the power to punish was in the hands of the prefects where they were viewed as "executioner" by the staff.
"This was a big theme that went right through schooling in those days and the strange thing was that this cruelty was accepted as part of life," he said.
"I was quite an obedient little child although I did get beaten occasionally and not unduly.
"Not only did the teachers use various implements to parts of your body but they had this thing called Prefect Executives [PE] which was like a prefect police force for students.
"If a boy was put on PE, then this poor person had to appear before the assembled prefects who would dish out corporal punishment to their fellow pupils, which looking back on it was absolutely appalling."
At the age of eight, John had to make his own way to the grammar school after being shown how to get there by his father on the first day.
"We journeyed down from Alwoodley to Leeds bus station where we got the No 56 to the school and then my father deposited me in the junior school," he said.
"And after that I was on my own. That is what one did in those days. I was an obedient little boy."
Attending LGS was a bit of a wake-up call because he only scraped into the bottom of the third tier of the classes.
"I was to make good progress, but I wasn't a star pupil by a long way," John recalled.
However, when he reached senior school he was soon in the top stream. He wasn't particularly good at sports and excelled in the arts rather than the sciences and obtained an internal scholarship. Ever since he can remember, John has been passionate about music and praises his late mother for that.
He took piano lessons from an early age and can recall when he was nine winning a competition at LGS for playing the Bach Minuet in G.
His father bought him a handsome copy of Dickens' David Copperfield as a gift, which he still has today.
John then progressed to lessons with Dame Fanny Waterman when he was 13 and stayed with her for four years.
"I owe Dame Fanny a considerable debt of gratitude," he said. "She was a great teacher and perfectionist. The simplest piece had to be performed to concert standard.
"She opened the doors to music for me and encouraged me to develop an appreciation for piano playing which I still have today."
John and his brother Robert were very close - very self-contained and happy to enjoy each other's company.
Together they supported Leeds United and went to Headingley to watch cricket - "a fairly uneventful childhood really," John adds.
"I was never a rebellious teenager. In fact, I probably gave my parents a fairly easy ride."
Robert sang in a choir at school, but John never did.
"I had to wait till I reached university to do that and then 35 years ago I joined a choir near where I live and I've been a member ever since," he said.
John's paternal grandparents came from Lithuania at the turn of the 20th century and settled in Leeds.
His father Richard was born in 1909.
"He was a bright man, but he was rather lazy," John said.
"He left school at 15 and was training to be an accountant, but he didn't work hard enough. So he went into business with one of his siblings and opened a dress shop in Leeds.
"My mother Gisella was born in Bulgaria and met my father, very romantically, on a skiing holiday in Chamonix just before the war," he said.
"She was living in Budapest at the time and after marrying my father came to live in Leeds, which was quite a cultural shock to her after living a fairly comfortable middle-class life in a very beautiful city.
"Leeds before the war was not what it is today.
"She came into my father's business and they built up a very chic dress shop in Commercial Street and kept that going until 1970."
Always ambitious for her son, Gisella was a very dominant and colourful person and highly outspoken.
She was an incredibly powerful influence on John, much more so than his father.
John describes himself as quite a shy person and says it was his father who wanted him to become a barrister.
Although he didn't consciously go to the Bar because that was what his father wanted, he thinks it may have subconsciously operated on his mind.
"When I eventually worked out what I wanted to do, I rather got there by a process of elimination more than anything else," John said.
He read classics at Wadham College, Oxford, although he went there to read law. His peers said, "If you want to do law stick to your classics", which he did and was called to the Bar at the Middle Temple in 1968.
In 1970, John married Jacqueline Levy with whom he has a daughter, Michelle, born in 1971 and a son, Steven, born two years later. The couple have five grandchildren.
He took silk in 1982 and was appointed a Recorder in 1986, going to the Bench of the High Court in 1993 and presently received a knighthood.
Five years later, he became presiding judge of the Technology and Construction Court - a specialist part of the Queen's Bench Division.
In January, 2001, he was appointed as Lord Justice of Appeal in succession to Lord Justice Nourse and was appointed to the Privy Council.
In 2003, John was promoted to deputy head of civil justice and in 2009 was said to have come a close second to Lord Neuberger to succeed Lord Clarke as Master of the Rolls.
In April, 2010, he was appointed a Justice of the Supreme Court.
At the Bar he famously flirted with show business in one of his more colourful cases which involved the Dave Clark Five.
Clark had produced a rock musical in the Eighties called Time which went into the Dominion Theatre in London with Cliff Richard.
"Mr Clark thought it was a wonderful work and that it would run and run like a Lloyd Webber, but it didn't - it lasted for about two years and lost money," said John.
"He blamed the box office at the Dominion Theatre for not selling the tickets properly. And he took proceedings against the theatre, claiming something in the region of £10million which was quite an extraordinary claim.
"In fact, I regard this case as one of my triumphs.
"I established that there had been negligence. The box office had been a bit of a shambles - there was no doubt about that - and we were able to demonstrate that fact.
"Mr Clark was awarded damages of £600,000 which I thought was a bit of an achievement, but he thought was rather disappointing," he recalled.
John has always enjoyed working hard. When most of his contemporaries have taken retirement he, at 67, has just started a new job in the Supreme Court.
He counts himself fortunate in his personal life because John has been married happily for 40 years.
"My wife is an academic lawyer and she understands what I'm doing and is very supportive," he said.
Is retirement on the cards?
Not at the moment John confirms, but if he did he would most likely travel a lot.
As walking, choral singing and piano playing are the chief characteristics of his household, John would not be idle for long.
"I think I would still like to be involved in the law, possibly in an advisory capacity or an inquiry or arbitration," he says.
"At the moment I've settled down and it's such interesting work. I feel so lucky to be doing something that I really enjoy and which is important.
"But I'm not ready yet to pack up and I hope to go on for another eight years or so in the Supreme Court.
"I still get a tremendous excitement and kick and thrill out of it all."