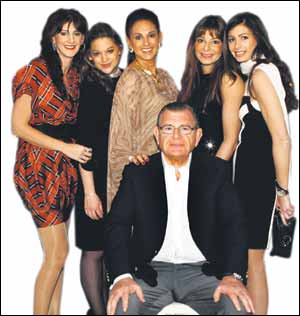 Gerald and Gail Ronson and their four daughters
THERE is a delicious irony in Gerald Ronson today rubbing shoulders with Britain's top police chiefs. They're on first names terms with him and gushing in their praise of the Community Security Trust (CST), the organisation he founded and now chairs.
Yet this is the man who, in 1990, was jailed as one of the major players in arguably the most notorious business fraud trial of the 20th century - the so-called 'Guinness affair'.
It's not a question of rehabilitating himself in society after serving half of a 12-month sentence.
Not at all. Ronson always maintained his innocence, police officers at the time felt that he was the victim of political skullduggery and even warders and fellow prisoners believed he should not have been inside.
Compensation received for what was deemed to be an unfair trial rescued Ronson's reputation, although those close to him never doubted his innocence.
So often those who have fallen foul of the law, but subsequently been cleared "without a stain on their character", still leave the impression that there is something dodgy about them.
But not so Gerald Ronson. After speaking to him about the darkest moments of his life, the auditor is left in no doubt that there must have been a catastrophic miscarriage of justice.
Quite simply, you don't get Israel's Prime Minister (Yitzhak Shamir) desperate to speak to you in prison and police chiefs subsequently accepting invitations to dine with you or a chief rabbi and his successor visiting you inside.
He recalled: "The police were always good and always very fair. They never locked any doors and they never put any handcuffs on me because they themselves knew.
"I remember the chief policeman at Elm Street, which is where the fraud squad operate from. He said to me, 'You shouldn't be here'.
"I said, 'Well you're telling me I shouldn't be here'.
"He said, 'You know, this is a trumped-up trial'.
"I said, 'Yes, but unfortunately, I'm sitting here in the middle of it'.
"They were very decent to me, they were very fair and my relationship with the police has always been good because they know I am an honest man."
Ronson is constantly keen to put the record straight.
"I regard it as an unfair trial," he says quite dismissively, but without a trace of rancour.
"It may have got half an inch reported, but in the year 2000 the European courts declared it was an unfair trial and, in fact, paid maximum compensation.
"It was an unfair trial, it is water under the bridge. It was a trial that was in a particular political climate, which was after Big Bang, and unfortunately I was standing in the wrong place, with the wrong people at the wrong time."
He maintained: "I always said I didn't do anything that was wrong. It's a bit like you watch a football match and they change the rules after the game is played.
"It was a politically motivated trial. It is all history.
"I've got on with my life, it was a dark period of my life, but I'm very fortunate with friends, family, community, the wider community and anybody who has done business with Gerald Ronson."
He insists that his conviction is not something from which he hides, but equally says it is not something of which he is proud.
"It didn't give me any pleasure for my family to have to go through something like four-and-a-half years from 1986 when the matter first blew up.
"Obviously, it was a stressful period in my life, but nevertheless I've always held my head up high and I've got on with my life."
His strength of character saw him through his jail term, but he shrugs that off as one of two major turmoils in his life, the other being his near bankruptcy which saw him lose $1bn before restructuring his company and bouncing back.
Returning to the Guinness affair, he took pains to point out: "I wasn't the only person involved in it, which in fact was share support.
"There was nothing actually illegal. It's a very legalistic complicated thing. The difference between section 151 and section 152 of the Companies Act.
"I was dealing with one of the major companies in the United Kingdom, I was dealing with the chief executive, the finance director and the legal director and I certainly didn't think I was doing anything illegal and neither did any of the people in my company think so.
"It wasn't some funny deal that I was doing wink, nod, nod, don't tell anybody, etc, etc, and you can't buy the shares in Heron's name, etc, etc. Everything that was done was open and above board."
Ronson is self-confessedly a man you take as you find; no airs and graces despite his phenomenal success in business and still bearing with pride his broad London accent.
He's made a fortune and it is he who brought us cut-price petrol at filling stations which, for the first time, were more like convenience stores.
He's come up the hard way though. True, he was born into a comfortable middle-class background.
His father was a furniture manufacturer who decided to change direction into the property business.
But Ronson chose to leave school at 141/2 to join the family firm - not as a cushy number, but sweeping the factory floor, eventually progressing to works manager.
Ronson senior gave him his head, allowing him to design a new dream factory, see it through to fruition and then all but break his son's heart by selling it for a huge profit before the company even moved in.
Perhaps it was the young Ronson's first major lesson in business but it was the work ethic he inherited from his father which today sees him, at the age of 70, working 12-14 hours, five days a week and then embarking on what he describes as his "Saturday job".
That entails a 7am start on more than 40 Saturdays a year and travelling 500-600 miles to inspect his 45 filling stations and a further 14 operated on behalf of other companies.
"I wanted to go into the family furniture business and I used to go with my father as boy of nine on a Saturday into the factory," recalled Ronson.
"Sometimes I used to leave school, go to the factory and come home with my father who I suppose could be classed as a workaholic, as he was a man who was in the factory at 7am and didn't come home for his dinner until 8pm at night."
The day after our interview, the 70-year-old Ronson was due to rise at 6am, fly to Stockholm and be back in his office at 5pm.
"I don't do it for a living. I do it because I enjoy it and it is a discipline and it is a focus and it is my character," he explained.
The word "liquid" regularly punctuates our conversation. Ronson is referring to his financial situation and makes no bones about his wealth or the fact that he's earned it.
But he gives plenty back. "Twenty per cent of my total time I spend in the community," he observes, "charities as well as the wider community.
"And when I refer to the wider community I'm talking about the non-Jewish community, cancer research, my work with the Prince's Trust assisting my wife, Gail, who for nearly 30 years has worked with the Royal Opera House, the Royal Ballet where she is a director and trustee, as well as deputy chairman of Jewish Care."
He proudly points to the fact that all the family are involved, including his four daughters who, as well as their endeavours with the Jewish community, are also very much involved with Great Ormond Street Hospital.
His daughters are all university graduates and the youngest is a qualified teacher of children with special needs.
It matters not that Ronson mixes at the highest levels, you still take him as you find him
"Do I use colourful language? Yes, a lot of the colourful language as I kept reading chapters [of his new autobiography] I removed, but that is how I am," he insists.
"It depends, you know, how the language is. I don't swear in front of women and it is part of my vocabulary in my business.
"Maybe some of it is theatrical at times. If you look at my eyes people see the little sparkle there. They know when I'm being serious. Actually, it is when I am not using colourful language they ought to start getting worried.
"Am I perceived as a tough character? Yes. But when you sort of move it away there is a heart and soul behind it all."
It is that toughness that has helped him survive the knockbacks and which saw him fight fascism on the streets, convincing him of the need for an organisation like the CST which is envied by Jewish and other communities worldwide.
"I did come out of a tough school," Ronson muses. "I came out of a middle-class, comfortable family. I didn't come out of a family where I had to fight in the street to get food. My father was a very tough man. He was a heavyweight boxer and fought for the Jewish Lads' Brigade.
"He was a very tough character and to survive with my father you had to be tough, but that wasn't the problem for me because I also grew up with a view that I always wanted to be my father's son."
But Ronson has always championed the underdog, the downtrodden or those who are bullied, which is why he cannot abide fascism. In prison he encountered warders who were "National Front types".
He observes: "You've got to ask yourself who becomes a prison officer. There are some decent prison officers.
"But there's a big proportion of people who put on a prison uniform and once they put that prison uniform on they become bullies, they become right wing.
"It is unfortunate that you do have a lot of black people in prison and I felt when I was in prison the black people were treated somewhat differently from the white hooligans.
"I made the point relatively clear on a number of occasions to senior officers that although I may have been a prisoner they also knew that I had power and access most probably to the press and to other people and therefore they may have cooled it down if there were situations."
Interestingly, when the-then Chief Rabbi Lord Jakobovits and his successor Sir Jonathan Sacks visited Ronson in Ford open prison, "they didn't really quite know what to say to me.
"I mean, I was in good spirits, I didn't walk around with a long face, you know. I'm in a situation and I have to deal with it.
"I think because they saw me in good spirits and they saw me with a smile on my face. It was a bit difficult for them to know what to say to me.
"I think that it was perhaps more difficult for them than it was for me."
He has always felt the need and the responsibility to put more than a little back into the community, constantly thanking "the good Lord" for giving him the talent and ability to amass a fortune.
Ronson is by no means Orthodox other than in name. He visits the Marble Arch Synagogue two or three times a year - "because it is important that I am there with my flock" - but there's no doubting Ronson's commitment to Judaism and the community.
Our hour-long conversation is not so much punctuated as continually accentuated with interjections of "thank God" and "the good Lord".
He is aware of a hidden guiding hand in his fortunes and his fight back from misfortune.
Typical of our interview: "Thank God the good Lord gave me strength. My father was a remarkable, strong man who always looked at life in a positive way.
"It's in your genes and, thank God, I was blessed with those good genes and the strength to be able to come through that nightmarish period of my life."
Even in prison he accepted his lot, kept his head down and won the respect of warder and fellow inmate alike. For a man used to the best of everything, he didn't find life inside impossible to cope with and was more concerned with arranging services for Shabbat, Rosh Hashana and Yom Kippur and kosher supplies for other prisoners.
" I am a proud Jew and that is what I feel as a responsibility and that's what I've always done as a responsibility," he told me.
He relates in his book how he was visited by a rabbi in the cells before his conviction.
" I felt from that moment on that the good Lord was with me, he would protect me from whatever I was going through," recalled Ronson.
"Although I don't lay tefillin, I did lay tefillin that morning and I haven't laid tefillin since, but I have said my Shema every morning seven days a week from that moment onwards. And that's something I feel comfortable with."
"When I go back to when I was a young boy, nothing has changed and that's how I look at the Ronson family, involved in school building, whether it be Israel, the Jewish Leadership Council, Jewish Care or most of the major organisations I've been involved in or JIA for most probably 40-50 years.
"So I'm not a Johnny-come-lately because I had a black period in my life which made me realise that I'm more Jewish than I am."
At 18, he fought fascists on the streets of London and from those early encounters the CST was born. But his voluntary work is cross-communal, including currently a £60m Jewish school project in London.
Ronson wants his lifetime's work to be perpetuated. It matters desperately to him. His legacy is bequeathing all his shares in Heron to the Heron Foundation.
"That," he says, "is the greatest gift I can give my children, grandchildren and great grandchildren.
"It is a large foundation through which they will be able to continue doing good things not only for our community but for the wider community in the long term."
He wants his six grandchildren and eventual great-grandchildren to "understand who they are, what they are, what their background is and what their responsibility is.
"I've given them the tools to be able to continue doing those things in their life which I believe will make them good people".
Outside his family, though, he concludes: "Heron and CST are what I regard as my two key things and I regard as my achievements and my responsibility".
That is Gerald Ronson in a nutshell: Family first, business to give him the wherewithal to help others and service to the community.
Leading From the Front. My Story, by Gerald Ronson (Mainstream (£18.99)