Mike Cohen says konnichiha to one of rock's greatest ever guitar players
GUITAR legend Marty Friedman has achieved so much since first picking up the instrument after seeing Kiss at the age of 14.
He sold 10 million albums with thrash metal group Megadeth, has a hugely successful solo career and is an acclaimed television presenter in his adopted home of Japan.
Yet, there is one incident in his career that sends shivers down his spine - performing the Hatikva in Israel.
Marty played the Israeli national anthem during a show at the Theatre Club, Tel Aviv in April 2007.
"Talk about getting the chills," Marty said about the impromptu performance. "I wish my grandparents were there to see it because they were so Orthodox that they didn't care about anything other than Jewish stuff.
"They were super super Jewish. Maybe they saw it in some weird strange way."
Marty, who played in Israel once with Megadeth and once with his solo band, told me that performing in the Jewish state was "the coolest thing ever".
"It was like playing anywhere else," he said. "You could be playing in Puerto Rico. You see a bunch of long-haired metal fans. But their names are like Sidney Goldstein.
"It totally freaked me out that everybody in the whole building was Jewish. Growing up being the only Jew in class for my entire childhood . . . and then there, everyone were crazy rock maniacs. Nobody looks Jewish."
Maryland-born Marty added: "I love playing music that is only for that place. I take an interest in the music of different cultures. Stuff that makes people know I care that I'm in the country.
"Last year in China, I played the Chinese opera Butterfly Lovers and you see everyone's face light up because they don't expect you to do that. And in Israel, obviously being Jewish, it takes on an even more special feel."
The self-taught guitarist grew up in Laurel, Maryland - a small town close to Washington DC and Baltimore.
His grandparents arrived in America from Russia and Austria, while his American-born father worked in government and his mother is a writer.
Marty's Jewish education lasted until his barmitzvah. He says Laurel had enough of a Jewish population to fill the one shul in town.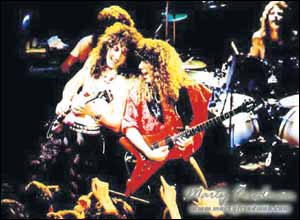 INSPIRATION: Marty Friedman performs in Cacophony with Jason Becker, who was struck down by amyotrophic lateral sclerosis

His life changed when he saw Kiss - led by Paul Stanley and Gene Simmons - in concert.

"The next day I had to have a guitar," he said. "I wasn't really into hard rock, I preferred pop music.

"I thought hard rock was really scary music full of drug addicts, but when I heard Kiss, a whole world opened up.

"It changed my outlook on everything. I got really into American punk - I became a Ramones fanatic.

"I started a band right away, even though I could barely play. We got good pretty quickly. We just wanted to play."

Marty was the only member of his family with such an interest in music.

He said: "I was buying records when I was five or six. The rest of my family liked music, but none of them were playing music or crazy about it.

"My parents were really supportive about it because I was really doing stuff. I wasn't lazy, I was always playing music. There was money saved up for my college fund and that went for an amplifier.

"Because they supported me so much, I didn't want to let them down. A lot of my friends, their parents hated them being in bands."

Marty knew as soon as he put together his first band that he wanted to make music his life.

" I wanted to play sports too, but had no knack for it. As soon as I saw Kiss I thought I can do what those guys are doing."

His first band at 16 were called Deuce - named after a Kiss track.

He laughed: "We were rock stars but we had no idea how hard the real world of music was. We thought we'd be the next big thing."

Marty then moved to Hawaii where he joined a band called, naturally, Hawaii.

"We released some stuff, but that doesn't mean you are making money or getting anywhere in your career. I just had to get things out."

Marty had his first taste of success in 1986 with Cacophony, who he describes as "a great band and a lot of fun".

But the group was losing money and Marty was "borderline homeless".

Marty and his close friend Jason Becker were guitarists in the group.

Their first album was Speed Metal Symphony followed by second - and last - album titled Go Off!.

"Although we loved playing together, Jason and I knew that if we separated, we could both likely get into separate band situations where we could finally make enough money to survive.

"Sure enough, Jason got the David Lee Roth gig and I was excited for that. I then got the gig with Megadeth."

But tragedy was just around the corner. Jason was diagnosed with amyotrophic lateral sclerosis, a fatal form of a form of motor neuron disease.

He was given three to five years to live, but has defied the odds and is still alive today.

In 1996, Jason lost the ability to speak and now communicates with his eyes via a system developed by his father.

Despite the illness, he still composes music on his computer.

"It was the worst thing ever," Marty recalled. "Jason told me what was starting to happen. The band didn't know about it. He was keeping it a secret.

"At the same time I had an arm injury and the doctor told me I'd never play again. I had just started recording my first major album with Megadeth.

"We couldn't believe the bad luck and neither of us knew what would happen. My thing healed and his didn't. It was devastating.

"The only good thing is that he is such an incredible inspiration. He is such a positive influence and has a positive attitude. We are still in close contact even now."

When Marty joined Megadeth in 1990, they became one of the biggest rock bands in the world.

The group, led by former Metallica man Dave Mustaine, had built up a huge following with three albums Killing is My Business . . . and Business is good, Peace Sells . . . But Who's Buying and So Far So Good . . . So What!

"I was stoked by Mustaine," Marty recalled. "I was not that familiar with them. I heard that Mustaine was like a raging drug addict and an insane drug dude.

"But at the audition, he was really quite the opposite. He was well-prepared and intelligent. He was very sober. The whole band was really straight."

Marty describes his 10 years in Megadeth as "awesome".

He said: "When I auditioned, I was virtually homeless. I was living at people's houses who I didn't even know. Going from that to a major label band was really great.

"It wasn't straight and narrow the whole time, but I don't like to talk about that stuff."

With Megadeth, Marty recorded six studio albums - Rust in Peace, Countdown to Extinction, Youthanasia, Hidden Treasures, Cryptic Writings and Risk.

Marty said his influence on Megadeth could be heard in his guitar solos.

"My solo playing was a real contrast to what Megadeth was doing before I got into the band."

Marty is also full of praise for Megadeth's 'rivals' Metallica.

"One of my favourite times with Megadeth was when we played with Metallica in Europe. They are amazing. They are the reason why people even care about metal now.

"They deserve credit for why there are so many metal bands around now. I would like to believe the same can be said about Megadeth to some extent."

His last performance with Megadeth was on January 14, 2000.

"There was no catalyst to my quitting," he said. "I was feeling like this music was yesterday and I always want to play the music of tomorrow.

"It was the year 2000. There was no reason to be playing In My Darkest Hour for the five billionth time. Someone else can do it and people will enjoy it, but it wasn't what I was put here to do."

For the past seven years, Marty has lived in Tokyo.

He explained: "I came to Japan maybe 30 times with Megadeth for tours and promotional jobs.

"Everywhere I went they wouldn't be playing international music, it would be Japanese music. There's a misconception that it's all American rock music in Japan. But 90 per cent of what is sold here is domestic music.

"I started listening to Japanese music and fell in love with it. I really wanted to play it. I figured if wanted to play it, I would have to live there."

And language wasn't a barrier for Marty as he had been learning Japanese for many years.

"I did all my Japanese press during my Megadeth years in Japanese," he said. "I spoke it pretty well back then, but after living here, it's become completely second nature. I`m not flawless, but I'm fluent."

Amazingly, just a couple of months after moving there, he was asked to join the band of legendary Japanese singer Aikawa Nanase.

"In the Japanese music scene, not a lot of people know who Megadeth are.

"I'd be touring with Aikawa and no one would know who I was despite the fact that I'd been touring Japan and playing huge venues with Megadeth. It was a completely different audience.

"I won them over and got a lot deeper into Jpop. All I wanted to do was contribute to the Japanese music scene.

I thought I had got out of heavy metal, but ironically a lot of the Japanese music I played was even heavier and darker than the music I'd been playing before."

Marty's career then took an unexpected turn when he became a television presenter on Japanese TV.

His first show was Hebimeta-san (Mr. Heavy-Metal) with Japanese star Yoko Kumada.

"The humour was brutal," Marty said. "It was a send up of heavy metal stuff. It was unusual to have a comedy show poking fun at heavy metal, but it was unique. International and domestic guests would come on and we'd do crazy s**t."

"The first taping went so well that the top TV management company in Japan offered to manage me."

He then got his own TV show called Rock Fujiyama. He has since appeared on hundreds of other television programmes and is currently balancing that with working on his music.

"I'd like to be able to live a certain amount of the year in America and the rest in Japan," Marty said. "But at this time I'm so incredibly busy in Japan that I can't even get away to tour England or Europe. I'd like to change that."

Marty released his first solo album, Dragon's Kiss, in 1988. He has followed that with Scenes (1992), Introduction (1995), True Obsessions (1996), Music for Speeding (2002), Loudspeaker (2006), Kick Ass Rock (2006), Future Addict (2008), Tokyo Jukebox (2009) and this year's Bad DNA.

Because of his other commitments, some of his albums have taken quite a long time to complete.

Apart from his music and TV work, Marty also appears in commercials, and has monthly newspaper and magazine articles as well as radio work to do.

"With Bad DNA I forced myself to take time off. I took 10 days to write it and a month off to record it."

The album's title comes from creating a different character when you speak two languages.

Marty explained: "If you speak two languages, people view you differently. When I speak Japanese, it's polite and politically correct.

"There is nothing as stupid as a foreigner trying to talk all hip, with slang like the locals. Over here I speak really friendly, pleasant and polite Japanese. I wanted to make a record that showed my English-speaking side."

Marty is planning to take Bad DNA on tour when he releases it outside Japan.

He said: "I really miss playing for people who haven't seen me play for a long time. I don't want people outside of Japan to think I don't want to play for them. Nothing could be further from the truth.

"I can't wait to tour outside Japan as my band are the hottest thing I've played with, I want to show them off. They are all Japanese and in their early twenties. They are unstoppable.

"It was difficult to find people who can play my music and look amazing doing it."

Marty said he was never tempted to change his name for his career.

"It's not the most heavy metal name in the world, but what can you do," he told me. "I've never had any problems being Jewish.

"Friedman makes you think of a half-bald accountant."

He added: "One of things I love best about Japan is that it is unlike America where there are so many people talking about religion and forcing it down your throat.

"I don't like to hear about anyone's religion - it's a personal thing. In Japan, religion is such a non-issue. It's never a topic of discussion. Many people don't even know what religion they are."

Watch tracks from Bad DNA at tiny.cc/rlt80 and see Marty's emotional live version of Hatikva in Tel Aviv at tiny.cc/