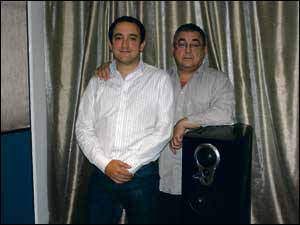 Gilad Tiefenbrun (left) and his father Ivor
Sharon Mail meets father and son Ivor and Gilad Tiefenbrun, who have revolutionised the music industry
---
FOR discerning music lovers the world over, the Linn Sondek LP12 turntable, developed by Ivor Tiefenbrun in 1972, is synonymous with the very best sound quality.
Now, his son Gilad is leading a new music revolution with digital streaming.
After a tour of the Linn Products factory in Waterfoot, Glasgow, I heard how it all came about from executive chairman Ivor and managing director Gilad.
Ivor and Gilad had different journeys into the hi-fi world.
"My father Jack was a farmer's son and the family's lives had been pretty difficult," Ivor said.
"They moved from Krakow to Austria and were tenant farmers outside Vienna. My father came to Glasgow, sponsored by the Jewish community and became a civil engineer.
"I studied at Strathclyde University, but dropped out. My dad was ill for many years and I went into his business, Castle Precision Engineering.
"I had an enthusiasm for hi-fi. When I got married, it was the first thing I bought. But it was so disappointing that I developed a turntable in the factory, with help from dad and his employees. I had the conviction of a young man but had had no prior plan to go into that business."
Gilad said: "I worked here in school and university holidays and eventually as a graduate for a year. Then I went to London for 10 years.
"It was only in 2003 that I came back full time, firstly as the research and development manager. It was a post that had been vacant for six months and my dad kept calling me, asking if I wanted to apply for it.
"Meanwhile, I got married and my wife fell pregnant. We decided that we didn't want to bring up a family in London. The option of going to Linn became real and I figured that I had nothing to lose by going for an interview.
"I never really knew what I wanted to do. I was a good all-rounder and was dux (top award) at Glasgow's Calderwood Lodge and good at all the subjects there and at secondary school.
"My father said I should consider taking an engineering degree because it was a good general education. I didn't really believe it at the time, but it was an excellent grounding in problem-solving and I'm really glad that I did it."
Ivor added: "I had no say in whether he got the job or not. The people responsible for filling the position told me before the interview they were very sceptical that someone so young stood a chance. Afterwards they said that he was by far the best candidate."
Gilad said: "I was always looking for very high tech roles and I'd worked in the film industry in computer graphics - an exciting and demanding area. Then I worked on Smart mobile phones.
"When I joined Linn I set about modernising all of the technology. I was a software engineer by then and modernised all the software processes, brought the hi-tech world of modern computing in and that's where Linn DS is now."
His father added: "Linn had a tradition of software engineering for our business systems going back 35 years. We were the first people to use a microprocessor in an audio product.
"Gilad brought the understanding and capability to exploit what we have and to focus our efforts in a more productive way and align them more clearly. He was a breath of fresh air in the business."
It's clear that both father and son are passionate about achieving the best sound possible for customers.
Gilad said: "We were the first company to adopt digital streaming for very high quality music. People could already stream music using new technology, but we saw that we could use it to deliver better quality music than ever before.
"Digital music was something people equated with poor quality mp3 and pressed music.
"We identified that we could make the music we record through our award-winning record label at an incredibly high level of quality.
"By the time it reaches you as a compact disc, the quality has already been reduced down. We said that if we could take the original studio master and make that available as a download, then we could stream it through one of our systems and deliver the original studio quality directly into people's living rooms. It made the industry sit up and take notice."
Ivor added: "In a way, I transformed the hi-fi industry by developing the Linn Sondek LP12 record player that got more information off a record than people believed was possible.
"And 40 years later, Gilad has done the same thing by demonstrating that you can get a better result from a data stream by converting it into music with higher precision than considered possible. In a sense there's a continuum of philosophy, passion and objective that's entirely consistent and takes us into a new terrain.
"Linn DS streaming will have as big an impact on how people hear and enjoy music as anything we did in the past."
Gilad said: "We go to the odd family business seminar and what they say is that what family businesses are particularly good at is transmitting values from generation to generation.
"I know it's a generalisation, but perhaps in the non-family business you might get the new guy coming in, saying he is going to bring in changes and make his mark and things are going to be different. In the family business, the son wants to learn from the father.
"He will spend much more time asking him why he does things and really trying to understand and then take it forward on the same basis."
There is no doubt that Gilad is a natural successor to his father.
Ivor said: "I've got most of the values my father had and Gilad has these same values - trying to make the world a better place, making our products the best we can and wanting to enjoy making them. We work together in a very collegiate way in Linn. It's a non-hierarchical structure.
"In our family it's a genetic cultural thing and it's also a case of adapting to your environment. Precision engineering and product development at a high level are things my children do.
"My other son Natan works for the London Stock Exchange in computerised trading and my daughter Sara is a TV director/producer."
Digital streaming is likely to revolutionise people's access to music.
Gilad said: "It's very early days. There are lots of people who have CD players today who will get a better sound when they move over to Linn DS.
"It's the start of the change from people having to choose a CD from rows on shelves to a world in which you sit in your armchair and pick all your music with the touch of a button - from an iPad, for example. You look at album covers and you choose the music.
"That's going to give people a new way of enjoying and experiencing music at higher quality. A Linn DS System is a multi-zone system that the whole family can hear."
Ivor added: "You can have the same music collection in every room in a home. It means that children can dip into their parents' and siblings' music and enjoy a broader range. You can have it anywhere you go."
Gilad believes that the quality of the music is "critical in terms of developing your children's appreciation of music. My children, for example, dance and sing and love music.
"I'm sure that it's because we have wonderful music all around our home and they've grown up surrounded by that, like I did."
Ivor agreed: "I grew up like that, too. The radio was always on and my mother Leah sang all day long - she was like a canary. Children who grow up with music are more communicative, imaginative and creative than children who don't."
Does better sound quality affect what you enjoy listening to?
Gilad said: "We've got extremely broad taste in music because if you've got a great music heritage and a great music system at home you are open-minded and can listen to and understand both very complex and straightforward music and love all kinds.
"Dad realised that it was be better for one person to build the turntable from start to finish than to have a human production line - to give people an entire, sensible, meaningful job from start to finish.
"Our staff sign their name on the product when they are done. This whole idea of empowerment people exists in our work force."
Ivor added: "A lot of the values at Linn are Jewish in a very fundamental sense. A hechsher is almost what we put on every product.
"It's the world's oldest quality control system because it's individual accountability and complete traceability and that's what we do.
"And just like all 12 Tribes had to be consulted, at Linn we consult the teams and involve people. We solicit their participation because through that interaction we get better ideas.
"Just like Judaism is about elevating the human condition, what we are trying to do as a business is get the most out of people and help them to be the best that they can be. That maximises their contribution to the company and to society at large."
Not only is Linn providing the end product, it is also now involved in producing the initial sound.
Gilad explained: "With our record label, Linn Records, we work in collaboration with the Scottish Chamber Orchestra. Last year we won the Critics' Choice Brit Award and the BBC listener's award for best album for Mozart's last four Symphonies.
"We're incredibly proud of the work we do with the orchestra and work very closely together. We think we are the best in the world at it and so do the critics, musicians and the public who vote for us.
"We've also got Claire Martin, the UK's number one female jazz vocalist, and Carol Kidd, who is an institution in herself.
"Carol has a new album coming out next year which is going to be absolutely her best album ever."
With an MBE and a company with a £17 million turnover and worldwide success, Ivor could rightly be permitted a little self-congratulation.
He said: "I'm not particularly proud of the things I've done myself because you're always thinking about what you've not done as well as you could.
"I'm very proud of the achievements of the people here. We have in this company honest, decent, talented, hard-working people and it's an absolute joy and privilege to work with them.
"I was desperately ill for many years with ulcerative colitis and was put onto a non-licensed treatment as a guinea pig, which put me into remission.
"I set up a charity - Cure Crohn's Colitis. I'm anxious to find people across the country who would be interested in helping its endeavours because it's dedicated exclusively to patient centric research and it's the only charity that does that."
Ivor's final words sum up what he, Gilad and Linn Products are all about.
"We treasure our good name," he said.