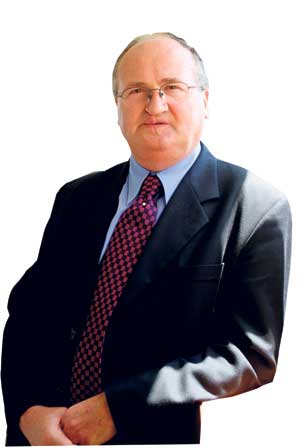 Martin van Creveld
IT'S still there . . . that Dutch-accented English. Even though Martin van Creveld was four years old when he left Holland with his parents, his English is touched by an Oranje tone.
"I remember very little about Holland," he said from his home in Mevasseret Zion, a few miles outside of Jerusalem.
"My parents were strong Zionists, but they had experienced antisemitism even before the Holocaust."
He was born in Rotterdam in May, 1946, while memories of the Nazi occupation of Holland were still raw.
One of his uncles and several cousins died, but his parents Margaret and Leon managed to evade the Nazis.
Perhaps it is down to family history that Martin feels so strongly about the future of Israel.
"I don't care about the Palestinians — the key to peace is to get rid of them," he said.
"The Israelis should not be responsible for them.
"Let's get out of the West Bank, they can have it and do what they want . . . they can build a zoo there, I don't care.
"I have made this argument since the beginning of the first Intifada in the late 1980s."
Such candid words perhaps go against the grain of the burgeoning left-wing, liberal movement in Israel.
Yet Martin, 64, doesn't bracket himself when it comes to Israeli politics.
He explained: "People don't know where to place me politically, either.
"I want to get rid of as many Palestinians as I can.
"There is no doubt in my mind that the Arabs – still, after 60 years – want to drive the Jews into the sea.
"I don't blame them for that – I would feel the same.
"As a military historian, you have to understand the other side, but I don't believe in peace – and anyway, it won't come anytime soon.
"We have to make Israel as strong as possible."
His forthright opinions aren't just restricted to the Palestinians.
During the course of my interview, he castigates Israel for not taking care of many of its cities and towns, including Ramat Gan, the Tel Aviv district city where he was brought up.
Martin recalled: "Even though most of the residents were dirt poor, when my family moved there in 1950 it looked the part.
"There were lots of open spaces and it was a garden city.
"Now it is crowded and quite ugly and no attempts have been made to improve it."
Martin was born with a cleft palate and so worked logistics when he began his mandatory service in the Israeli army.
But he was reticent about his new post and was given special dispensation to leave.
"It was a problematic time and, for sure, my cleft palate affected me," he explained.
Recalling that the Hebrew song he learned was about Israeli soldiers, Martin said he had always had a keen interest in military history.
He studied at the London School of Economics and Jerusalem's Hebrew University, where he has been a faculty member since 1971.
The author of 17 books on military history and strategy, he believes that not rising through the ranks of the Israeli army and, for example, becoming a general, may have helped him in his career.
Martin, who has lectured or taught at hundreds of strategic, military and civilian institutes, added: "Generals have up to 10,000 men under them.
"Some of them become military historians, but they find it difficult.
"Before the Yom Kippur War in 1973, most people in Israel didn't know much about military history.
"So what I chose to study proved to be a good choice because after the 1973 war, there was much more tremendous interest in the subject."
Iran has been a hot potato for Israelis over the last few years, and remains so.
And, perhaps surprisingly, Martin doesn't blame the Iranians for aiming to build nuclear reactors. He revealed: "They would be mad not to.
"They are simply taking precautions, but I honestly think it is a very minor problem for Israel.
"The Iranians do have a useable excuse — Israel has still not signed the Nuclear Non-Proliferation Treaty — so they think why shouldn't they enhance their nuclear capabilities."
Martin also doesn't think Iran will attack Israel, despite constant words of menace from president Mahmoud Ahmadinejad.
"Much of his rhetoric is to curry favour with fellow Muslim countries," he continued.
"Iran has never directly threatened Israel and they simply see their words as self-defence." Talking of military history and generals, he points out that there is nobody currently in the Israel Defence Force quite like the late Moshe Dayan.
Martin wrote a biography of the Israeli general, who died in 1981, six years ago.
"He is one of the greatest in history," Martin enthused.
"Dayan had a deep, instinctive understanding of the link between war and politics.
"He had a certain type of cunning and always wanted to try new ways of doing things.
"It was said of him that he could take your socks off without removing your shoes first."
It is clear that he has strong opinions and prefers to talk about his views on Israel and the Middle East rather than focus on himself.
On the security barrier which separates the Jewish state from the West Bank, he claims that it should be built "10 times higher than the Berlin Wall".
And Martin said that the Israeli Arabs who live in the Wadi Ara area within the Haifa district could be incorporated into the West Bank.
He is indefinite when I ask him whether these Israelis of Arab origin should be
considered to be a fifth column.
Martin said: "It would be possible, but most of them don't want it. They have a larger GDP income than they would if they lived in the West Bank.
"And let's not forget that many of them have learned the value of democracy and human rights — something of which there is not any of in the Arab world."
He also admits to agreeing with the invasion of Iraq in 2003 and the subsequent war, but thinks it has not been successful since.
"It has not done anybody any good, apart from Iran" Martin claimed.
"There is now a big Shia influence in Iraq and terrorists are gradually finding a home there."
Married twice and father to three children, it would not be difficult to imagine this man of great intellect spending the majority of his time pondering Israel's future and its military actions.
But he does enjoy travelling and is soon heading for a break in Potsdam, south-west of Berlin, in Germany.
"I took a few sabbaticals in Germany, so I know it well," he recalled.
"There are three things I like about Potsdam and Berlin: The culture, the fact that you can walk for hours and always find somewhere new to explore and that there are lots of different lakes, without lifeguards telling me where I can and cannot swim."
And, after talking about such serious matters, it is still a bit of a surprise when Martin reveals what he likes to do while exploring new lakes.
"I like to swim naked — sometimes," he laughed.
FACTFILE Martin van Creveld
BORN: Rotterdam, Holland, 1946
AGE: 64
LIVES: Mevaseret Zion, Israel
EDUCATION: The London School of Economics and the Hebrew University of Jerusalem.
SELECTED WORKS: The Transformation of War, Military Lessons of the Yom Kippur War: Historical Perspectives, Nuclear Proliferation and the Future of Conflict, The Sword and the Olive: A Critical History of the Israeli Defence Force, The Changing Face of War: Lessons of Combat, From the Marne to Iraq and The Culture of War.