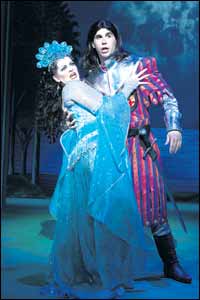 LAUGHS: Simon Lipkin and Jodie Prenger in Monty Python's Spamalot
Aimée Horwich raises the curtain on the career of stage actor Simon Lipkin
---
DESPITE the industry being renowned for its Jewish influence, a career in musical theatre isn't a typical day job for a nice Jewish boy.
That is, unless your name is Simon Lipkin. For the 24-year-old is already an established name in the West End.
"I guess I was a hyperactive child and my parents didn't quite know what to do with me - so they sent me to a drama club round the corner from our house," recalled Simon, who is originally from Essex.
"Ever since I can remember, we went for trips out to the West End to see musicals - I remember seeing Jason Donovan in Joseph and the Amazing Technicolor Dreamcoat and watching Les Miserables."
Simon, who is currently appearing in the national tour of Monty Python's Spamalot, attended Ilford Jewish Primary School and was barmitzvah at Southwest Essex Reform Synagogue.
"I got a couple of laughs reading my portion - which is pretty hard to do from the Torah," said Simon, who is known for his sense of humour.
But this comes as little surprise, since his mother worked in TV production with comedy acts Morecambe and Wise and Kenny Everett.
"My mum actually took the rap when the Sex Pistols notoriously swore live on the Bill Grundy show in 1976 - she was in the control box and put the questions through," he explained.
Despite his mother's side of the family being extremely creative, Simon's father hoped his son would follow in his footsteps - as a lawyer.
"He said if you can act, you can be a lawyer," laughed Simon.
But this wasn't meant to be. The young actor attended the reputable Sylvia Young Theatre School in London, until he was 16.
Famous for training some of the country's brightest talents, Simon's classmates included Nicholas Hoult from About a Boy and Tom Fletcher from the pop band McFly.
Simon recalled: "Sylvia's school is an amazing place, they really nurture young talent and I got a great taste of the business when I was younger.
"It was competitive - but in a healthy way because the business is so competitive.
"And they didn't like any of the stage school bratty behaviour. It gets knocked out of you very quickly."
After landing a number of voice-over jobs, Simon's first on-camera job came in the form of a Conservative Party election broadcast.
"I was playing the youth of today doing horrible things like setting fire to a car in my school uniform," Simon laughed.
"It was filmed like CCTV footage and a few days later stills from the broadcast appeared in the national newspapers.
"I got on the train to school in my uniform and a man actually changed carriages when he realised the picture of the kid setting a car alight in the paper was me."
Simon added: "I don't think my dad was best pleased about it though, being a Labour man."
At 16 Simon realised his early passion for acting was the only thing he was good at and he enrolled at the prestigious Arts Educational School of Musical Theatre.
He graduated in 2005 at the age of 18 and received a Bachelor's degree in musical theatre.
Simon spent seven months onboard the MV Oriana where he played Ritchie Valens in Buddy.
"The shows on the ship were put on by Paul Elliott, who has done loads of West End stuff - they were pretty good."
After cruise work Simon, then 19, was snapped up by Bloomfields Management.
He did a short stint of local panto work and starred as Pharaoh in Andrew Lloyd Webber's Joseph and the Amazing Technicolor Dreamcoat before his big break came.
Simon auditioned for Avenue Q and opened as part of the original West End cast at the Noel Coward Theatre in June 2006.
"At my first audition for the show they said I looked like a puppet," he explained.
"At 6' 2", with more facial hair than a man should normally have, I think the only reason I got back in the door for a second audition was because of my exaggerated features."
Described as an X-rated take on Sesame Street, the cast of Avenue Q consists of puppets, operated by the actors who remain in full view of the audience.
Simon played Nicky, a parody of Sesame Street's Ernie, and Trekkie Monster, based on Cookie Monster, who is addicted to porn.
He recalls the physical strains of putting on a Kermit the Frog-like accent and working puppets for three hours every night.
"I had one arm like Popeye and another like Olive Oyl," he joked.
"But it was amazing to be part of an original cast in London.
"We did the Royal Variety Show, Children in Need and I taught Julian Clary to puppeteer on the Paul O'Grady Show."
He continued: "The cast did some incredible things and I've never done a show since when on stage we could do absolutely anything and we just knew it would work - it was a pleasure."
As Sir Galahad in Spamalot, Simon is working alongside Jodie Prenger, winner of the BBC's I'd Do Anything, and comedian Marcus Brigstocke.
"The only way I can describe my respect for Marcus is to say that I have developed a man-crush on him," Simon smiled.
"He's a really good guy, great with his kids, funny and I have a new level of respect for him."
Simon speaks fondly of his cast-mates and said the level of talent produced in Britain constantly amazes him.
"It excites me - you walk into rehearsals on the first day and you just end up being amazed - there's some incredible talent out there," he said.
Simon also plays the Black Knight in the show - made famous in Monty Python's The Holy Grail.
He said: "It's awesome to stand on stage and do such an iconic character, but it's hard to live up to the likes of John Cleese.
"Eric Idle, who wrote the show's book, has been very supportive, but he knows exactly what he wants.
"Who better to tell you how to do Python than an original Python."
Throughout the interview, Simon constantly referred to his family, whom he has an obvious deep respect for.
"My mum is very mumsy - short with a perm, and always feeding you - the way mums should be," he said.
"She and my dad have always been amazingly supportive."
Although not observant, Simon said Judaism was very apparent in his upbringing.
"My grandparents are religious and do Friday nights and shul on Shabbat," he said. "My family do everything a modern day Jew usually does, but nothing too extreme.
"My Jewish identity is important though, I like knowing at important times my family are going to be sat around the table together - I like the tradition of it."
Simon revealed that he and his 28-year-old brother, David, are like chalk and cheese, but he is a regular attendee at his shows.
"I think David's proud of the fact that his brother puts on costumes and wears make up for a living," Simon laughed. "Not many would be."
Although he will be performing in Spamalot for the next year Simon has big ambitions for the future and isn't showing any signs of slowing-up.
He explained: "I would love to work on Broadway.
"I like the whole vibe that New York has to offer and theatre is well respected over there.
"But I do love London. Nothing beats walking down the South Bank and being cold."
And having dabbled in a bit of television work, Simon is keen to explore this side of showbusiness in greater depth.
A far cry from the ambitions of the average 24-year-old, Simon explains that he has always been eager to get ahead.
"If I do something I want to make it happen now, but I have to remind myself I'm only 24, there's plenty of time to try new stuff," he said.
"You can't really second guess what's going to turn up in this business - if you'd asked me four months ago if I was going to be doing Spamalot I wouldn't have known.
"It's all an exciting adventure."