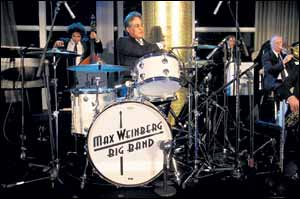 BEAT IT: Max Weinberg on his drum kit
Never speak to your heroes they say - unless you are prepared to be disappointed. Well, MIKE COHEN finds Max Weinberg to be a delight as he recounts his four decades in the business
---
EVEN after 40 years in the music business, Max Weinberg still gets a thrill from seeing his name on his drum kit.
Max - who drums for rock legend Bruce Springsteen - said: "I'm very spiritual. I relate very strongly to my heritage.
"One of the examples is that you don't find too many people in rock 'n' roll and on television who have a name like 'Weinberg' emblazoned on the bass drum.
"I have always celebrated my heritage. My Jewish upbringing made quite an impression on me. I'm not as observant as some people of my generation or of a previous generation."
Max grew up in South Orange, New Jersey - a town 25 minutes by train from New York.
He said: "I was born in Newark, New Jersey, and lived there as a child. We moved to Maplewood when I was young and then, when I was six, to South Orange."
He added: "I live in New Jersey full-time. I never lived in Los Angeles, although I have a home there, which I find redundant when not working in LA.
"I love things about LA, but I'm a born and bred easterner. It's hard to take Jersey out of the boy."
Max will be appearing at an all-day celebration of the region's contribution to entertainment at South Orange Performing Arts Centre on June 19.
The 'Small Town, Big Talent' event will also feature Jewish actor Zach Braff, singer/song-writer Peri Smilow and actress Kelly Bishop among other big names.
"I've been back there many times through the years," Max - who has been named Playboy and Rolling Stone magazines' drummer of the year in the past - said.
"My mother Ruth, who is in her ninth decade, still lives in the area.
"I'm very pleased to have been a part of events in South Orange. I remember when my children were young, participating in a parade where they gave me the key to the village - it is one of few villages remaining in New Jersey."
Other famous residents of the Maplewood/South Orange area have included singers Dionne Warwick and Lauryn Hill, film director Joel Silver and actor Roy Scheider.
Max, who joined Springsteen's famed E Street Band in 1974, will be performing with the SOPAC house band for the event.
Max's family has always been active in the local Jewish community. His grandfather - who he is named after - was one of the founders of the Reform Temple Sharey Tefilo-Israel in East Orange.
"Our community in East Orange grew out of Newark," he said. "My family were merchants. The synagogue was the centre of their social life, their religious life.
"My mother is still affiliated with Temple Sharey Tefilo-Israel. There was an inspirational leader, Rabbi Avraham Soltes. He was quite the poet, musician and spiritual leader.
"He was extremely effective in leading us in the religious service because it fully encompassed all the arts. That, for me, was very engaging. It wasn't didactic or polemic, it was artistic.
"He was a charismatic individual. Judaism was made fully alive and vibrant."
Returning to his overtly Jewish name, Max said many people assumed it was a stage name.
On Late Night with Conan O'Brien - on which Max has led the houseband for 17 years - the host would joke that "I was Irish".
He said: "I had tremendous support from the Jewish community because every night the camera would zoom in to 'Max Weinberg' on the bass drum.
"The Jewish community was proud that one of their own was so prominent."
In the early days of the E Street Band there were rumours about Springsteen's 'Jewish heritage'.
Max laughed: "I have posters from early concerts where it says 'Springsteen'. His heritage is Dutch and Italian with some Irish thrown in there."
Max's love of drumming began when Elvis Presley made his debut on The Milton Berle Show in 1956.
"I took to his drummer DJ Fontana," he said. "At seven I started to play the drums. When you reached 10 at school, you had to pick an activity.
"I picked band, but they already had two drummers. They wanted me to play trumpet. I said I am a drummer already. These two boys don't play at all. They tested us and I was the only one who could play."
Max inducted Fontana into the Rock and Roll Hall Of Fame in 2009.
But playing drums became more than a hobby for young Max. It helped his family survive.
"My parents' business suffered heavy losses in the 1960s," he said. "All of us had to go out to work. It was a godsend I could make 30 dollars a week as a drummer.
"I could contribute to my family's existence. While a lot of people were given grief for being in a rock band, I got support because it was a means to an end for me.
"It was a desire to express myself artistically and an urgent need to make money. Music was a way out of my family's financial straits and in my young adolescent innocence it seemed perfectly natural."
He added: "By the time I met Bruce I had been playing for 15 years. I could play any song and I had good ears.
"I never imagined being 59 and still being a drummer and having two long-standing jobs."
As well as Springsteen and Late Night with Conan O'Brien, Max has played on a number of landmark musical releases.
He drummed on Bonnie Tyler's Total Eclipse Of The Heart and Air Supply's Making Love Out of Nothing At All - which, at one point, were number one and two in the American singles chart.
He also performed on Meatloaf's Bat Out Of Hell - one of the biggest selling albums of all time.
In addition, he has drummed with Sir Paul McCartney, Sting, Tom Jones, Ringo Starr, Bob Dylan, Chuck Berry, Little Richard, Bono, Tony Bennett and Bob Hope.
"Performing with Bob Hope was one of my favourite experiences," he said. "I grew up on classic entertainers."
Max's latest venture is the Max Weinberg Big Band. He claims the seeds were put in place when he backed Tony Bennett in 1997.
"Playing with Tony opened my eyes to what I might actually be able to do if I worked hard at my music to eventually step away from the rock genre," he said. "Tony was swinging and he told me and my band that we swung him. That was huge for me."
But due to their longevity, the associations Max is most proud of are Springsteen and Late Night with Conan O'Brien.
But in 1989, Max's world seemed to fall apart when Springsteen disbanded the E Steet Band.
"At the time I had no idea what happened. We assumed it was permanent. It had to be put to all of us as permanent or chances of people waiting around and not developing on their own would have been more difficult if they thought they had that to fall back on," Max said.
"I was 38 when it happened and took it as a sign to develop my own thing. I got fully grounded in the business world. In the early 90s I missed drumming and decided I wanted to play again."
In July 1993, Max met Conan O'Brien, who had just been made host of the Late Night show.
Max, married to Rebecca Schick, put together The Max Weinberg 7, recruiting musicians he had worked with during his career, and they performed on the show every night since its premiere on September 13, 1993.
"Because of the TV show, all the years my children were young, I was able to be a stay at home father and not have to go on the road. I was home at 8pm every night when they were young, that was crucial," he said.
"Now they are doing their own thing. My son Jay is a phenomenal drummer. He has replaced me a number of times in the E Street Band and my daughter Ali works for NBC News in Washington. She is at the White House most days."
Springsteen reunited the E Street Band in 1999 which posed a dilemma for Max.
But a deal was worked out with the Late Night show and Springsteen. Drummer James Wormworth took his place on TV and when the tour was extended, shows were mainly restricted to weekends to allow Max to fulfil his Late Night responsibilities.
"Every beat I drum is descended from what I learned with Bruce," he said. "It took a while to figure out what I should be doing after the E Street Band broke up in 1989, but it was liberating.
"Doing comedy was extraordinarily liberating. Being the boss of my own little thing was liberating because I had to make decisions. It was empowering and with empowerment comes liberation."
Springsteen, known as The Boss, is renowned for his mammoth shows and the set-list changes nightly with members of the band not knowing what song is next.
Max said: "We are all about being alive and celebrating life in that way. When on stage it is exactly that, a celebration of life.
"Having the experience of working with Bruce is remarkable. Especially growing up together. Musicians owe it to themselves to have fun on stage because there is plenty of downtime, travelling a lot.
"As you get older, it's less romantic, but necessary. I still enjoy travelling to places every day, but I don't recover as quickly as I did when I was 25."
Early in his career, Max suffered badly from tendonitis.
"Those problems are way in the past now. I had two back operations and seven on my hands caused by squeezing the sticks tightly. It's common among young drummers.
"And we were doing four-five hour shows so my hands would get tired. I'm 100 per cent now. I play better now than I did years ago.
"At our age, doing anything for four hours is a feat, but it's as adrenalising as it is tiring. You feel it and it is physical, but it's very liberating.
"Bruce's music takes tremendous concentration. The rhythms are very simple which takes a lot of concentration. We put it out there a 1,000 per cent. Bruce doesn't know how to hold back.
"I've had the unique opportunity to watch the E Street Band play with my son on drums. I got exhausted watching them."
Despite seeing Bruce perform for 36 years now, Max still finds himself in awe of the rock star.
"I saw Bruce two Saturdays ago at a benefit for a school in New York," Max said. "Just him and a guitar. I've seen him in that context a lot.
"This was something beyond what I had seen before. So masterful, gripping and compelling. He made the guitar sound like an orchestra and his voice was better than ever.
"I was watching it, enjoying it and being transported."
Max knew from the first time he ever met Springsteen that he was in the presence of something magical.
"I answered an advert in Village Voice," he said. "But 60 other drummers answered the ad. I could tell from the start that this was something special I had fallen into and that Bruce was the real thing.
"Everybody is focused completely on what he is doing. The E Street Band doesn't play with each other, we all play with Bruce. There is a tremendous impact because of that.
"Physically it's difficult, but he is so sure of what he wants to do that all you have to do is watch him. He is very clear and very directed. He's a great bandleader too.
"The drums lead the band in pick-ups. I'm not the flashest guy around, but I try to be solid and support the music. That's why I've lasted with Bruce. The drums fashion the landscape that the action of the songs take place on."
Two of Max's highlights are from tours in England.
He loved playing the Manchester Apollo on May 14, 1981 "because someone told us The Beatles played there. We are all Beatles maniacs. We have never played in Liverpool, Manchester was the closest.
"And the old Wembley Stadium in 1985 was a lot of fun. It was on July 4, and we opened with Born in the USA. Everybody knew that song so to hear 90,000 English people sing Born in the USA on America's Independence Day, the irony wasn't lost on me."
Another major moment for Max was when Bruce and the E Street Band performed at the 2009 Superbowl.
"It was over so quick. It was the largest superbowl TV audience in history (more than 105 million). And the 1988 Amnesty International tour with Sting and Peter Gabriel was a highlight. Playing places that rock bands don't normally go to was exciting."
The E Street Band is currently on a hiatus, allowing Max to take the Max Weinberg Big Band out on the road.
"We don't wait for Bruce," he said. "We do our own thing. One day you get a phone call from Bruce saying he's got a few songs and it's literally that casual. So you do a record. Never been any 'here's the dates we are going to be working'.
"We've managed to keep it together all these years on that basis."
And Max is full of praise for The Boss.
"I have never heard a clinker from him," he said. "He has hundreds of songs which have still not been released from the whole breadth of his career, not just with the E Street Band.
"We put our lives on hold when he decides he wants to tour. I've been fortunate that I've stayed healthy.
"Keyboard player Danny Federici died in 2008. He was one of most important cogs in Bruce's music. He was the first guy who played with Bruce so that was a big big loss for us personally and in terms of the music."
Max added: "I don't know when we will perform together again. After all these years, I physically sense it. I feel the vibes out there.
"The only time, I've been surprised was on the Tunnel of Love tour in 1987 because that was a solo album, but he wanted the E Street Band.
"We have had a 10-year run from 2000 that has been phenomenal for us. On the last tour, musically we were better than we ever were."
The Max Weinberg Big Band will be spending about a month on the road before taking time off.
"We may do a record," he said. "I have an idea for a record. I'm more interested in getting out and playing live again.
"The TV group was a fantastic vehicle to present myself as a leader and keep drumming every day.
"Now the Big Band, a 15-piece band, is extremely challenging music. I've been working on it constantly for the last few years. It would have fitted in nicely with the concept of the the Late Night show."
But there is one place where Max has never performed - or visited - Israel.
"My great grandfather is buried on the Mount of Olives. My mother, who celebrates her 95th birthday in two months, has a very big family. My heritage is Russian. She's had the privilege of making many pilgrimages to Israel.
"Hopefully I will get to play there one day. It would be meaningful for me.
"I have never been anywhere on a vacation where I haven't played because I've always worked. I'll make it there one day.
"I would encourage anyone to see me playing, whether with Bruce or my Big Band. I will be in England sooner rather than later."
Visit www.maxweinberg.com and www.SOPACnow.org