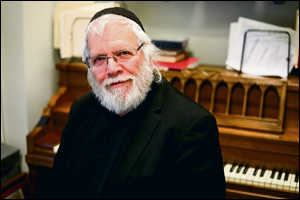 Picture: National Yiddish Theatre Folksbiene
ZALMEN Mlotek is on a crusade to keep Yiddish alive. As artistic director of the National Yiddish Theatre Folksbiene for the past 20 years, he has brought the language to a wider audience.
In 2019, he ensured the New York-based company was in the headlines with a Yiddish version of Fiddler on the Roof, directed by Oscar and Tony awards winner Joel Grey.
Non-Yiddish speakers could also enjoy the show thanks to 'supertitles' in English and Russian.
But the timing of the multi-award winning show couldn't have come at a worse time.
It moved successfully from Folksbiene's base at the Museum of Jewish Heritage to off-Broadway theatre Stage 42.
"We were going on tour nationally, we were going to China and Australia, and there were conversations about Europe as well," Zalmen told me from his home in Teaneck, New Jersey.
"But at that moment Covid took over. Now we're re-establishing conversations about possibly touring again."
And the chances of it coming to the UK?
"Well, God-willing, that would be wonderful if we could," said Zalmen, a classical conductor, pianist and composer.
Folksbiene's latest project, Harmony: A New Musical, has also hit the headlines, which could be down to the fact its music was written by a certain Barry Alan Pincus — better known to his millions of fans as Barry Manilow.
While I was in New York for the show's opening, the national newspapers were full of Harmony while Manilow and Bruce Sussman, who wrote the lyrics, were in demand for TV interviews.
Manilow himself had to miss the opening night after catching Covid.
He had been at the preview show I had attended the previous evening, where he had — along with Sussman — been guest of honour at a gala dinner. Also present were Stuart Eizenstat, former adviser to President Jimmy Carter, and actor Patrick Wilson.
Harmony actors have also been hit with Covid. When I spoke to Zalmen on Monday, he told me: "At the moment we have one understudy going on, but until yesterday, we had three understudies going on because of Covid."
Such has been the success of Harmony that its run at the Museum of Jewish Heritage, in New York's Battery Park, has been extended until May 15.
Zalmen, who is married to occupational therapist Debra Cohen, hopes it will then move a few miles uptown to Broadway.
"There is nothing finalised yet. The commercial producers are in talks," he told me.
Harmony is the story of German singers Comedian Harmonists, who in the 1920s and 30s sold millions of records, starred in a dozen films and played sell-out shows around the world.
But as three of the six members of the group were Jewish, they attracted the attention of the rising Nazi party.
Their many films and entire recording library were destroyed during the Nazi era.
Zalmen, who has worked with stars such as Jan Peerce, Theodore Bikel and Mandy Patinkin, said that when he heard about Harmony, he approached Manilow to see if Folksbiene could stage it.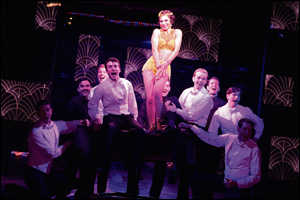 Picture: Julieta Cervantes

"He told me that it was fortuitous that I should call because Ken Davenport had recently purchased the rights and wanted to do it in New York on Broadway, but was interested in doing it in a smaller theatre beforehand," Zalmen said.

"And because of our reputation with Fiddler, having moved from downtown to an uptown off-Broadway theatre, he was very interested in talking about us mounting it at our museum."

Harmony isn't a new musical. Manilow and Sussman wrote it 25 years ago and staged versions in Atlanta and Los Angeles.

They have made many changes to it since then, with probably the main one being the addition of the character of the older Josef Roman 'Rabbi' Cykowski as narrator, played by veteran stage star Chip Zien.

Danny Kornfeld plays the younger version of Rabbi, who was a member of Comedian Harmonists along with Ari Leschnikoff, Erich Collin, Harry Frommermann, Robert Biberti and Erwin Bootz.

"Chip has made the show into something very special," Zalmen said. "Chip has brought a gravitas to the role"

He added: "Warren Carlyle's contribution can't be overstated. He really helped bring it to life and I'm sure has a lot to do with transitions and all sorts of structural things to the piece."

While working on Harmony, Norwich-born Carlyle was also choreographing The Music Man, starring Hugh Jackman and Sutton Foster, on Broadway.

"He was in a very confined bubble when he was rehearsing The Music Man.

"I think The Music Man went into previews on the the first day of our rehearsals.

"Hugh Jackman actually came to a rehearsal of Harmony and was very taken by it."

Zalmen, who would like to see a a cast recording of Harmony, is also hoping it will cross the Pond to the UK.

"At the moment, the first step in Harmony is to finish this run successfully."

One scene in Harmony sees an actor dressed in full Nazi uniform in the audience which could have been disconcerting for older viewers — although the museum is called 'A Living Memorial to the Holocaust'.

"I was a little concerned about that, frankly. But I haven't had any comments about it," Zalmen said.

He added that he hadn't been familiar with the story of Comedian Harmonists, but he is hoping to spread the word about "this incredible history and this incredible story" not just with the musical, but also with an event involving Douglas E Friedman, who wrote The Comedian Harmonists: The Last Great Jewish Performers in Nazi Germany.

Yiddish has played an important role in Zalmen's life since his birth in 1951 in The Bronx, New York.

His father, Joseph, was from Poland, while his mother Eleanor Chana (née Gordon) was born in America, but her family originated from Ukraine.

"My father's family escaped in 1939 and spent the war years in Shanghai until he came to Canada and then America," Zalmen explained. His mother's first language was Yiddish, too.

"So that's how my father and mother communicated when they met. Yiddish was my first language. And it was the language at home, although my mother would speak to me in English as well because she was American.

"They made a concerted effort to speak Yiddish to me so that I would understand.

"And Yiddish was the language in which my parents did their work. My father was a writer for the Jewish Forward and a producer. My mother was an ethnomusicologist and archivist, publishing many Yiddish songbooks, so I grew up in a home where Yiddish was thriving."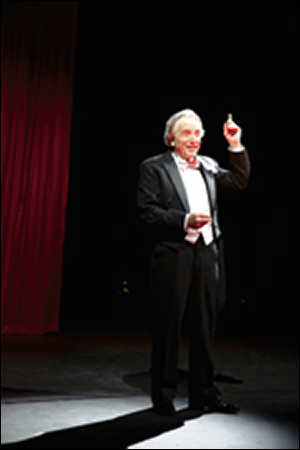 Picture: Julieta Cervantes

Zalmen says The Bronx was a very Jewish area at the time.

"There were a lot of immigrants, a lot of of Holocaust survivors, in the area that we grew up in," he said. "And there were Yiddish schools that I attended as well, afternoon schools after public school, so it was a whole world.

"I had many friends whose parents spoke to them in Yiddish, so we did go to these schools and we also went to summer camps where Yiddish was spoken, sung and performed."

He describes his parents as very important influences on him.

His mother, like Zalmen, was a pianist and his father would produce concerts.

He said: "They would have the leading singers of the day come to the house and they had parties and rehearsals and I was privy to that. It was a part of my upbringing."

Joseph was educational director of the Workmen's Circle.

"Now, it's called the Workers' Circle," Zalmen explained. "It was a fraternal organisation that dealt with immigrants, and supplied them with cultural activities.

"So my father was the education director over a network of many schools around the country, and created concerts and publications.

"And then I became active and started teaching in some of the schools and also helped publish some of its books.

"There are still some schools and many Yiddish courses."

Zalmen's brother, Mark, is a former president of the Workmen's Circle.

Zalmen received his formal training as a classical conductor at the Juilliard School of Music, where he studied under Leonard Bernstein; he also studied at the New England Conservatory of Music, the Tanglewood Music Center, the Manhattan School of Music, and the Mannes School of Music.

He has presented master classes in Yiddish art song, folk, and theatre music and taught at Columbia University, Yeshiva University, the Jewish Theological Seminary, Hebrew Union College, the University of California at Berkeley, and Bar-Ilan University.

Zalmen was accepted into the Young Conductors project at the Juillard school where guest conductors/teachers included Zubin Mehta, James Levine and Leonard Bernstein. with whom he studied at Tanglewood.

He continued: "I remember the first time Bernstein came to Juilliard to rehearse, to conduct the orchestra and to also work with us conducting students.

"It was a summer day — the day that (Israel's prime minister) Menachem Begin, (Egyptian president) Anwar Sadat and (American president) Jimmy Carter had signed the peace treaty. And we were all sitting there, the place was packed.

"Usually no one wants to play in the conductors orchestra. At Juilliard, students are all soloists, so playing in the conductors orchestra was a chore for them.

"But on this day, because Bernstein was coming, all the top performers and students at Juilliard wanted to be in the orchestra. So the place was packed.

"And we're waiting and Bernstein comes in, wearing a cape and smoking. He gets up on the podium and says, 'Jimmy did it. Jimmy did it'. And most of the people didn't know what he was talking about.

"He's talking about Jimmy Carter doing it, having got Begin and Sadat to sign. And he said 'Let's have a C major chord for Jimmy Carter' and he lifts his hands in attention to get the orchestra ready and everyone scrambled to get their instruments, and they play whatever makes up a C major chord.

"And then he says, 'Okay, now let's have an E minor chord for Menachem Begin', and it was quite a moment."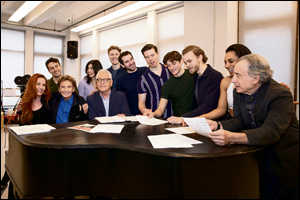 Picture: Julieta Cervantes

Zalmen's connection to the National Yiddish Theatre Folksbiene goes back to the early-1970s when he wrote the music for a production of a play with celebrated Yiddish actor Joseph Buloff.

He continued: "And then in the 90s, I had been asked to write a score. And because I had had some experience producing Yiddish shows in New York — actually one that got nominated for two Tony Awards, Those are the Days — I had experience with understanding that there is an audience.

"When I was working with the Folksbiene at that time in 1997, I proposed myself and my then partner to take over and to bring the theatre into the next century to ensure that the legacy of Yiddish theatre in Europe and America not be lost.

"So it was a daunting undertaking, but I managed to put together a board that was supportive, philanthropists in the Jewish community, and constantly looking for support as theatre has gotten that much more expensive through the years.

"So, thank God, we are entering our 108th season. Not many theatres can attest to 108 consecutive seasons."

Zalmen, whose music can be heard in more than two dozen recordings and films, says his first challenge is "to get people in the door".

"Our goal is to get people to come and say, 'Okay, I'm going to watch something with supertitles'," he told me.

"Fiddler on the Roof was a relatively easy sell because everyone knows Fiddler.

"Thankfully, the New York theatre-going audience and culturally-minded people in the city have supported us and there's interest around the country as well.

"So, as long as people understand that they will be able to understand what is said because of the supertitles, it's somewhat easier."

Zalmen also believes it is important for the Folksbiene to be based at the Museum of Jewish Heritage.

He said: "When we were first invited to be the theatre-in-residence there, the idea resonated very much for us because Yiddish was the language that was almost decimated and destroyed by the Nazis and the Holocaust.

"So it makes all the sense in the world that we are the resident theatre, presenting theatre and concerts not only in Yiddish, but in English, and to make that museum more of an address.

"We have brought in a tremendous amount of people to the museum and people who come to our shows go to see the exhibits there.

"So it's very poignant for us that we are part of this Living Memorial to the Holocaust, which is the full name of the Museum of Jewish Heritage."

He has also raised his three children to be community minded.

His oldest son, Rabbi Avram Mlotek, founded an organisation called Base.

"The organisation sees rabbinical couples open their homes to non-affiliated young Jews, people in their 20s who have no interest or concept of what it it means to observe," Zalmen said.

"He's created bases like this in like 12 cities around America, and in Europe as well, where rabbinical couples open their homes and host Shabbat meals and learning and service for the homeless and social action, learning the precepts of Torah and what it means to be a good Jew and a good human being."

Middle child Elisha is a filmmaker and documentarian and he was also a founder of the Jewish music group Zusha.

"My daughter Sarah lives in Israel. And she's working serving the country," he said.

"They are all musical. They love to sing and they perform together. We sang a lot at home. It's very much in their DNA."

But do they all speak Yiddish?

"My oldest son speaks the most, my middle son less so and my daughter the least. I got lazy along the way," laughed Zalmen, who also has four grandchildren, aged from two months to almost 10-years-old.

As for the future, Zalmen is hoping to revive the Yiddish version of Fiddler on the Roof "before we do some touring with it. We are also looking at developing other pieces, including a new piece that will focus on music written during the Holocaust and performed by young people as a kind of spiritual resistance; a musical theatre piece like that.

"Other projects are in development."

Visit nytf.org/harmony and read Mike Cohen's review of Harmony at tinyurl.com/HarmonyMC

To read more on this story, subscribe to our new e-edition. Go to E-edition.jewishtelegraph.com.
---
If you have a story or an issue you want us to cover, let us know - in complete confidence - by contacting newsdesk@jewishtelegraph.com, 0161-741 2631 or via Facebook / Twitter