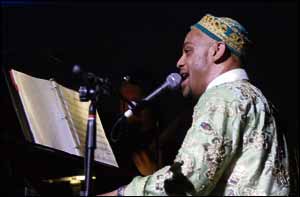 PROUD: My music crosses all sectors of Judaism - it's authentically Jewish, says Joshua
GOSPEL music and iconic Jewish lyrics may not appear to be a perfect match . . . but Joshua Nelson has united them to revolutionise Jewish music.
Hailed by Oprah Winfrey as the "next big thing" in 2004, the "Prince of Kosher Gospel" is a star attraction at the International Performing Arts Festival in Leeds next month.
Capturing the style and sound of his inspiration, gospel queen Mahalia Jackson, Nelson - alongside his Kosher Gospel Singers - has performed with soul divas Aretha Franklin and Dionne Warwick, calypso king Harry Belafonte, rhythm and blues star Billy Preston, jazz greats Dizzy Gillespie and Wynton Marsalis, soul/gospel singer Cissy Houston and Grammy winners The Klezmatics.
Born and raised in New Jersey, Joshua is the third eldest of Sharon and Larry Nelson's six children.
The family regularly attended a black synagogue in New York City at Jewish festivals where members traced their heritage to Senegal.
And Joshua was encouraged by his mother to attend a Reform Hebrew School at Temple Sharey Tefilo-Israel in South Orange, New Jersey.
Proud of his African-American-Jewish heritage, Nelson - who has taught at the school for 15 years - said: "I have a very strong Jewish identity.
"We lived in a mixed neighbourhood, but it didn't matter from my mother's Jewish standpoint whether people were black or white. She was Jewish and her outlook was in a Jewish way.
"Passover has always been my favourite festival.
"At synagogue, we re-enact the seder. I love the occasion. It's a big family time. We always eat roasted lamb and eat horseradish root.
"My mother is a great cook and makes her own matzo."
After attending Newark's Performing Arts High School, where he was official soloist, Nelson studied Judaism for two years in Israel at Hebrew Union College, near Bet Shemesh, which had a kibbutz programme, and at the Hebrew University of Jerusalem.
"I first went to Israel with my synagogue on a high school trip," he said.
"I knew what Israel looked like,but did not expect the spiritual experience at the Western Wall.
"It's the most reverent site in Israel and most touching of places. The Hebrew faith speaks to me and visiting Israel made a massive impact. I've been back since, but that first impression was the most lasting."
While studying in Israel, Joshua found the inspiration that would ultimately lead to kosher gospel music, cementing his Jewish identity as a Black Jew.
"I've been a Mahalia Jackson fan since I was eight," he said. "I heard the conviction in her voice when listening to her album in my grandparents' record collection.
"My grandmother was a very upstanding and classy woman. I figured if this classy woman was listening to this lady, she had to be worth listening to - but I didn't realise I was picking up her style.
"At Hebrew University one day, I decided to attend the Great Synagogue and heard the choir. They had a sound like singers in Mahalia's album."
Joshua began to mix Hebrew texts with gospel melodies, resulting in solo CDs such as Hebrew Soul.
"People questioned how I could bring gospel to the Jewish world," he recalled. "Hearing the choir showed me. What makes music authentically Jewish is not just the music but the lyrics."
Joshua started to put his own sound together in 1998, worked with some of Mahalia Jackson's musicians and soon featured in a documentary titled Keep on Walking about being a Jewish gospel singer.
But it was not until he appeared on Oprah Winfrey's show that he hit the big-time.
"I knew Oprah's mother through Aretha Franklin's stepmother," he said. "Aretha put me in a couple of her concerts and it was nice knowing Oprah's mother, but we were just friends.
"There was no desire to go on Oprah, but eventually I did and it gave my music credibility.
"People had been cynical as to whether my music was halachically correct, but Oprah's show legitimised me.
"There was suddenly an acceptance, which was unbelievable."
Joshua brought out an acclaimed album, Mi Chamocha, which includes songs with Aretha Franklin and The Klezmatics.
Aside from performing for many A-list celebrities, he has also entertained President Barack Obama, former US president Bill Clinton and past Israeli Prime Minister Ariel Sharon.
"I never get nervous at performances and my music takes Judaism out of the closet," he said. "There are people who do not know what Judaism stands for or our beliefs.
"The only identification some people have is an Orthodox man wearing a black coat. This type of stereotyping camouflages the main focus of Judaism."
He added: "My music crosses all sectors of Judaism and it's authentically Jewish.
"Gospel music to me has soul. Just because it is gospel does not mean it cannot cater to the specific mood of a prayer.
"If a prayer is about candle lighting it can be a very mellow style song.
"It matches the prayer in a perfect way though may be stylistically different.
"At festivals our music can have audiences screaming and dancing in the isles, but then there are songs that are reverent.
"My music breaks down stereotypes."
Joshua has recently made his big screen debut in new movie The Yankles, which is about an Orthodox baseball team and stars Don Most, of Happy Days fame.
"It was a very exciting project," he said. "We did our performance live so you get a very good soul feeling in our performance."
Looking ahead to the festival, Joshua, who appears on Sunday June 6, and Tuesday, June 8 (both 9pm), said: "There is a purpose why I was named Joshua.
"In the story of Joshua and the battle of Jericho, the walls come tumbling down.
"Our music break downs walls. The only wall we want to lift up is love and that is what my music is about.
"Every superstition and stereotype, let it come down and you'll feel life for what it really is."
Through gospel singing, this talented musician is uniting people in joyous harmony and claiming his identity as a Black Jew.