BY MIKE NICHOLLS
A STRIKING blonde with the glad animal movements of a dancer gives me a conspiratorial wink and promises 'We're going to have some fun tonight!'
A few seconds earlier another blonde of a certain age had swept past us en route to the launch of her autobiography, Stoned.
This happened to be Jo Wood, model and ex-wife of Rolling Stone Ronnie Wood. However, in this tale of two blondes, it is the first to whom we must turn our attention.
Her name is Christina Jansen and I would like to introduce her as my latest partner in crime, or at least 'snapper', as we say in the trade.
The chemistry between journalist and photographer is key to a good story and when the charismatic Ms Jansen is half of the team, everything clicks into place.
Once the fun begins, business becomes a pleasure.
A corporate photographer of some repute, Christina has been taking pictures for longer than you might imagine.
It's only when subjects Muhammed Ali, actors Frank Finlay and Bob Hoskins, and rock stars Bill Wyman, of the Rolling Stones, and Led Zeppelin's Robert Plant are mentioned that it becomes apparent Christina must be older than she appears.
This could have something to do with her varied gene pool. Her mother, who died two years ago, came from Toxteth, Liverpool 8.
"She called herself Marion Goldson," says Christina, "but her family would have come from Germany and because of one of the German purges, the name would have been changed from Goldstein."
The photographer's father, Kees Jansen, who came from Holland where Ms Jansen lived until she was 10, was also Jewish. Her Dutch grandmother's maiden name was Kellerman, who was also part-Jewish down the line..
"My mother went over to Amsterdam and met dad in a bar," she explains. "He was one of Holland's top photo-journalists and we lived next to the Ajax football stadium.
"My parents were friendly with Johan Cruyff and lots of famous footballers came to our house," Ms Jansen adds, indicating a family tradition for courting celebrity.
Like many a Liverpudlian, however, her mother preferred the English way of life.
"My mother fitted into the Dutch environment and learned fluent Dutch," Christina said. "She became a translator and wrote for the Disney Donald Duck comic."
Marion had to return to England with Christina and her brother and "although she loved her country, she refused to doff her hat to the gentry not believing in the class divide anymore," Christina added.
"I had to learn English fast. My mother joined a drama group and as a kid I performed in lots of musicals with her. Through that, I also got into ballet and judo."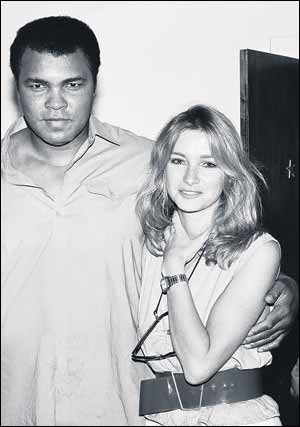 PROUDEST SESSIONS: Christina Jansen with boxing legend Muhammed Ali

This presumably has something to do with the agile choreography Christina displays as a photographer.

Her career began with an art foundation course, followed by an honours degree in art and photography.

Then came a job with the Hanley Museum in Stoke-on-Trent taking pictures of buildings for their archives.

Moving to London in the mid-1980s, Christina discovered she was equally skilled at networking and found herself acting as an agent, representing writers of advertising jingles for TV and radio commercials.

"They wrote the 'A Mars a day helps you work, rest and play' advertisement and composed the Cadbury's Flake tune," she comments.

Meeting people in the music world led to shooting portraits of rock stars such as Wyman and Plant.

Like Christina, former Led Zep frontman Plant is a resident of Primrose Hill, the exclusive, if still slightly bohemian, London suburb where she has lived for more than 30 years.

Her daughter, Ruby, is studying creative advertising at Leeds University while her estranged husband, the famous independent film producer Roger Randall-Cutler, lives nearby.

He made Dance with a Stranger, about the last woman to be hanged in Britain, and musical comedy-drama The Commitments.

Another famous Primrose Hill-billy is Baroness Joan Bakewell, the octogenarian writer and television presenter whose picture has also been taken by Christina.

"Don't retouch any of the wrinkles on my face," the media national treasure quipped during their session. "I've earned every one of them!"

As with many of her subjects, Christina created Joan's portrait in her Primrose Hill studio.

"I love people coming here," she says. "They always have a good time and feel relaxed.

"I think the sessions I am most proud of are the ones I did with Muhammed Ali. A call came from out of the blue and I got on really well with him.

"He treated everyone with tremendous respect, which enabled me to get some warm, intimate photographs. This was more than 30 years ago."

Ali, widely regarded as one of the all-time greatest boxers, lived long enough to celebrate his 70th birthday during the 2012 London Olympics.

Christina came up with the idea of showing 70 images of the champ taken by a range of photographers from around the world in a gallery overlooking the Olympic Stadium.

The boxer reciprocated by writing a poem for Christina: "To Tina from Muhammed Ali . . . Love is the net where hearts are caught like fish."

Meanwhile, back to the night a few months ago when the photographer and I had some fun with Jo Wood, who I was interviewing about her book concerning life with the Rolling Stones.

Jo proved to be much more than just a pretty face, spilling some interesting beans.

One anecdote involved Keith Richards moving in with her and husband Ronnie Wood and only agreeing to leave after the birth of the couple's first baby.

Describing Bob Dylan as "music's biggest introvert", Jo went on to tell me that the rock star she fancied the most was, surprisingly, not someone like the universally adored Bryan Ferry, but another blonde, Billy Idol, which made Christina laugh.

No wonder they say that blondes have more fun.

Many of the characters mentioned can be found in My Life With Rock N' Roll People, an A-Z memoir by Mike Nicholls covering his 40-year career as a rock journalist. Available now from www.ghostwriterbooks.net
---
If you have a story or an issue you want us to cover, let us know - in complete confidence - by contacting newsdesk@jewishtelegraph.com, 0161-741 2631 or via Facebook / Twitter