YAEL Averbuch West has had the privilege of playing football alongside some of the biggest names in the women's game.
From Brazilian record-breaker Marta to US national side favourite Alex Morgan, Yael has laced her boots and crossed the white line with the best of them.
Yet, throughout my conversation with the 32-year-old, she seemed unfulfilled.
And I wasn't wrong in that assumption.
New Jersey-born Yael, who is married to Aaron West, said: "I have so much of the mindset that I always want more, and have never felt satisfied.
"I look at my childhood dreams and goals and, in one sense, I did achieve my dream of playing professional football, and I feel so proud of that.
"But at the same time I still have goals, such as playing in the World Cup or the Olympics.
"I never made the squads to play in those events and I feel like I could have got better as a player and done more with my capabilities, so I'll always have that feeling.
"I would never have been satisfied, even if I had accomplished more — but that's just my mindset.
"The more I separate myself from the playing side, the more I can look back on it and feel the pride part more than the constant angst that I could have done better and could still do more."
Yael, who has a sister called Shira, made 26 appearances for the United States national team, scoring one goal.
She has also made more than 250 career league appearances for nine clubs — including Goteborg FC in Sweden.
For those who can only comprehend the men's game, Yael describes her footballing style as that of a Sergio Busquets.
But her career has been put on hold due to a battle with ulcerative colitis.
In short, and sparing the gory details, it's a chronic condition where the colon and large intestine become inflamed, and the urge to go to the toilet can come without warning.
This made it difficult for Yael to play, and training was almost non-existent for her last club, National Women's Soccer League side Reign FC.
Yael, daughter of Gloria Averbuch and Paul Friedman, explained: "I played one game last season and tried on and off to train, but missed huge chunks of the campaign.
"If you can imagine that you may need to use the bathroom at any moment, urgently, it makes it even hard to drive anywhere.
"The logistics of participating in a group sport was really difficult.
"The biggest issue was getting places and being out of my comfort zone or my house where I knew that a bathroom was right there when I need it.
"I've been working with doctors and I get a monthly infusion of medication at the moment.
"It's working well, although I'm still not 100 per cent. It's also very stress related, so if I can maintain a low stress level and maintain 100 per cent health, I really shouldn't have any issues going forward — I let it get bad by playing through and not getting medical attention.
"I'm also at a point in my career where, if playing is jeopardising my health, I'm no longer willing to sacrifice everything to continue to play."
Most footballers, male or female, start their love for the sport from a young age, and it is usually borne from another family member supporting a certain club going back generations.
But not Yael. Even today she finds the notion of club allegiance to be slightly alien — although her husband supports Italian giants Juventus, while she (sort of) follows Manchester United.
She explained: "I played for a local recreation team, and we practiced once a week. My family would rent videos and I'd learn how to do certain skills in my backyard.
"I slowly ramped that up by playing for local clubs — I was the only girl on a boys team for a while. We all learned the game together, until I eventually went to college."
And it wasn't the hugely popular men's game Yael first watched, either. Her first foray into the sport was thanks to the Women's World Cup in America in 1999.
More than one million people attended the tournament, which was won by the home country.
One of the outstanding players was Mia Hamm, who had played for the same college team — North Caroline Tar Heels — as Yael 10 years earlier.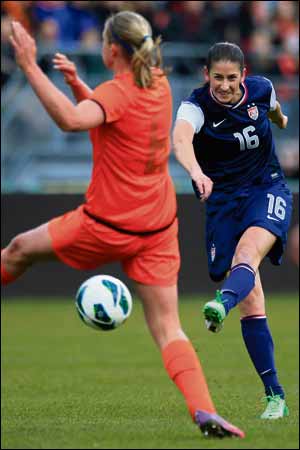 ON TARGET: Yael Averbuch representing the United States in a match against Holland in 2013

Yael said: "Mia, along with Brandi Chastain (192 caps), were my initial heroes.

"I started to get exposed to the international game before that, when we went on a trip to England to visit some family friends — it wasn't really on television much over here.

"It was the 1994 World Cup and I was surprised that people were actually watching it.

"When I came home, my dad subscribed us to some crazy television channel that showed the Italian leagues — it was all in Italian.

"I became aware of the world game very quickly and I started to love Zinedine Zidane.

"I was in to women's football before men's — there wasn't a culture here like everywhere else.

"I had a coach who said they supported Arsenal but I had no idea what he meant, as that didn't make any sense to us. All we knew was the local teams we played for."

Yael's clubs include New Jersey Lady Stallions, Sky Blue FC, Western New York Flash — where she played with Marta and Alex Morgan — WFC Rossiyanka in Russia, and a brief loan spell at Cypriot club Apollon.

And everywhere she has gone, her Judaism has helped her to settle in — especially in Sweden.

She recalled: "When I'm in a new place, the Jewish community is something I find and connect with. My Judaism has become more about the community aspect and finding people who are like me.

"In the soccer world, I don't meet many Jewish players. The first time I really experienced this was when I went to college in North Carolina.

"I started to think about how I was Jewish, everyone around me was not and what that meant.

"I was most involved in the community when I was in Sweden."

Yael's journey to the homeland of Abba and Ikea left her feeling isolated and lonely.

"I got a message of outreach from the Jewish youth community leader there," she said. "I went to some services, but couldn't understand a word of it!

"I wasn't sure if the services were in Hebrew of Swedish . . . I was happy to sit there and be with people who were like me — it was comforting."

Many of Yael's former teammates are currently showcasing their skills in France at the FIFA Women's World Cup.

And her home nation are among the favourites — especially thanks to the goalscoring prowess of Alex Morgan.

So who is Yael backing to win the showpiece tournament?

Well, unsurprisingly, the United States — who face hosts France in the quarter-finals tonight.

She said: "This is exciting football for anyone, not just women.

"Unfortunately, the refereeing standards are taking the spotlight from the quality of the play.

"FIFA will really have to discuss this as it's highlighted the need to go back and evaluate things.

"It's sad for me, even though I am on Twitter talking about it, because there is some really amazing quality football going on."

She will be watching the refereeing up close as she has tickets for the final at Lyon's Parc Olympique Lyonnais.

Away from the pitch, Yael is keeping busy with her new company, Techne Futbol.

Her Techne Training System offers training via an app to be done anytime, anywhere, involving minimal equipment.

And it's probably the most Jewish footballing app on the planet.

She is joined by former Tel Aviv University graduate Dana Schwartz, who played in Israel, footballer Molly Menchel, who has a Jewish father, and engineer Russell Richardson, who has a Jewish grandma.

Yael said: "This app is my way of giving back all the wonderful lessons soccer has taught me.

"It's a system that teaches skills, but more importantly, it teaches that through hard work, discipline, and focused training, you can achieve anything you set your mind to.

"Everything is on the app, so you don't need to trawl though sites such as YouTube to find training videos anymore."
---
If you have a story or an issue you want us to cover, let us know - in complete confidence - by contacting newsdesk@jewishtelegraph.com, 0161-741 2631 or via Facebook / Twitter