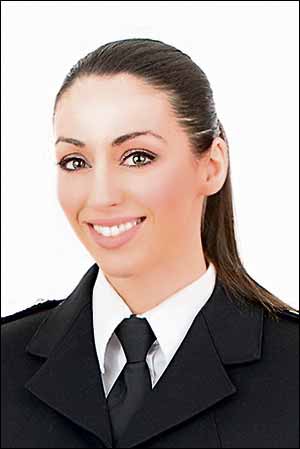 FIRE-FIGHTING: Sabrina Cohen-Hatton in the environment she knows best
HOMELESS at 15 and living on the streets for two years. Within three years a firefighter and, in her 30s, a deputy assistant commissioner with a PhD.
It sounds like the stuff of fiction; the perfect film script.
But it actually happened. And today, Sabrina Cohen-Hatton is not only one of Britain's most senior female firefighters, but probably the only Jewish woman in the service.
And, the makers of Granchester, ITV's much-vaunted drama series, have acquired the rights to bring her story to the small screen.
Sabrina, 36, has recounted her experiences in a book which she insists is not an autobiography, but about decision making for people in all spheres of life.
Appropriately, it is titled The Heat of the Moment; Life and Death Decision-Making from a Firefighter*.
Her extraordinarily difficult early years are what shaped her eventual career, and to that extent her own story continually permeates the book's pages.
Sabrina explains: "I talk about some of my early experiences in a way about how I make decisions.
"It was never intended to be an autobiography that would talk about my whole history, although the human story is one bit that has created a lot of interest."
In the book, she deliberately skirts around the issues which led to her leaving home and living rough on the streets of her native Newport.
Sabrina reluctantly discusses with me the traumatic circumstances of her mother's mental illness.
"After my father died of a brain tumour when I was nine years old," she said, "my mum suffered terribly with her mental health.
"I think it's fair to say that whenever anyone goes to war with their demons everyone around them gets hit by shrapnel, and that was certainly the case with our family.
"Nobody would live on the streets unless the alternatives were unbearable.
"We lived in abject poverty for some considerable time and it was incredibly difficult."
But her tough experiences as a teenager shaped her future life.
She says: "I'm really pleased that in some respects, difficult though it was, it certainly gave me an understanding of how resilient the human condition is and that your circumstances don't have to determine who you are. They don't have to define you."
Her brother left home to live with friends at around the same time she took to the streets.
Sabrina said: "My mum still suffers with mental illness. My brother and I spoke about it before I did the book and we both agreed that we wouldn't put anything in there that might make her worse.
"Although we've processed it, there's a lot she still hasn't processed."
And that's as far as Sabrina is prepared to elabrorate on the subject.
How did a teenage girl manage to survive on the streets of a tough city without coming to any serious harm?
"When I look back at everything that happened," Sabrina recalls, "I think survival is the bit you do day to day.
"The most difficult thing for me, and certainly the thing I found most difficult to talk about, is the way it affects you emotionally.
"People will look at you as if you're a ghost, or not even there, like they look completely through you."
A teacher who saw her in those circumstances just turned the other way, pretending not to notice her.
"But it gives you the fuel to do better and prove them all wrong," Sabrina continues.
"And every time there's been a situation with some one who has said, 'you will never do that or never achieve that, you'll never amount to anything', it's that kind of fuel that drives me forward."
She admits: "I tried to hide it when I went to school and pretended everything was all right.
"What I found was that you could go to school, try not to raise your head above the parapet and just carry on, but there were people who knew."
Fellow pupils would see her selling the Big Issue and it was obvious what her circumstances were, but it went over their heads.
She recalls that she had been raised to mistrust Social Services, "but I certainly don't see that as the same now".
"So you end up being very smart about trying to hide your circumstances," she said.
"Although I did go back to social services, I was met with a relatively empty office at the time and then told that my old social worker had moved on.
"You just take it at the time, as a young person, as yet another rejection."
Sabrina, who eventually left school at 16, seldom managed to wash other than in a pub sink in a toilet cubicle.
"My life was filled with what seemed like the worst possible days for two years," she reminisces.
"After losing my father, most of my teenage years were spent as a scruffy kid with nowhere to call home.
"There were times when I came to harm, and quite a few times where I only narrowly avoided it.
"I was always looking up anything out of place, anything that might spell trouble. It's turned out to be a real advantage."
She was determined to complete her GCSEs and somehow succeeded in doing so.
"It was a hideous period in my life that lasted for around two years and one that I've spent many years since trying to forget," she shudders.
She found shelter in a derelict building and tried not to draw attention to herself by asking teachers for somewhere to store her books. They had no idea about circumstances.
She encountered one unsavoury character called Dick with a shaved head, covered in tattoos, who discovered that she was Jewish after seeing her surname on her textbooks
"You f****ing Yid," he declared and held a lit cigarette against her arm.
He punched her in the jaw and threatened to kill her.
He smashed a bottle and only the intervention of another man she trusted prevented Dick using the jagged edge against her.
Sabrina fled with just the clothes she was wearing.
Aged 18, she found work in a factory making ready meals and also held down at least three bar jobs at any one time.
"Then," she recalls, "I set to work on chasing my dream: becoming a firefighter."
But she had a major obstacle to overcome. An optician told her that her eyesight was too poor to join the fire service.
She was determined not to give up. She went to the library and found a book describing eye exercises which she undertook diligently, eight times a day, for months.
"They didn't work at all," she laughs. "In fact, they just gave me a migraine."
So she returned to the library and found a book on memory techniques.
"At my next eye test," Sabrina remembers, "I distracted the optician briefly — I'd also found a more general book about eyes in the library — and memorised the bottom two lines of the board, just in case. I passed the eye test."
Stringent standards for eyesight set for entry into the fire service have since been revised and perfect vision is no longer a requirement.
She joined the fire service at 18 without the necessary qualifications, but passed exams that were considered equivalent to A-levels.
That allowed her to take a degree in psychology through the Open University.
It was a misinterpreted situation that set Sabrina on her eventual career course.
The fire and rescue service's national guidelines now recognise that commanders need some flexibility.
She was part of the team that wrote them. They allow commanders to identify exceptional circumstances where standard procedures might not apply, where on occasion sticking rigidly to the rules might be counter-productive.
"I was determined to make a meaningful difference, and I found that the best way to reduce human error is by examining the way we respond during an emergency incident." she explains.
"So I studied psychology when I was a firefighter, just a few years into my service. I went on to research human instincts, the way that our brains function under stress."
She eventually undertook a part-time PhD course at Cardiff University. Her research involved examining "the mechanisms underpinning risk-critical decision-making".
She explains: "I wanted to question how commanders' experiences at fire incidents might bias the way that we respond to incidents we encounter further down the line."
She has has studied incident commanders all over Britain when they've been making life-saving decisions in the field.
Sabrina's daughter Gabriella, now nine, was born the day she was due to start her PhD course, and it was six months before she could actually start.
For months, over several years, she went into the lab at 5am to run experiments until 8am, before going to work.
At 5pm, she would go home to spend time with Gabriella.
"The sky could have fallen down in those few hours and I wouldn't have noticed because all my attention was focused exclusively on one little being," she insists.
"As soon as she was soundly asleep, I would hop in the car and make the 14-mile journey to the lab where I would continue to run experiments, often until the early hours of the morning."
Today, she is near the top of her profession.
"My father always said that it takes a special kind of person to rush in when everyone else rushes out," she says.
"I know that he was right. Firefighters are brave enough to face flames, to endure dense smoke; to defy natural instinct and trust that there will be a way out.
"They will do anything possible to save the life of someone they have never met.
"I have lost count of the number of extreme strangers whose pain has reverberated through me as if it were my own," she says.
Sabrina's book is split into 10 sections, each dealing with a different element of decision making.
"I wanted to look at the circumstances that impact on how we operate when we make decisions that ultimately affect whether people live or die," she explains.
Why was joining the fire service so important to her?
"In the fire service we are trusted by people who are having their worst possible days," she says.
"Our day to day is made up of the most difficult and often life-changing circumstances for people and I wanted to be able to help people in that kind of environment.
"I wanted to be able to help people when they were feeling vulnerable in a way that no-one had been able to help me when I was feeling vulnerable."
"The wife who lost her husband in a road traffic collision. The child who lost a parent in the fire. The siblings separated for ever by the accident that stole one of their lives.
"This pain — the pain I experience — is empathy. It's what drives me to get that little bit further, push that little bit harder.
"I know how it feels to crawl on your belly to reach someone on the other side of the burning room only to put your hand straight through the rib cage and realise they're nothing but charred remains."
Sabrina's family roots are in Morocco and date back generations.
Her paternal grandparents enjoyed a comfortable and happy life until her grandmother was assaulted with a machete in a pogrom in Jereda, in June, 1948.
Her grandparents subsequently settled in Israel where she visits frequently and where her father was born.
Her mother's family came from Europe and although they hid their Jewish identity, their lineage can be traced.
Sabrina has encountered some antisemitism in the fire service.
"I had some random person tweeting me to say I was obviously on Israel's payroll, I was a Jewish spy and all this kind of nonsense," she says.
"What I notice more now is antisemitism wrapped up and thinly veiled as anti-Zionism."
Her father is buried in a Jewish cemetery behind nine feet of razor wire in Cardiff and she has to ask for a key to visit his grave because when it was open vandals were spraypainting swastikas on the tombstones.
With so few women in the fire service, Sabrina says it's good to show a different perspective.
"The kind of qualities you need to be a good firefighter are not determined by gender," she insists.
"It's being calm under pressure, being decisive. It's being able to see the bigger picture."
She says she would love to see more Jews in the fire service.
"You could count on your right hand the number I've come across during my career and the numbers are incredibly low," she says.
Not only is she probably the sole Jewish woman firefighter in Britain, but only one in 20 firefighters are of the fairer sex, and she did have to fight sexism during her early days in the force.
* The Heat of the Moment is published by Doubleday (£16.99)
---
If you have a story or an issue you want us to cover, let us know - in complete confidence - by contacting newsdesk@jewishtelegraph.com, 0161-741 2631 or via Facebook / Twitter