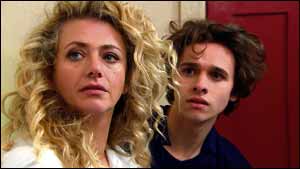 CONTROVERSIAL STORYLINE: Maya Stepney (Louisa Clein) with stepson Jacob Gallagher (Joe-Warren Plant) in Emmerdale
BY SIMON YAFFE
THERE can't be many staunch Zionists working in the windswept Yorkshire countryside.
But Emmerdale actress Louisa Clein is one of them.
The 39-year-old, who plays Maya Stepney, is happy to regularly make fellow cast and crew aware of antisemitism, as well as extolling Israel's virtues.
"I am always open to informing people about Israel," Louisa told me.
"As a family, we go to Israel at least once a year and, when I tell people where we are going on holiday, some of them wonder why and think that it is a dangerous and war-torn country.
"I tell them that it is the best place in the world to visit."
This summer, Louisa, her husband, barrister and part-time judge Jeremy Brier, and their three children will be in the Jewish state once again, this time staying on a kibbutz.
"I feel passionately about the country, but that doesn't mean I can't criticise Israel, either, if I feel that it is the right thing to do," she said.
Louisa added: "We have a diverse cast at Emmerdale. Gaynor Faye (Megan Macey) is Jewish and Roxy Shahidi (Lelya Harding) is from a Persian background, and is really interested in knowing what it means to be Jewish.
"Fiona Wade (Priya Sharma) is a Baha'i and has visited the Baha'i Gardens in Haifa.
"I am lucky to work in an industry which is diverse, open and non-judgemental."
Louisa sends fellow cast members articles about antisemitism "and they are like, 'wow, I never realised'," she said.
Louisa is currently involved in a hard-hitting storyline which has generated its fair share of controversy.
Her character, Maya, has been grooming her 15-year-old stepson Jacob Gallagher, played by Joe-Warren Plant.
She had sex with him in a bid for revenge against her partner, David Metcalfe, played by Matthew Wolfenden.
It is not an issue which is regularly talked about, with men grooming underage girls a much more prominent storyline in many television series and films.
Louisa explained: "From the start, I was told where the story and character were going.
"I think it is a fascinating and important story to tell, and a challenging part which does not come around too often.
"We have a responsibility to tell the story properly and I wanted to tell the story of a woman who is obviously lacking something emotional, in terms of what she was looking for.
"It is also about a boy coming to terms with abuse and a woman being his abuser.
"On the surface, Maya is a respectable teacher and intelligent woman who is in a healthy relationship, so it seems she is all grown up.
"She doesn't see what she is doing as grooming or that it is necessarily wrong."
And, according to Louisa, the psychology behind it is not sexually-driven.
She added: "When we were doing our research, social workers and charities told us that, most of the time, the crime is not sexually motivated — it is more about an emotional deficiency.
"A woman like Maya would have had some trauma in her childhood which has created a need for adoration and a need not to be challenged.
"Even though Maya is in her late 30s, emotionally she is still in her teens, so being with a teenager is what suits her."
All of the soaps have highlighted controversial issues, such as mental health, sexuality, rape and abuse, which have helped many viewers.
"Of course it is an uncomfortable watch and we don't want to create some kind of romantic story," Louisa said.
"It is highlighting a really important and prevalent thing that does happen."
Louisa's background could not have been more different to her character's.
Raised in the idyllic seaside town of Poole, Dorset, her Amsterdam-born mother, Channa (nee Salomonson), was a hidden child during the Holocaust.
Both of Channa's parents survived the Holocaust and they were later reunited.
Channa, a professional violinist, was a member of the Netherlands Chamber Orchestra and first came to London when she toured with her ensemble.
She was teaching at the capital's Morley College, when she met Dr Peter Clein.
"Being a mother myself, I look at my children and imagine what it must have been like for my grandparents," said Louisa, whose sister Natalie is a renowned cellist.
"There is an inevitable sense of trauma which is passed on.
"We didn't grow up in a very Jewish area and our surname was foreign; our mum was foreign and I had big, curly hair.
"We didn't experience extreme antisemitism, but our family were sometimes referred to as 'the Jews', as in 'you know the Cleins — the Jews', but I didn't feel it was derogatory."
Louisa and her sister enjoyed a culturally Jewish upbringing and would visit London every Pesach to spend time with their paternal cousins.
She embraced her Judaism more once she moved to north London at 18 to study at the Drama Centre.
There, she would buy chicken soup and became more involved with Jewish people, meaning her Jewish identity became more prevalent and a part of her life.
She was also inspired by the late drama teacher and director Reuven Adiv, an Israeli who was head of acting at the Drama Centre.
After graduating in 2000, she landed a job almost immediately on the BBC legal drama Judge John Deed as Charlie Deed, a role she played on and off for seven years.
And it was while shadowing criminal barrister Robert Rinder, as part of her research, that she met husband Jeremy, as the two were close friends.
Robert, now better known as Judge Rinder, was best man at Louisa and Jeremy's wedding.
"It was important for me to marry someone Jewish so my future children would have a Jewish upbringing," mum-of-three Louisa explained.
"Being Jewish is an important part of my life, but had I met someone who was not Jewish and had the same sensibilities, then that would have been fine, too."
She has also played a number of Jewish parts, too.
One of them was as Anna in the critically acclaimed play The Rubinstein Kiss.
Based on the story of Americans Ethel and Julius Rosenberg, who sold secrets of the atomic bomb to the Soviet Union, she played Anna, the daughter of David Gleenglass, Ethel Rosenberg's brother, who was also a Soviet spy.
Louisa also played German Jewish refugee Zelda Kay in the ITV drama series Island at War.
Her family home is in London, while Emmerdale is filmed in Leeds and on the Harewood estate on the outskirts of the city.
"I go home as often as I can, even if it is just to give the kids a kiss while they are sleeping," said Louisa, whose children are six, five and two.
And, predictably she isn't giving anything away when it comes to what happens to her Emmerdale alter ego.
Louisa added: "Who knows what will happen with the character?
"I know that the right retribution will come for her, but I am just lucky to be working as a woman and as a mother.
"Hopefully I will have a great job when it finishes, but I also want to be at home a bit and take my kids to school, and be a mum."
---
If you have a story or an issue you want us to cover, let us know - in complete confidence - by contacting newsdesk@jewishtelegraph.com, 0161-741 2631 or via Facebook / Twitter