GUITAR HERO: Bruce Kulick promoting new solo album BK3
Click here to listen to interview with Bruce Kulick
Click here to listen to BK3 sample
Mike Cohen meets a guitar hero with a stunning CV
BRUCE Kulick has never legally changed his named to 'Former Kiss Guitarist Bruce Kulick'.
Yet it seems that every magazine feels obligated to call him that.
But Bruce, who was with the rock legends for 12 years from 1984 to 1996, is quite happy with the moniker.
"I'm really proud of my 12 years in Kiss," Bruce told me. "How many people do I know who are very talented ,who worked on their careers, but don't have a name as big as Kiss on their resume."
Bruce - who released his third solo album BK3 last month - took his first steps on the road to stardom when he starting playing the guitar aged around 10.
He was spurred on after being mesmerised by The Beatles appearance on The Ed Sullivan Show on February 9, 1964 - the most-watched programme in TV history to that point.
"I think my brother Bob was already playing guitar so it gave me more ambition to go ahead and grab his guitar and play it," Bruce said.
"Early on I recognised I had some easy ability on it which was fun and my friends were very encouraging."
The 53-year-old added: "There was always music in my family. Less my parents, more my cousins who played piano and violin. My mother claimed to have sang and my father played the trumpet, but I didn't see them so it wasn't like there were musicians hanging around the house.
"I had some stars in my eyes, but it wasn't like my only ambition was to meet girls and be on stage. The guitar seemed to be a safe hobby.
"I could connect with it. That's why I always encourage people, even if not making a career of it, but enjoying what it is to sit playing an instrument. It's very healthy for people."
As Bruce was a big fan of Cream bassist Jack Bruce, he learned the bass guitar which "improved the strength in my fingers".
He added: "I realised I was a better guitarist than the guitarist in some of the bands I was in. I kept moving forward that way.
"I went through high school knowing I was playing well enough that people would respect me that way, but not knowing it would be a career.
"I didn't have a clue what I would major in - friends told me music so I said 'guess so'.
"I signed up for Queen's College. I did a year-and-a-half and got offers to travel. I was playing in covers bands and wound up touring Europe in a disco band.
"I was starting the long journey of touring and playing guitar for people."
But Bruce's heart was always in rock.
He said: "Bob got an audition for Meatloaf and they were looking for two guitarists. He was very adamant it should be both of us.
"We had role models of Dick Wagner and Steve Hunter, who worked with Lou Reed and Alice Cooper - that's how Bob saw us.
"I learned Todd Rundgren's parts for the Bat out of Hell tour in 1977-78."
Brooklyn-based Bruce was in the band Blackjack with Michael Bolton, releasing two albums, Blackjack (1979) and Worlds Apart (1980).
He also featured on Billy Squier's 1980 album Tale of the Tape and Great American Music in 1981 with The Good Rats.
In 1983, he appeared on Bolton's self-titled solo album and his 1985 release Everybody's Crazy.
A year before the release of Bolton's second album, Bruce's life was to change as he landed the gig of Kiss' lead guitarist.
Kiss were formed by Israeli Gene Simmons (Chaim Witz) and New York Jew Paul Stanley (Stanley Eisen) in 1973 with Ace Frehley on lead guitar and drummer Peter Criss.
But Frehley left in 1982 first being replaced by Vinnie Vincent ("he couldn't work out the business angle with Gene and Paul," Bruce said) and then Mark St John ("young hot shot guitar player from LA").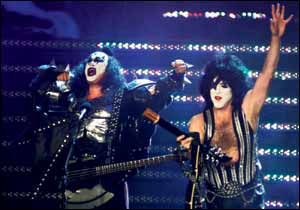 BUSINESSMEN ROCKERS: Kiss stars Gene Simmons, left, and Paul Stanley on a promotional tour of Germany last week

Bruce revealed: "I never thought Mark was right for the band. I remember reading about it and just reading his influences and thinking why did they hire him."

But St John, who died in 2007 from a cerebral haemorrhage, was diagnosed with Reiter's Syndrome - a form of arthritis.

"Next thing I know, as my brother had done before me, I was asked to do some ghost guitar work for the album Animalize in 1984.

"And Paul said to me 'don't cut your hair'. Now, I didn't know why. My hair was shoulder-length at the time. I didn't realise that they knew that Mark wouldn't be well enough for the European tour they were planning.

"So then I'm filling in first for two to six weeks, then it turned into 12 years.

"There was never the big announcement that I was the guitarist. (British rock magazine) Kerrang listed me and showed a picture of me from my Blackjack days with a moustache which said I would be filling in for Mark.

"But in the States I wasn't the official new player yet. For business reasons they gave Mark a chance. He even came out on tour with us for a few weeks.

"I treated it really positively. As much as I knew I was the better guy for the job, I wasn't going to make life hard for him. We used to jam backstage. I think he tried a little too hard.

"I had the home base advantage with gigging with them for six weeks in Europe. That was my official start of being in Kiss."

Bruce revealed that the original four members were partners,adding: "You are paid very well, but you are not a partner of the band. Businesswise I get it, but when you look at the big picture, you think sometimes, 'wow wouldn't it be great if they did this, this and this'.

"And, then again, you look at it like, 'I wasn't there at the start, I didn't create this thing' so it wasn't something I was really upset about.

"In the sense of being put out there on the record covers, touring together, you are all band members."

Before Bruce joined Kiss, they were one of the biggest bands in the world and their stage show was legendary.

They made their first appearance without their trademark make up in 1983.

Is Bruce upset that he missed out on the make up era?

"If I was in the group from beginning it might have been interesting, but clearly that wasn't my destiny. I don't regret it."

He added: "Paul and Gene are truly amazing entertainers. They certainly are smart enough businessmen to know how to nurture what they have created.

"Gene loves the music, but he loves being a business mogul. I call him a rock 'n' roll music businessman, the Donald Trump of rock 'n' roll.

"Paul is a rock star, but he is no slouch with the business. He is aware of everything that is going on, but he doesn't wear it on his sleeve like Gene does."

Bruce was a member of Kiss for the albums Asylum (1985), Crazy Nights (1987), Hot in the Shade (1989), Revenge (1992), Alive III (1993), Kiss Unplugged (1996) and Carnival of Souls: The Final Sessions (1997).

While he is proudest of the Revenge album, he only ever sand lead vocals on one track -I Walk Alone from Carnival of Souls.

"That was a surprise to me," he said. "It was my voice on the demo. The producer had to really convince them to keep my voice on the album. I was happy about it, but it was never really my aspiration to sing songs."

Bruce never realised that the MTV Unplugged show would be his last with the band.

During the gig, original members Ace - a collector of Nazi memorabilia - and Peter joined the band on stage.

Bruce said: "I didn't realise Unplugged was the catalyst in the negotiating points that would make a reunion tour.

"Even though it was a dangerous situation for me, I was thrilled that for the majority of the show I would be on Unplugged, one of the premiere shows MTV was involved with.

"I was really glad (DVD boxset) Kissology 3 came out with a longer version of the show. That DVD sold the most of the three Kissology boxsets."

Bruce, who describes Kiss as being more musical than theatrical in his years, is pleased to see the band on the road again with Tommy Thayer as guitarist and Eric Singer on drums.

"Tommy does a very good job at what they need for a Spaceman (his make up character)," he said.

"They've accomplished so much and I'm very proud that they've put out a new record, Sonic Boom, and are not just a tribute band to themselves."

Bruce says he was "emotionally destroyed" when he saw how big the reformed Kiss were after he left in 1996, but he has always had good communication with them.

He believes his Jewishness makes him "understand Gene and Paul more and some of their cultural habits that I was exposed to the same way.

"Gene is different because he is Israeli - Israeli and Hungarian - so a whole mix up there. And Paul is a more Ashkenazi kind of Jewish person, more similar background to mine."

And it could also explain why he got on so well with Michael Bolton, who was born Michael Bolotin in Connecticut.

"We were comfortable with our religion," Bruce said.

"Jewish people are normally band lawyers, management and booking agent, when you meet other entertainers who are Jewish you have an immediate kinship."

Bruce said his grandfather came over from Russia, "Ellis Island, the whole thing. He wound up in the Bronx, owned a very successful dry cleaning business who used to do the Yankees.

"He did get to experience me in Kiss before he passed away in 1988. He was very proud of me, but he'd see the gold records on the wall, and ask, 'how much money does that mean for you'.

"He still got the business end of it. I explained, 'I'm not an owner, but they take care of me'.

"He was at times very religious. He kept the home kosher. There were certain years at home when my parents kept milk and meat separate.

"I didn't understand it, but when I went to Hebrew school it made more sense.

"When I moved to Queens, the school for the Hebrew school was not in sync so I was slightly confused. Then the only thing that matters is your barmitzvah.

"So I'm learning my barmitzvah, I actually enjoyed reading the Hebrew and singing the Hebrew. I didn't really understand the Hebrew very well because changing schools kinda screwed things up a bit.

"I do remember, the school wanted me to be in the band, probably playing the stand up bass, but because of Hebrew school I couldn't do it.

"In some ways I looked at it as a regret, but then again it was important for my Judaism. It was important to learn the haftorah so I could do my barmitzvah. It wasn't a long one and I sang it quite well because I was musical and I enjoyed the musical concept.

"I wasn't Orthodox, but I understood what Orthodox was. Some of the rabbis really meant a lot to me. Even my brother got close to a rabbi at the yeshiva."

He added: "But my passion for guitar and all the amazing music that was coming out really consumed me in a healthy way. It wasn't a bad distraction."

After his time in Kiss ended, divorced Bruce found himself at a loose end.

"Larry Mazer, who had managed Kiss pushed me towards hooking up with singer John Corabi," Bruce said.

"He thought we'd have good chemistry together."

Along with drummer Brent Fitz and bass player James Hunting, they formed Union.

He said: "We did a couple of great records, but maybe the timing wasn't right.

"I included John on BK3 and he was also on my second record."

In a link to present-day Kiss, Bruce has appeared on all releases by Eric Singer's solo project Eric Singer Project (ESP).

He also plays bass on Paul Stanley's 2006 album Live To Win and has Gene Simmons and his son, Nick Simmons, on BK3.

Bruce joined Grand Funk Railroad in 2001 - the same year that he released his first solo album, Audio Dog.

His second solo release, Transformer, followed in 2003.

Among the guest vocalists on BK3 is Doug Fieger, the Jewish former lead singer with The Knack who died last month.

"I always knew I would get the call (about his death)," Bruce said - although he actually found out Doug had died from a radio announcement.

"Even when he performed for me I knew he was battling cancer. I knew about a month before that things looked really dangerous. I gave a copy of BK3 to his bass player, Prescott Niles,to give to him.

"I spoke to his sister Beth a few days before he passed away. She confirmed that Doug did indeed get the CD and that it was on his dresser."

He added: "I did not know he knew Ringo Starr well enough that he could walk into his house and pay his respect. I had never met a Beatle in person.

"I thanked Doug when I was spreading his ashes that 'wow you've completed one of my life-long wishes to speak to a Beatle'."

Bruce also revealed that he always wears a Magen David. He said: "I've always had something like that.

"I was drawn to one back in summer 2003 at a Grand Funk gig in Denver. Someone was selling jewellery and there was this little Star of David, almost looked like a tiny mezzuzah.

"I was drawn to it and bought it. The only time it comes off is when I have an X-ray.

"There were times I've bought stuff like that for my parents. I bought a chai for my dad, Harry, now aged 90, in Argentina for his birthday and my mother, Alice, 85, has always worn a chai."

Bruce believes the Magen David protected him when he was shot in October 2003 in Los Angeles.

One bullet hit him in the leg and another grazed his head.

"I was very very lucky that day," he said. "Fortunately the guy was randomly shooting a block away so the violent part was a little bit distant.

"At first I didn't want to go near there. I was there last night, I walked right by where I got shot without thinking about it.

"I healed emotionally quite quickly. The song I'll Survive on BK3 was a great way to get it off my chest. It expresses poetically that I was blessed that day and you never know when life will be taken away.

"Two inches one way or the other and I would have been crippled or dead."

Bruce is also involved with David Fishof's Rock 'n' Roll Fantasy Camp where participants get to learn from professional musicians.

"I try to do every camp, but sometimes my schedule doesn't permit it," Bruce said. "It's a great way to network and meet people who see stars in their eyes about music.

"Some are talented and some have no talent, but still get to live the dream."

It's not just the participants who 'live the dream', Bruce also had a fantasy fulfilled.

"One of my most magical times was in London about three years ago when I jammed with Jack Bruce. I got to be 'Eric Clapton' and play Sunshine of Your Love and White Room.

In addition, Bruce takes part in Kiss Expos where he gets to meet fans of the band.

"It's great to talk to fans. No one knows Kiss better than the ones who turn up at expo. It's a great way to reach out to them."

Just a couple of years ago, Bruce released his first ever recorded project from 1974, KKB, featuring childhood friends Mike Katz and Guy Bois.