By Simon Yaffe
THERE is a notable scene in Monty Python and the Holy Grail in which King Arthur and his knights arrive at the castle of Camelot and sing "we dine well here in Camelot, we eat ham and jam and Spam a lot".
The last three words of that song remained innocuous to the 1975 film's American producer Mark Forstater for 30 years.
But, in 2006, he launched legal action against the surviving members of Monty Python over the royalty rights to the hit musical Spamalot, which had opened on Broadway the previous year — it was even described on posters as being "lovingly ripped off" from the film.
The case went to the High Court in 2012 and, a year later, it found in Mark's favour, but at a terrible cost, both financially and mentally.
The 75-year-old told me from his London home: "Under the terms of an agreement, the Pythons were entitled to 50 per cent of all merchandise revenues and spin-off income (from Holy Grail).
"I was entitled to one-seventh of that figure, which was the same share enjoyed by the other Pythons.
"For 30 years, I was paid my share but when Spamalot began making money in 2005, the Pythons' manager claimed the contract was wrong and that I was only entitled to one-fourteenth, so he basically cut my royalties down by 50 per cent."
Three of the Pythons — Michael Palin, Terry Jones and Eric Idle — gave evidence at the trial, which was won in 2013 by Mark.
He accused the Pythons and their management of trying to "cheat him" and declared that it was "white collar crime".
But the legal costs and emotional strain of the case hit Mark hard and he ended up living in a bedsit.
"I won't say I lost everything but, materially, I lost a lot," he said.
"To pay their legal fees, the Pythons put on the reunion shows at the 02 Arena".
Mark went on to write a book, The Seventh Python, which revealed the story behind taking the Pythons to court.
"Not once did the Terrys — Gilliam and Jones — nor Michael Palin pick up the phone to me," he recalled.
"I even sent letters to Michael, telling him I didn't think we should go to the High Court and that we should settle.
"I also pleaded with him to ask their original manager about the original Holy Grail contract."
Mark was raised in a non-observant Jewish family in the Strawberry Mansion area of Philadelphia.
He recalled: "I was around seven when the neighbourhood began to change and some black families moved in.
"Some Jewish families immediately moved out, but my parents didn't want to move — they were racially unprejudiced."
But Mark, his mum, and his brothers, Arthur and Paul, eventually left the area when Mark was 10 after his dad died from a heart attack.
He first became interested in film when an art cinema opened in nearby Germantown.
There, he would devour flicks made by such names as Ingmar Bergman, Federico Fellini and François Truffaut.
Mark said: "I realised that there were these amazing films being made, which were so different to the Hollywood studio stuff that I had been brought up on."
He went to the Big Apple, where he studied film at the City College of New York.
Among his contemporaries and one-time flatmate was Minnesota-born Terry Gilliam.
Mark, who would see seven or eight films a week, went to college in the evenings and, to support himself, worked as an insurance clerk.
But he decided to leave just as the war in Vietnam was escalating, as he described the amount of chauvinism and patriotism in the air as "disheartening".
Married at just 20 and not wanting to be drafted into the military, Mark left America in 1964 and read English literature at the University of Manchester.
And, as imagined, he experienced a big culture shock.
"I came to Manchester on my own and I arrived in the city at around nine or 10 at night," Mark said.
"I found myself in the Old Shambles area and I thought, 'my God, Dickens is alive'.
"I thought I had come back to Victorian England, with the yellow lights of the lamps. The buildings were incredible.
"I made friends pretty easily, though, and I liked being in England. I would get on a bus and the conductor would say 'hello, luv'. I loved that friendliness."
He went back to Philadelphia, but returned to Manchester in 1967 and, a year later, moved to the capital, where he studied at the London School of Film Technique before landing a job with Anglia Television, where he worked on Survival, the channel's natural history programme.
He also made a couple of low budget feature films with friends.
One night he was watching the surreal children's TV show Do Not Adjust Your Set, which featured Gilliam, Jones, Palin and Idle.
Twice-divorced Mark explained: "It was shown on London Weekend Television, so I phoned them up and said I was a friend of Terry Gilliam's and could they give him my phone number?
"He rang me and we met up and renewed our friendship.
"I also met Palin, Jones and Graham Chapman, but didn't meet Idle and John Cleese until later."
He produced two adverts with the Pythons and was then asked to produce the second of their films, Holy Grail.
"Gilliam said it was a mixture of medieval and modern, but I knew no film company would back it," Mark remembered.
"I managed to secure independent finance, and half came from a number of record companies and half from the Scottish producer Michael White."
Filmed in Doune Castle, near Stirling, Scotland, and also in Hampstead Heath, the film was originally under budgeted and, according to Mark, there were problems due to the fact that both Gilliam and Jones were jointly directing.
"We had a post-production screening for the film's investors and there were no laughs; the audience just sat there, silently," Mark said.
"I realised that the medieval period sound effects track had overwhelmed the subtle comedy, so we re-did the entire soundtrack.
"The two Terrys weren't happy about it, but they accepted it."
Holy Grail was a huge success and the money rolled in for the Pythons and Mark, who is father to four daughters, aged 18 to 45.
He would like to have contributed to the Pythons' next cinematic success, Life of Brian, but said that the material in the original script did not sit well.
Mark added: "There were a few antisemitic bits in it, although they didn't make it into the film because the American distributors would not accept them.
"John Goldstone, who is Jewish, produced it and he had no problem with the script."
He admits that he could have had further film success had he not parted ways with the Pythons.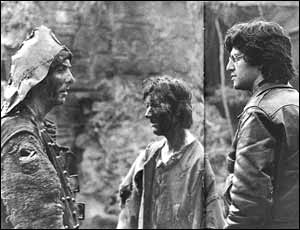 THE SEVENTH PYTHON: Mark, right, on the set of Monty Python and the Holy Grail with Eric Idle, left, and Michael Palin

He has since made 30 films, including the 1982 cult classic XTRO, which kept New Line Cinema afloat until they found success with the Nightmare on Elm Street horror film series.

Mark revealed plans in 2017 to make a new XTRO with original director Harry Bromley Davenport.

The director had made two sequels, which Mark wasn't involved with.

The new film, XTRO — The Big One, would be about an alien invasion during a massive earthquake.

He hopes to film it in Los Angeles in the next year or two.

His current film is Pants on Fire, a romcom to be directed by Mandie Fletcher, who made the Absolutely Fabulous film and Blackadder.

"We are currently casting for a summer shoot," he said. "The film is about the perils of internet dating for the grey generation."

Mark has also written a number of books, including ones on Marcus Aurelius, Socrates, yoga and Taoism.

He also made a guided meditation called The Age of Anxiety, a condition he has suffered from in the past.

Mark has been a proponent of Chinese philosophy, especially Taoism and Buddhism, since 1972.

A member of the British Taoist Association, he said: "In its essence, Buddhism can be esoteric and difficult but, on the surface, it is a positive and straightforward philosophy."

Mark, who is of paternal Polish descent, also penned I Survived a Secret Nazi Extermination Camp, which contains the real story of Rudolf Reder, who was incarcerated at Belzec, in Poland, but escaped.

Mark, whose relatives were killed in Belzec, recalled: "I had made some films in Poland and I was there one weekend when I decided to go to Lublin, where my paternal grandparents were from.

"A friend of mine arranged a visit to the Majdanek concentration camp and, in the administration block, there were six books on display.

"Two of them were in English and one of them contained Reder's witness statement. I bought the book and read it in my hotel that night.

"It is such a powerful and graphic account of what he went through."

Though in his mid-70s, Mark is showing no signs of slowing down and is currently involved in the production of a number of films, including one about a righteous gentile who saves a Jewish woman in 1944 Poland.

Another is about a Jewish student who learns Arabic in order to work for a sheikh and subsequently falls in love with a Lebanese waitress.

"I'm modelling myself on Eric Hobsbawm, the late Jewish historian," Mark said.

"After he reached 70, he began a whole new series of historical writings, which he had never done before and he continued in this new vein until he was 95."
---
If you have a story or an issue you want us to cover, let us know - in complete confidence - by contacting newsdesk@jewishtelegraph.com, 0161-741 2631 or via Facebook / Twitter