ONE of the first people talkSPORT producers contacted after England's World Cup quarter-final win against Sweden was football commentator Gary Bloom.
But it wasn't a request for him to cover a match. For Gary has added an extra string to his bow, as he also works as a psychotherapist.
The radio station wanted the 61-year-old to say how England's players would be feeling after their victory.
"I decided to train as a psychotherapist because I had, I guess, what you would call, an existential crisis," Gary told me from his Oxford home. "I was wondering what I wanted to do with the rest of my life.
"I love commentating and meeting different people, but I was packing my suitcase and travelling all the time.
"Football generally, too, has become such an anodyne experience."
This summer's World Cup, in Russia, was the first one Gary has not covered since Italia 90.
"I am enjoying the World Cup and it is a bit odd not being there, but I have a new career now," said Gary.
"As I often tell clients: what is the point in putting your attention on what you haven't got, rather than what you have got?
"I am working at a football competition in November in Uruguay and am fortunate still to be involved in commentating.
"And, putting my yarmulke on for a moment, if God wanted me in Russia, I'd be there."
His new position as a psychotherapist led to a show on talkSPORT called On the Sporting Couch, a series of programmes which address mental health issues with well-known sports people.
Among those featured in the first series, talking about depression, were former Liverpool goalkeeper Chris Kirkland, ex-England cricketer Marcus Trescothick and former Olympic athlete Iwan Thomas.
Gary explained: "I joined a clinic in Harley Street as a clinical psychotherapist and would see a lot of sports people there.
"I thought how brilliant it would be if I could broadcast one of the sessions and approached talkSPORT.
"They said yes, if I could find someone who would do it."
That first person was Duncan Bell, the former rugby union prop.
He spoke about the depression which ended his career, as well as family issues.
"talkSPORT were blown away by it," Gary recalled. "If people can hear someone like Chris Kirkland talk about their issues, then maybe they'll think, 'why can't I go and sit with a therapist, as well?'.
"It is about widening the understanding of mental health in sport and beyond. If it gets just one person into therapy or to go and see their GP, then it is job done."
A second series of On the Sporting Couch will feature ex-Olympic swimmer Sharron Davies, former Aston Villa and Celtic footballer Stiliyan Petrov and former boxer Johnny Nelson.
It is all a far cry from Gary's early days on the radio.
He was raised by parents Miriam and Alec in a traditional Jewish home in Leeds and was barmitzvah at Beth Hamidrash Hagadol Synagogue.
His mum and brother, David, still live in Leeds.
Like many other football-mad youngsters in the city, he wanted to play for Leeds United.
"I got as far as playing for Leeds City Boys," Gary recalled. "I was a half-decent player, but who I was coming up against, in terms of quality, made me realise it was an unobtainable dream."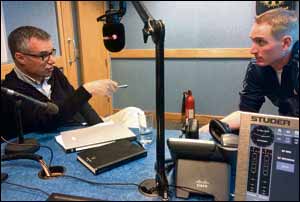 TALKING MENTAL HEALTH: Gary Bloom, left, chats to goalkeeper Chris Kirkland

He went on to read English and drama at the University of Wales and had plans to become an actor.

"I bumped into a chap called Danny Boyle (the Radcliffe-born director who went on to make hits such as Trainspotting and Slumdog Millionaire) and realised the standard was so outrageous that it wasn't going to happen," Gary laughed.

Instead, he began work as a freelance station assistant at BBC Radio Leeds.

After a short stint as a reporter and sub editor on a local Jewish newspaper, he joined the newly-launched Radio Aire, in Leeds, as a news and sport presenter in 1981.

But Gary was properly in his stride when he was offered a job covering sport at Liverpool's Radio City.

His time on Merseyside, from 1982-1988, coincided with huge success for the city's two football teams, Liverpool and Everton.

Gary was one of only three journalists invited to travel on both Liverpool and Everton team buses to away games.

He also travelled around Europe with the clubs, including covering Liverpool's European Cup final win against Roma in 1984, in Rome, and Everton's 1985 European Cup Winners' Cup victory over Rapid Vienna, in Rotterdam.

He was trained in the art of commentating by Clive Tyldesley, his boss at Radio City.

"Clive was the best local radio commentator knocking around at the time," Gary explained. "He would slaughter my work, though, and say it was rubbish. It was very hard.

"When I told him I wasn't sure whether I was going to make it and if he wanted to let me go, he told me to get my head down and work hard."

After six years in Liverpool, Gary moved into television, becoming a news and sport presenter at Central TV, in Nottingham.

It took him 18 months to adjust from radio to television. He wasn't happy in the East Midlands, though, and when close friend, fellow commentator Peter Brackley, told him the newly-formed Sky Sports was looking for freelance commentators, he jumped at it.

It was before the organisation secured the rights to the English top flight, so Gary's remit included games from leagues such as the Soviet Union.

From that, his portfolio blossomed, as he worked for a variety of networks.

One of them, in 1992, was Channel 4, which had acquired the rights to broadcast football from Italy. It was the first time a European league had been shown in the UK. The show, Football Italia, gained a cult following.

"It became huge," Gary said. "We actually did the commentary from a studio in London due to the cost and because the producers were terrified they would lose the line if we did it from the stadiums.

"It was known as 'off-tube' commentating and it had never been done before.

"Brian Moore, at ITV, was offered the chance to try it, but he said he couldn't do it. Today, 80 per cent of all commentators work off-tube."

Gary went on to cover various football competitions around the world, including World Cups, European Championships, Champions League and the UEFA Cup.

The best World Cup game he covered was the 2006 semi-final between Italy and Germany, which the former won 2-0.

Gary, who is father to Rosie and Josh, has also commentated on his beloved Leeds United, for Channel 5, when they were competing in the UEFA Cup.

"I travelled around Europe with them," he added. "I do find it hard to commentate on Leeds, because I become irritated — especially when they are playing badly!

"There are games when I have to tell the truth, as in if a match is disappointing, I will try and work out what the story is and what is going wrong — it is the journalist in me."

Gary — whose most famous commentary bloomer is, "that was déjà vu all over again" — began to find that his broadcasting career could be a lonely existence.

He decided to branch out and took a post-graduate diploma in psychotherapy.

"When it comes to commentary, I am well-paid and it is wonderful, but I had gone through a few personal issues, including a divorce," explained Gary, who lives with his partner, Sue.

"I never thought my two careers would collide in the way they have — I thought I would be sitting in a clinic or in my home seeing clients, as well as doing some commentary, and that would be it."

His feelings about Judaism have changed since he moved to Oxford, too.

"We have Orthodox, Liberal and Masorti all under one roof," Gary continued. "If, on Rosh Hashana, I want to go to the Liberal service and then the Orthodox service, I do.

"The Liberal and Orthodox congregations regularly meet for a kiddush.

"Growing up, I didn't really understand what Judaism was about. I'd go to cheder and it was all about people getting cross if I didn't know the Shema and a lot of shushing. None of it made sense to me.

"For me, Judaism is not about the literature — it is about tikkun olam (repairing the world) and charity and being kind, polite and good to people. I love being Jewish and I think it is a fantastic blessing."

As we come to the end of our chat, Gary tells me that, the following day, he will be going into a school to help children with academic and behavioural problems.

"I doubt some of them even know where St Petersburg is," he quipped.