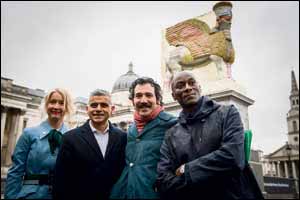 FOURTH PLINTH: Michael with, from left, Deputy Mayor Justine Simons, London Mayor Sadiq Khan and Ekow Eshun, chairman of the Fourth Plinth Commissioning Group
IT sounded strange when artist Michael Rakowitz first said "inshallah" during our phone call.
But when you dig a little deeper, it is not at all surprising that Michael, whose surname is extremely Ashkenazi, uttered the Arabic phrase, which means "God willing".
His mother, Yvonne, is from an Iraqi Jewish family — and Michael was imbued with Arabic Jewish culture from a young age.
And it has influenced his work too, as his new piece, The Invisible Enemy Should Not Exist, was unveiled yesterday on the Fourth Plinth in London's Trafalgar Square by the capital's mayor, Sadiq Khan.
It has seen Michael recreate the Lamassu, a winged bull and protective deity which stood at the entrance to the Nergal Gate in the Assyrian city of Nineveh (near modern day Mosul, in Iraq) from 700 BCE, until it was destroyed by ISIS in 2015.
It will be the 12th work to appear on the Fourth Plinth since the commissioning programme began in 1998, and will be on display until March, 2020.
Michael said: "I am incredibly honoured and humbled. I can't tell you how much it means that a jury made up of artists, whom I consider heroes, have chosen my work.
"In the midst of a world where misery is advertised all the time, it is good to see that cynicism is not all around.
"There is also a huge Iraqi population in London and half my family settled here in the 1940s."
Raised in Great Neck, Long Island, Michael's mother moved as a baby to America with her parents from Bombay, where there was a large Iraqi Jewish community.
His grandfather, Nissim Isaac Daoud bin Aziz, anglicised the family name to David and went into business as an importer of dates.
Michael said: "My grandparents spoke Arabic at home and I spent a large part of my younger years there.
"Their kitchen was always the heart of their house and listening to them talking Arabic and cooking Arabic food, the smells and the music, was something which went into my cultural DNA.
"I identified with it as that is what it meant to be Jewish."
Before the 1940s, there was a large Jewish community in Iraq, especially in its capital, Baghdad.
And, so well-thought of were Iraq's Jews, that shops in Baghdad regularly closed early for Shabbat.
Michael's maternal heritage really hit home when the Gulf War began in 1990, as he was hearing about places in Baghdad that his grandparents told him about were at risk.
And it was the second Gulf War, 13 years later, which prompted him to figure out how to incorporate Iraq into his work.
There has been, though, also a little Ashkenazi influence for Michael.
His father, Frederic, is Asheknazi and, he said, his mother makes bagels and lox every Sunday — although he didn't eat a kneidel until he was in college.
"I was invited to go to a diner with a friend, who wasn't Jewish," Michael said.
"I had matzo balls for the first time then, but I found them disappointing!"
His passion for the Middle East also demonstrated itself in 1990 when the family were in Israel for Michael's brother's barmitzvah.
He recalled: "I saw my mother conversing in Arabic with the shopkeepers in east Jerusalem and saw her face light up.
"This, for me, was Arab culture and I felt at home.
"However, that is not to say I couldn't feel at home, say, in Tel Aviv and I feel at home, in lots of ways, among Asheknazim in Chicago."
Michael graduated with a degree in fine art from Purchase College, State University of New York, in 1995, and then took a Masters in visual studies at the Massachusetts Institute of Technology.
He now lives in Chicago, where he is professor of art practice and theory at Northwestern University.
And his first museum survey, Backstroke of the West, debuted at the Windy City's Museum of Contemporary Art last year.
Michael's The Invisible Enemy Should Not Exist project began in 2006, with him aiming to recreate more than 7,000 archaeological artefacts looted from the Iraq Museum in Baghdad.
"I saw the Pergamon Altar at the Pergamon Museum in Berlin, which blew me away," Michael recalled.
"I discovered that it had been taken by the Germans in the early part of the 20th century from its former site. It got me thinking about looted artefacts."
The reconstructions in The Invisible Enemy are made from recycled food packaging, similar to the reliefs at the base of Nelson's Column being made from canons salvaged from the wreck of HMS Royal George.
The Lamassu is created from 10,500 empty Iraqi date syrup cans, which represents a once-renowned industry decimated by the Iraq wars. And, to coincide with yesterday's unveiling, Michael is creating a limited-edition artwork using date syrup tins sourced from Karbala, Iraq.
Each is accompanied by a book of date syrup recipes, including contributions from Michael's mother and Sephardi cuisine expert Claudine Roden.
A new range of products from design company Plinth will accompany Michael's work, too, inspired by the use of food in his art as a way of bridging cultural and political divides.
It includes tote bags, wooden spoons and aprons — and the items feature the Arabic proverb: A House With A Date Palm Will Never Starve.
A portion of the profits from the merchandise sales will be given to support the Mayor of London's educational projects.
So saturated is he in Iraqi culture that, in 2003, Michael set up a food truck called The Enemy Kitchen, which he took with him five years later when he moved to Chicago.
"There is a large Iraqi community in Chicago and we work to help Iraqi refugees, too," he explained.
And, while antisemitism remains prominent in the Arab world, Michael said he has had "more antisemitic episodes with people in Chicago and Brooklyn than I have had with people from Iraq".
Married to Lori (nee Waxman), the couple have two children, eight-year-old Renee — named after Michael's maternal grandmother — and Jude, four.
Lori was diagnosed with late stage aggressive breast cancer a few years ago but, thankfully, came through it.
"I believe that there is something out there which is bigger than us," Michael said.
"I adore the Jewish customs and the High Holy Days.
"When Lori was diagnosed, we lit the candles every Friday night and were grateful that it was Shabbat as we did not have to face any news about test results."