BY SIMON YAFFE
CULT comedy The League of Gentlemen made a welcome — and triumphant — return to television screens over Christmas, 20 years after it first captured the public's imagination.
Set in the fictional town of Royston Vasey, in northern England, it follows the lives of its bizarre inhabitants, including Edward and Tubbs, Hilary Briss, Rev Bernice Woodall and Papa Lazarou.
And, later this year, the quartet behind it will embark on a national tour with their show The League of Gentlemen Are Live Again!
It will visit Glasgow on August 29, Leeds on September 15, Liverpool the following night and Manchester on October 22.
Founder member Jeremy Dyson still can't believe the scale of its success.
Leeds-born Jeremy told me: "Not for one second did we ever envisage it would become so big.
"We just thought that there would be a couple of series and that would be it.
"The watershed moment came when we did our first tour in 2000.
"I remember the first night, in Bristol, when I was standing in the foyer watching the audience come into the theatre.
"It was just on another level in terms of the demographics —there was a mixture of students, families, old people; everyone.
"It crossed every boundary and was insane and mind-blowing to us."
Us refers to the fellow founders Mark Gatiss, Steve Pemberton and Reece Shearsmith.
The reunion came 15 years after the end of the third series and 12 years after the film The League of Gentlemen's Apocalypse.
"We had been talking about doing something again and we missed each other's company, even though we never stopped being friends," Jeremy said.
"All of us were busy, but the BBC had asked us, intermittently, if we wanted to do something in the second half of last year.
"It all happened so quickly, from making the decision in the spring to beginning work on it in June to it being broadcast over Christmas.
"We were delighted to come back for it and for us to realise that people's affections for it is still there after a length of time.
"We have been really moved by people's reactions."
Jeremy was raised in the Alwoodley area of Leeds, the son of Elaine and Melvin Dyson.
He grew up in a kosher home and was barmitzvah at Beth Hamidrash Hagadol Synagogue.
A former member of the Bnai Brith Youth Organisation, Jeremy attended a Chai Jewish summer school in Somerset in the late 1970s and early 1980s — where he met future writing partner Andy Nyman.
"Andy and I shared a dormitory and we hit it off straight away," Jeremy recalled. "We used to share dirty magazines and jokes."
The two later teamed up to pen the West End play Ghost Stories, which has been adapted for film and is due for release on April 13.
Jeremy was a pupil at Leeds Grammar School, before reading philosophy at the city's university.
"Philosophy stood me in good stead as a writer because it is a very good mind trainer," he continued.
"I learned about what's going on underneath the surface as well as, simultaneously, keeping an eye on the detail and the bigger picture.
"Philosophy should be taught in schools."
Jeremy moved to London for around a year, where he worked in film distribution, before returning to Leeds to take an MA in screenwriting at the Northern School of Film and Television.
GROTESQUE: The League of Gentlemen characters Tubbs (Steve Pemberton), Edward (Reece Shearsmith), Mickey (Mark Gatiss), Pauline (Pemberton), Ross (Shearsmith), Auntie Val (Gatiss)

He had been making little films since he was a child and was also taken with magic, regularly entertaining at parties in his teenage years.

Multi-talented Jeremy also plays keyboards in Leeds-based pop band Rudolf Rocker and, in the 1980s, was a member of band Flowers for Agatha, who were also based in the Yorkshire city.

The League of Gentlemen came about after Jeremy was introduced to Mark when they were both at Leeds University.

"We started writing together and we sent perhaps the third script we had written out (to production companies) — to universal disinterest," Jeremy recalled.

"One of my prized possessions is a rejection letter from Armando Iannucci, who was reading scripts at the time for London Weekend Television.

"Steve and Reece were also writing together and putting on plays at fringe venues in London. A mutual friend said we should pool our resources together.

"We were offered a slot at a festival, put on a sketch show and the rest is history."

It led, in 1994, to Jeremy, who is now 51, moving back to London.

"Sketch comedy was very unfashionable back then," he said. "We tried a few stand-up nights, but they always died a death.

"The breakthrough happened when we performed at the Tristan Bates Theatre and suddenly it all clicked.

"Something about that show became the template for League.

"We then had the idea of performing and changing the material every week and we had enough material for a full show, which we took to Edinburgh."

Taking the name from the Jack Hawkins film The League of Gentlemen, their show won the prestigious Perrier Award at the Edinburgh Fringe Festival in 1997 and then their radio series, On the Town with The League of Gentleman, made its debut on BBC Radio 4, for which they won a Sony Award.

It transferred to television in 1999 and acquired a cult following for its grotesque characters.

Despite his success, Jeremy is famously camera-shy and is the only one of the four creators who does not appear on screen.

He was portrayed by Michael Sheen in the film adaptation.

"I am not shy and could hold my own in an amateur production, but next to Mark, Steve and Reece, I think people would notice the difference in our skill-set," Jeremy laughed.

When it comes to Jewish themes in the show, Jeremy made sure that there was a mezzuza on display in the home of Judee Levinson and her cleaning lady Iris Krell.

And the butcher Hilary Briss' surname is deliberate too.

The League, however, is far from the only work with which Jeremy has been involved.

He co-created the Bafta-nominated television series Funland, worked as a script editor and writer on BBC One's The Armstrong and Miller Show and directed the Sky series Psychobitches.

He was also the script editor on BBC Three's Dead Boss and Bad Education, BBC Two's The Wrong Mans, Walking and Talking for Sky Atlantic, and Grandma's House, Simon Amstell's Jewish-themed comedy, which ran for two series on the BBC.

"Grandma's House was a little diamond of a series," Jeremy added. "Each episode was like a Mike Leigh film and it was great show. I don't think there will be a third series, though, as Simon felt he had done what he had to do."

He is particularly excited about the Ghost Stories film, which he co-directed with Nyman and in which the latter stars as the arch sceptic — and Jewish — Professor Philip Goodman.

Jeremy said: "It attracted a lot of attention when it was on TV and a major studio approached us to do a big budget version, but it didn't work out.

"We knew, though, if that had gone ahead, it wouldn't have been mine and Andy's version and we wanted it to be our own thing.

"We held out until it was the right return for us and we wrote a script in 2013, without taking anyone's money, and took it to our dream producers, who told us they were interested in it.

"That was in 2014 and it was the usual agony of putting a film together — the process takes a long time.

"It is such a Yiddishe film and one which is a personal thing for us. It is infused with mine and Andy's personalities, which comes across in the film."

Judaism is important to Jeremy, who lives in Ilkley, West Yorkshire, with wife Nicola and their two children, although he does not practise.

"I am fascinated by the theology and I study it endlessly," he explained

"From the outside, you could say that I read the Torah, but in a broad sense.

"I don't worship or keep kosher, but the histories and stories are a massive part of my life. You only need to watch Ghost Stories to discern that."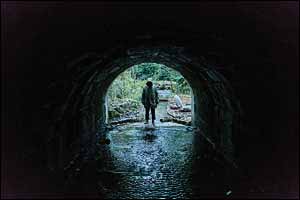 SPOOKY: Ghost Stories, written and directed by Jeremy Dyson and Andy Nyman

And Jewish characters pop up in his books, too, especially in his first collection of short stories, Never Trust a Rabbit.

Away from his creative endeavours, Jeremy is a patron of the No Panic charity, which helps people who suffer from panic attacks, phobias, obsessive compulsive disorders and other related anxiety disorders.

He said: "I suffered from anxiety and panic attacks in my early 20s and I came through it and learned to manage it. Anxiety is a common thing, but it is not spoken about too much.

"Around 10 years ago, I read an article in The Guardian about No Panic founder Colin Hammond.

"He was an inspirational figure who struggled all his life with panic attacks and agoraphobia.

"I got in touch with him and went to its annual conference.

"It is a great organisation and has helplines and literature for anyone suffering.

"The thing about panic attacks in particular is that they're eminently treatable through cognitive behavioural therapy, which works and is a powerful technique. People can get effective help."

Jeremy said he does not suffer from anxiety and panic attacks now, but "I'll occasionally get a twinge".

Jeremy is also involved with Grim and Co, a Rotherham-based charity which promotes children's literary for those children who do not have similar access to reading as middle class children.

As for The League, the quartet are not planning another series after their upcoming tour.

"It is an itch that we had wanted to scratch for a while and we are excited about the tour," Jeremy added.

"We love live audiences as that is where it all started for us, so we are looking forward to it.

"I am moving into directing, which is something I always wanted to do.

"I adore making films — it is the most fun and satisfying experience."

nopanic.org.uk and follow Jeremy on Twitter @dysonjeremy

Watch the trailer for Ghost Stories at tinyurl.com/GhostDyson