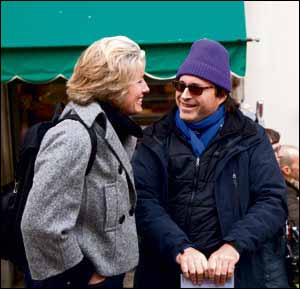 LEADING LADY: Donald Rosenfeld and Emma Thompson on the set of Effie Gray in Venice. Donald has worked with the actress on four films and is hoping to make it five with The Cooks
Picture: David Levinthal
BY DOREEN WACHMANN
HISTORY graduate Donald Rosenfeld was determined to work in films.
And he is currently in the midst of a seven-year project on a film that delves into history —the story of Sunderland sisters Ida and Louise Cook, who saved Jewish musicians in Nazi Europe.
"A film is almost a time machine," Missouri-born Donald said. "The power of films is to recreate history."
Inspired by the influence of English film director David Lean, who produced films like Bridge on the River Kwai, Dr Zhivago and Lawrence of Arabia, after gaining a second degree in film-making, Donald went door-to-door to New York independent production companies looking for a job.
He said: "I went from Martin Scorsese to Milos Forman, to all the main film directors in New York, but nobody had a job."
After a few months without success, one hot August day, Donald walked into the offices of Merchant Ivory Productions.
He recalled: "Two people were yelling and screaming at each other. They asked me what I wanted.
"I said I'd like to work there. They started laughing. Ismail Merchant handed me two very heavy six film cans, and asked me to take them to the Festival Theatre.
"I walked there in the August heat with these two heavy cans while business partners Merchant and James Ivory arrived in a taxi.
"They laughed at me and asked me to watch the film with them, and then to stay to eat with the crew of the film, The Deceivers, which we talked about over dinner.
"They told me to meet screenwriter Ruth Jhabvala the next morning at 8am and said that if she liked me, I could work for them.
"A year later I was president of the company, which I ran for more than a decade."
He then started his own company, Sovereign Films, which he owns with producing partner, Andreas Roald, a former television Star in his native Norway.
In total, Donald has produced some 30 films. At Merchant Ivory he created such iconic films as Howards End, The Remains of the Day and Surviving Picasso, and with Sovereign, The Duel, The Tree of Life, Effie Gray and Jodorowsky's Dune.
For his directorial debut, Donald will return to his native St Louis, Missouri, to direct Huckleberry Finn.
He said: "There have been 17 versions, all made for children; but no-one has ever done it as a deep, dark movie, based on the novel of Mark Twain, exploring pre-Civil War Life in America."
For Donald, the quality of the movie is everything, as he concentrates on literary and historical works.
He comes from a proudly Jewish family with English and German roots.
His maternal grandfather, Benjamin Slavin, who built St Louis' first suburbs, went to America from London's Camden Town with Archie Leach, who became film star Cary Grant.
As a child, Donald would accompany his grandfather and the rest of his family to London to visit family members. It was there that he first developed his love of history.
He recalled: "I was fascinated by the guards at Buckingham Palace."
Now Donald is proud that his five-year-old son, Sebastian Mountain, is accompanying him on archaeological digs.
Donald said: "Sebastian actually came up with an ancient claw on a dig yesterday. It was pretty incredible."
Donald's university history studies concentrated on Victorian England. His love for the UK has meant that his company Sovereign Films works from New York and London.
Donald's other ancestors arrived in St Louis via Montreal from Berlin in the early 19th century. His great-grandfather Abraham Mountain Tober, who died at the age of 99, was a great supporter of Israel and the local Conservative synagogue.
He said: "All my family are passionately Jewish."
And so is Donald, which is one of the reasons he is so excited to be making the film, The Cooks, which he hopes will star Cate Blanchett and Emma Thompson.
Donald was told about the Cooks by an old friend, Bryan Bantry, a distinguished theatre producer.
He had read that investigative journalist Isabel Vincent was writing a book about the British music-loving sisters who frequented concerts in Germany and Austria in the 1930s and somehow managed to acquire exit visas for Jewish musicians.
Donald met up with Isabel and decided to make her book — which is due out in around a year — into a film the following year.
He told me: "I had always wanted to do a Holocaust film so that we should never forget.
"This is a story about ordinary people who realised early in the 1930s that something was going terribly wrong in a country which they loved culturally.
"The Cooks went to Bayreuth, Vienna, Salzburg, Berlin and Munich for the opera and soon saw the savagery of the Nazis.
"The height of high culture was giving way to a total barbarism which had not been witnessed in history. They knew it was only going to get worse.
"They managed to find Jewish musicians, opera singers and conductors job opportunities in America and the United Kingdom.
"The story of the Cooks is one of ordinary people doing extraordinary things. If they hadn't done it, more would have perished.
"We hope to always rely on the goodness of people. People must care and not be apathetic.
"The Germans allowed Hitler into power. The Vichy government in France allowed the Nazis to deport Jews and do so many other terrible things. The more we know about that terrible time the better."
Donald believes that the intelligent, educated audiences who watch his films will help to make sure horrific history does not repeat itself.
He said: "The power of movies is to move people and get inside them like nothing else does.
"Sovereign Films will always make movies with majesty, beauty and a real sense of bringing you back in time into history.
"Our time machine is doing a great job and will continue."
If you have any information about the Cook sisters, about whom research is currently underway, log on to sovereignfilms.co.uk