By Mike Cohen
TO describe Lynn Goldsmith as just a photographer would be doing her a grave disservice.
While she has become known for her stunning photographs — as evidence, see her new book, Kiss: 1977-1980 (Rizzoli International Publications, £40) — Lynn has a pretty impressive CV.
She has been a film director, manager of a rock band, a pop star, owner of a photographic agency... and a photographer.
"I didn't want to be a photographer," Lynn revealed to me. "I used to be a singer-songwriter.
"At 14 I was singing in coffee houses and writing songs and I was in a band in college.
"I didn't intend on being a photographer. I made pictures totally out of my pleasure and artistic fulfilment in doing it. It was just that, at a certain point, I thought this comes so easy to me and it's financially beneficial compared to other things that I do, so I'm going to focus on this now as a way to earn a living."
Lynn — who divides her time between New York City and Colorado — was born in Detroit in 1948. Her father, Shakespeare Oliver Goldsmith, was a mechanical engineer, while her mother, Edythe, was an interior decorator. Sister, Ellen Nieves, is an artist.
Lynn moved to Florida in her youth, but then attended the University of Michigan where she graduated with degrees in English and psychology.
In 1969, she created the 'bio-disk' for Electra Records and worked on promotional videos for rock stars.
She became the youngest woman member ever to be accepted into the Director's Guild of America.
In 1972, she directed the first rock show on network television, In Concert.
And, a year later, she directed We're An American Band, the first music documentary to be released as a theatrical short.
This led to her managing rock giants Grand Funk Railroad.
She later focused on photography and started the first photo agency that represented images of famous people in the entertainment field.
The company, LGI, represented more than 300 photographers worldwide before she sold it to Corbis in 1997.
In the 1980s, she hit the top of the music charts in the guise of Will Powers.
The single, Kissing With Confidence, was a huge hit, while the album, Dancing For Mental Health, was also a bestseller.
"When Will Powers became successful in the UK, I came over there and they put me in a hotel room where all these journalists from all over Europe came to interview me," said Lynn, who described herself as an optic music self-help comedy artist.
"For three days, I did nothing but interviews, eating in my room, sleeping, going to the bathroom.
"I said at the end of the three days, I don't really like this. Chris Blackwell, who owned Island Records, said he didn't want to put more money into it, unless I gave up photography.
"He was right. I gave it a lot of thought and decided to go with photography."
It was in 1977 that Lynn came into contact with four rock musicians who would play a major part in her life — Kiss.
She had been sent by Circus magazine to take a photograph of the band's bassist/joint lead singer Gene Simmons for its cover.
"From the moment Gene walked in the door, I felt as though he was a relative who'd stopped by for a visit," Lynn writes in Kiss: 1977-1980.
And she had the same feeling when she met the band's other frontman, Paul Stanley.
"Gene and Paul came from pretty strong working-class backgrounds," she told me.
"I think being Jewish was one of the reasons I felt so connected to them; there weren't that many Jewish rock and rollers. You're talking Paul Simon, Bob Dylan — basically a handful of people.
"You found more in the classical world.
"We've now been friends for 40 years. They are different from each other. Opposites can often be more powerful than an individual on their own.
"I like them both very much as friends for very different reasons."
The book features photographs of Gene — born in Israel as Chaim Witz — and Paul — born in New York as Stanley Eisen — in full Kiss make up with their parents.
Lynn said: "They were just two Jewish boys. There is a photograph of Gene and his mum (Holocaust survivor Flóra Klein) backstage at a Kiss concert and she's sticking out her tongue.
"I made a print of it and sent it to her because I thought she'd like to have a picture of her and her son.
"She sent it back to me with writing on it, saying how Chaim is her son and he is the best in the world."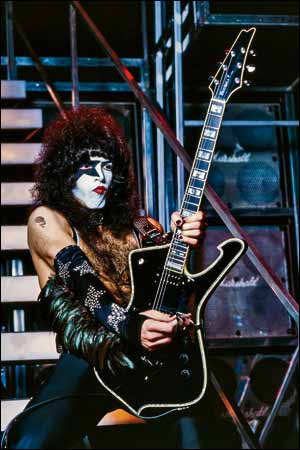 Kiss frontman Paul Stanley, captured by Lynn at Stewart Airforce Base in Newburgh, New York, in 1977

A photograph of the note, in broken English, accompanies the picture.

Lynn — who married "quasi-retired architect" Sid Schneider in 1999 — recalls a recent encounter she and Gene had with Israeli prime minister Benjamin Netanyahu.

"Gene and I met at a hotel when there were all these foreign dignitaries in town," she said.

"When we came out of the dining room, they stopped us because Netanyahu was coming through. And we are standing there and Gene yells out something in Hebrew and Netanyahu comes over with all the security.

"And they were all standing around laughing; Netanyahu, his wife and Gene.

"It was really great to see him be so fluent in Hebrew and so entertaining. I have no idea what he said nor what Netanyahu said back to him."

She added: "I see him as Chaim all the time."

Lynn also recalled conversations with Gene and Paul in the late 1970s when they said that part of the ideaof the band was that Kiss could continue even if it wasn't them because of the make up.

She added: "There were only a few artists who approached their stage shows in the same way; how Broadway was doing productions.

"It wasn't just a bunch of guys coming out in their clothes or their matching black suits like the Beatles.

"It was based on creating an experience and with Kiss, because of the fire and pyrotechnics as well as their outfits and make up, it was like a big musical.

"People want to be entertained. Kiss is definitely entertainment."

Kiss — who also included guitarist Ace Frehley and Peter Criss — were highly secretive in their early years, never being pictured without their trademark make up.

But they would arrive at Lynn's studio with bare faces.

"I didn't want to take photos of them without make up on, just like I didn't want to put photos like that in the book," she told me.

"That is not what Kiss is. I'm not a paparazzi who wants to show something about someone that they don't want seen.

"I want to increase, with my visuals, the power of what that artist creates with their own performance, music.

"I'm more about how can I help visually to manifest a stronger connection between the fan and the group."

As a lover of books, Lynn knows that people will treat Kiss: 1977-1980 as a "a sacred object".

She said: "The book covers a very crucial time in their career because they had become very big; they had various problems as a group; dealing with the fame; what happened to each of them and how they came back to being Kiss.

"In terms of getting their feedback now about what that was like for them then is worthy of a book.

"Fans don't really necessarily get to hear what it's like for someone to look back."

Gene and Paul are the only two original members of Kiss. Ace and Peter went through well-documented addiction issues which resulted in them being ousted from the band . . . on more than one occasion.

"There were plenty of artists who had drug issues at that time, so it didn't surprise me," Lynn said.

"But Gene and Paul were a bigger surprise. They were totally clean and didn't drink or do anything but work. That was where they found their greatest pleasures, whereas other demons came up for Ace and Peter.

"Fame can often times lead people to do things that might not have happened had they not achieved what they thought would make them happy."

Lynn shared the same work ethic as Gene and Paul — "I'm interested in the work not the party".

Paul and Gene have both been involved in promoting the new book — attending signing sessions and promotional events.

"They looked at pictures I had selected and they totally trusted me to do what I wanted with the design," she said. "Then they gave me quotes.

"Gene's quotes are used again and again because he is so good at quotable one-liners.

"I wanted the fan to have the experience of being there with Gene, Paul and me, in terms of looking back."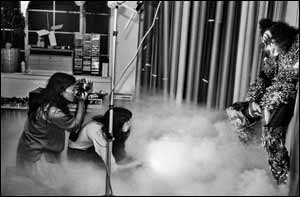 Lynn photographs Kiss' Israeli-born bassist and singer Gene Simmons

She added: "Commonalities between the three of us made them feel like cousins to me.

"Paul had a deformed ear which his hair covered. I had a hemangioma over my right eye and so I was incredibly sensitive and would wear my hair over my eye, so I would always look through my left eye.

"With Gene, he had a young single mother, which was not common at the time, and the same was true for me.

"We used to talk about Jewish things all the time. They would just come up in conversation.

"We could all speak a certain amount of Yiddish. We all basically had the same grandmother."

Lynn recalled taking photographs during summer camp when she was around 10 of fellow camper Gilda Radner, who later became famous for Saturday Night Live among other things.

"In college, I took some pictures of Jim Osterberg, who later became Iggy Pop."

With sexual harrassment the hot topic of the moment, did Lynn ever feel threatened in male-dominated environments.

"I'm from Detroit," she laughed, "no-one threatens us."

She recounted a couple of incidents where she had to stand up for herself, though.

"I was on tour with the Rolling Stones for Rolling Stone magazine," she said. "We were on a private plane and Bill Wyman demanded that I take my shirt off.

"I told him where he could go. he was like, 'Well you won't tour with the Stones' and I went, 'Who cares'.

"Greg Lake, of Emerson Lake and Palmer, once jumped me and I kneed him.

"If you give in to the demands, you won't get any work because you won't get that level of respect.

"If you are good enough at what you do, people are going to want you for work."

Lynn says she still gets a buzz out of photography, adding: "Being a photographer gives you freedom. You can travel from one type of universe to another.

"The sports universe is different to the music one or you could cover an earthquake. Life was full, exciting and rich with experience."

Lynn says some subjects might start out difficult, but once they realise that the shoot is a collaboration, they change their tune.

"They sometimes perceive the photo shoot as appealing as going to the dentist for a filling," she laughed.

"Part of that is that they've worked with some photographers who don't work to make them feel comfortable in front of the camera.

"They walk in with a bad attitude, but all artists I know enjoy the process of collaboration. If you can create that environment, then it becomes pretty easy."

Lynn is showing no signs of slowing down.

She is currently working with punk queen Patti Smith on a book as well as one with French band Les Insus — "they are the Rolling Stones of France".

She also has an online series — www.thelookingglassbook.com —of "self portraits created with questions I have about identity, gender, fashion and what makes us human".

And she has the online gallery www.rockandrollphotogallery.com featuring pictures by herself and other photographers.

"I also try to go to the gym," said Lynn, who is planning to move to Nashville with Sid.