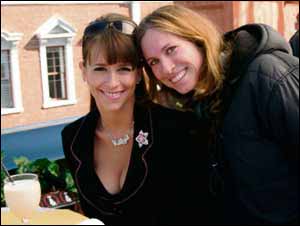 Dana Lustig, right, with Jennifer Love Hewitt
BY SIMON YAFFE
DANA Lustig was in her formative years when she first read Israeli adventurer Yossi Ghinsberg's book, Jungle: A Harrowing True Story of Survival, about being stranded for three weeks in the Amazon.
Israeli Dana has produced the film Jungle, based on his experiences, with Harry Potter star Daniel Radcliffe as Ghinsberg.
"Yossi's book was a best-seller in Israel and I really, really loved it," she told me from her home in Los Angeles.
"In 2004 I had just directed a romantic comedy with Jennifer Love Hewitt called Confessions of a Sociopathic Social Climber.
"It was a lot of fun, but I had directed it in Canada and had to leave my young twin children behind for many weeks.
"I thought that the next time I left home for a substantial amount of time, it would have to be for something special."
Dana's fascination with Yossi and his story led to Jungle, which has been 12 years in the making.
"I remember standing in front of my bookshelf and Yossi's book, which I had read all those years before in Israel, jumped out at me," she added.
"I tracked down Yossi and asked him to give me the rights to it, but he needed some convincing.
"He saw my passion and dedication and I promised him that we were going to make this film no matter what, as well as protecting the integrity of the characters.
"Yossi had had bad experiences with other directors who wanted to turn his story into a film as they wanted to make it into a kind of Rambo-type film, which he did not want."
And, instead of optioning the book, Dana and Australia-based Yossi became business partners, meaning he would be involved in the project every step of the way.
Jungle, which opened in London last month, was filmed in Colombia and Australia.
And, with Dana's children, Guy and Maya, now both 17, she was not as uneasy about spending so much time away from them.
After all, she is used to being away from home, having left Israel in her early 20s for a new life in America.
Dana was raised in Herzliya Pituah, the daughter of Israeli basketball star Erez Lustig and a Romanian-born Holocaust survivor mother, Eva (nee Kolb).
"I grew up on the beach — it was a magical place which I miss very much," she recalled.
Her father, who was captain of the Hapoel Tel Aviv basketball team, was the son of a Polish father and many of his family died in the Shoah.
Dana's mother and her family survived the Holocaust — thanks to a Nazi officer.
Dana explained: "My grandfather owned a factory and, one night, this Nazi came to him and warned him to run that night because the Nazis would come to get him and his family the following day.
"Thankfully, they escaped to a part of the country where the Russians had reached."
Eva emigrated to Belgium after the war, before moving to Israel, where she met Erez.
Dana said: "In a way, your parents' experiences generally affect you.
"However, growing up in Israel, I knew so many families whose grandparents had been through the camps and who had the numbers on their arms. It was nothing unusual."
Dana loved telling stories from a young age, so much so that she set up a puppet theatre in her neighbourhood when she was 10.
And she also harboured an ambition to be an actress, something she honed when she served in the Israeli army, regularly taking part in its theatre productions.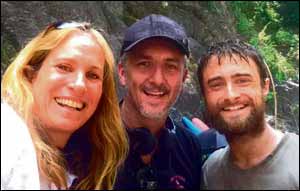 JUNGLE FEVER: Dana Lustig with Jungle director Greg McLean and star Daniel Radcliffe, who plays Yossi Ghinsberg

However, Dana became interested in the making of films rather than starring in them.

"When you grow up, you think movies are just about the actors, but I learned that there is so much more to them than that," she recalled.

"I served during the 1982 Lebanon War, but I did not see action as, at the time, women did not go to the frontline.

"I ended up working in the army's video department, where I learned how to edit."

After one semester at the University of Tel Aviv, Dana was itching to hone her craft.

So she headed to America, landing a job at NBC in New York City.

"When you are young, you don't think about leaving your home behind — it is just an adventure," Dana continued.

"I could hardly speak English when I got the job at NBC.

"I didn't have a Green Card, anyway, so I couldn't continue working there."

She moved to Miami, working for a cruise line, so there were no Green Card issues as Dana was offshore most of the time.

There, she helped the cruise line build its video business and filmed passengers on board.

After Miami, Dana headed across the country to LA, where she enrolled at the prestigious American Film Institute, graduating from its producing programme.

"I had so much fun at AFI," said Dana, who still lectures there. "It is one of the best film schools in the world and I had an amazing time."

She was only able to study at the fee-paying AFI thanks to her grandfather, who helped her financially after he received restitution money from the German government.

"When I had days where I was lazy and didn't want to go into class, I just thought of my grandpa and what he went through," Dana remembered.

Once she graduated, she threw herself into Hollywood, working as everything from an editor to a personal assistant

"I did anything and everything because I was so excited and anxious to learn, to meet people and be part of the industry," Dana added.

"I also worked as a production manager, which was the best preparation for me."

Dana went on to set up Bergman Lustig Productions, with fellow Israeli Ram Bergman, through whom she met her husband Tal — Ram's brother.

Tal is a well-known drummer, who has backed such stellar names as Billy Idol, Joe Bonamassa, Simple Minds, Chaka Khan and Rod Stewart.

Bergman Lustig Productions made numerous films like Brick, which was nominated for an Independent Spirit Award, and Dancing At The Blue Lagoon, starring Daryl Hannah.

Dana's directing credits include Kill Me Later, Wild Cherry and Wedding Belle Blues.

Nothing, however, has been on the scale of Jungle.

"There are a lot of good stories out there, but if you don't have a script, it is difficult to sell that story," Dana said.

"I raised the development money from a businessman called Zohar Rapaport, who read the book and immediately told me he would put up the money.

"That meant we could hire a scriptwriter — a brilliant Australian guy called Justin Monjo."

Dana was also full of praise for Radcliffe's portrayal of Ghinsberg.

"It was important to Daniel that his Israeli accent was authentic," she explained.

"He had a voice coach and watched interviews with Israelis every day.

"Daniel said he kind of based it on my accent because it has a softer tone.

"We showed it at the Haifa Film Festival last month. Israelis are not known to be forthcoming with their compliments, but they loved Daniel so much for his accent and the mannerisms that he brought to the film."

Israeli film and television has grown exponentially over the past 15 years. And Dana keeps a close eye on its continual development.

She is a producer on Israeli director Assaf Bernstein's new film Look Away and is currently writing a script, in Ivrit.

"It is about my mother and a caretaker, who is a young Arab," Dana added.

"It is important to do something in Hebrew because it is my mother tongue.

"My connection to Israel is so strong that I still call it home."

In fact, she tells me that moving back to Israel is still a touchy subject in her family, but her daughter is considering joining the Israel Defence Force.

"It sounds ridiculous, and a little insane, but I feel like I never left Israel, in a way," Dana said.

"Life is a process and not just one decision. Israel is still a huge part of me, so we will see what happens."

Like most Israelis, she is secularly Jewish. Her kids went to private Jewish schools, which led Dana and her husband to become involved with the local synagogue.

"It can be an effort to keep certain traditions, but we do because it is important to us that we maintain our Jewish and Israeli identities."