Joel Stransky
JOEL STRANSKY cemented himself into South African folklore when he scored the winning drop goal in the 1995 Rugby World Cup final.
Much was made of the Springboks' success at the time and the recently-elected president Nelson Mandela united blacks and whites to support the team during the tournament, which was held on home turf.
The 42-year-old fly half said: "Everybody wants to be remembered for something special and that was mine.
"As a young South African, it is your dream to represent your country."
The inspirational tale of a united South Africa firmly behind its rugby team is told in Clint Eastwood's latest film Invictus, which is released today.
The Springboks beat all the odds to claim the Webb Ellis Trophy after beating New Zealand's mighty All Blacks 15-12 in the final in Johannesburg.
Stransky scored all South Africa's points with three penalties and two drop goals.
Because of its association with whites, most of the black population did not like the sport. preferring to play football.
Johannesburg-born Joel recalled: "When I was growing up in Cape Town, we were not exposed to politics - I did not know a lot about apartheid, although I knew there were issues.
"I guess I had a sheltered childhood. I went to a white school, played sport against white kids - everything was white.
"The Springboks did not unite the nation, Mandela did.
"When he came out on to the Ellis Park field before the final in a Springboks' cap and shirt, that gained him a lot of respect from the more conservative whites."
Brought up by father Barry and mother Ishbel, Joel - who has English and Czech blood - took up rugby as an eight-year-old.
Joel, who played for most of his career as a fly-half, explained: "My brothers Alon and Brad played too and my parents were enormously supportive of my sporting desires.
"I started playing junior provincial rugby as a 12-year-old and I had an inkling that I maybe had a talent."
He disputes the myth that rugby is not a game for nice, Jewish boys, claiming it is strong among South Africa's Jewish population.
"There have been 10 Jewish Springboks, including me," he countered.
Joel played for the South African rugby schools' team and went on to study commerce, before dropping out to concentrate on his chosen sport.
He plied his trade in France and Italy, recalling: "I had done French at school and I had always been open-minded about other countries and cultures.
"I thoroughly enjoyed the different styles of rugby I played in France and Italy and I learned a lot.
"There were a lot of top players in Italy at that time, people like David Campese and coaches such as Wayne Smith and Brad Johnstone."
Moving back to South Africa, he signed for Western Province a year before the World Cup was due to start.
Mandela was the new president, a feeling of optimism wafted in the air and a new South Africa was born.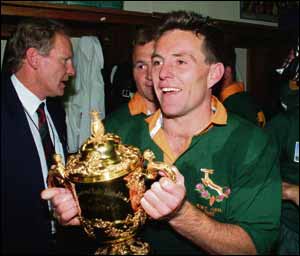 TROPHY GUY: Joel Stransky lifts the 1995 World Cup

Joel recalled: "The people who were well-educated, whites, knew about Nelson Mandela and that he had done some bad things - but all in the name of change for the good.

"The sacrifices he made were admirable and there was so much admiration for him throughout our squad.

"Once you met Mandela, you can't not be a huge fan. He is an incredible man and one of my heroes."

The Springboks were not given much chance by the media and fans alike, but made a winning start against favourites Australia in the first game.

In the opening match, Stransky became the first Springbok in history to score all four possible ways in one test match - a try, conversion, penalty goal, and drop goal.

Speaking about the final against New Zealand, Joel said: "We knew they were a great side and we had a huge amount of nerves and determination.

"We knew the whole of South Africa was behind us.

"The game was on the Saturday evening and so the whole of that day leading up to the final seemed to drag."

Sixty-five thousand fans packed into the Ellis Park Stadium - with millions more watching at home - as the anticipation grew around the country.

With New Zealand leading, Joel levelled and seven minutes from time it was he who scored the winning points of the match - with a drop goal from 30 metres out.

Joel recalled: "You are in a reactionary zone at that moment.

"If there are nerves, you are not doing your job properly and we still had six or seven minutes to go, so I was just thinking about making the game safe."

In Invictus, Joel is portrayed by Scott Eastwood, while Mandela is played by Morgan Freeman and Springboks' captain Francois Pienaar by Matt Damon.

Joel has seen the film twice and reckons it is "70 per cent accurate".

He said: "The first time I saw it I thought the rugby scenes were not done right, but when I saw it again I changed my mind.

"I spent some time on set and met up with Morgan Freeman. He was absolutely brilliant in the film.

"The first time I met Morgan on set, he spoke to me in character.

"We all had dinner later and he told me it had always been his dream to play Mandela. He is a nice man."

There is no doubting that the events of June 24, 1995, have impacted enormously on Joel's life.

But he remains modest and affable and is also keen to talk about other moments in his career.

A year after the World Cup, Joel signed for the Leicester Tigers in England.

But an injury meant that he was forced to retire in 1999 and he became their backs' coach.

And, despite a dispute over a role at Bristol Rugby, in which he took legal action - and won - Joel enjoyed his time in England.

He said: "I had married my wife, Karen, by then, and we had two children, Sabrina and Matthew.

"I had quite a bit of free time, so it was nice to watch my daughter grow and spend time with my wife.

"What I love about Europe is that everything is so close - you can be in a totally different environment within a one-hour plane journey.

"The downside? The weather, definitely."

Returning to South Africa with his family, Joel became involved in a business which was eventually bought out.

Now a business development and marketing manager for a Johannesburg-based company, he feels that his surname is both a help and a hindrance.

It can open doors for him in business, he explained, but also people may just view him as an ex-rugby hero, rather than a serious businessman.

Many sportsmen have difficulty accepting that their careers are over, but Joel is a positive person and now enjoys a multitude of sports, including cycling, football and mountain biking.

He is also a part-time rugby commentator.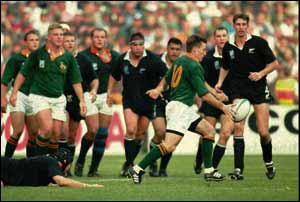 CAN HE KICK IT? Joel Stransky kicks for touch in the World Cup final win over New Zealand at Ellis Park, Johannesburg, on Saturday, June 24, 1995

He said: "Life is about moving on, accepting new challenges. The one ability I learned from rugby is leadership and getting people to work together."

South Africa is hosting the football World Cup in the summer and Joel is excited at the thought of another sporting bonanza.

He is a keen Tottenham Hostpur fan since his youth and enjoyed watching Glenn Hoddle and Chris Waddle.

And he dismissed any notion that his home country will not be safe for visiting fans.

Joel said: "You can go to any big city and find a bad area there and be in danger.

"Yes, you have to be careful here, but there is crime in every country.

"We do have electric fences and big dogs, but the crime stories are exaggerated."

He was brought up in a Reform Jewish home and was barmitzvah, but admits to be non-practising today.

There is no doubting he is also a hero - and probably the most prominent name - to South Africa's Jewish community.

Joel revealed that he had rarely experienced any antisemitism - on and off the field - and if he did, he said it was just to gain a reaction.

The last 15 years have seen radical change in South Africa; whites and black work and play together and it is something Joel is proud of.

"My son has a best mate who is black, but it is not an issue, although I do think it will take five or six generations to rid this country of racial discrimination", he pondered.

There is a touching footnote to Joel's story.

His mother died at the end of 1995, months after South Africa lifted the World Cup.

Joel said: "Like most boys I was extremely close to my mum.

"With my dad and brothers there was a stubbornness and rivalry.

"I am glad she saw the final, but I wished she could have lived a little bit longer to see her grandchildren - I know she would have loved that."
---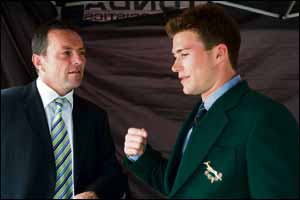 MIRROR IMAGE: Joel Stransky, left, discusses Invictus with Scott Eastwood, who portrayed him in the film
SIMON YAFFE discovers Invictus is an inspirational film and one that will make you feel good about humanity.
APARTHEID did not end in 1992 when Nelson Mandela was freed from jail after nearly 30 years.
It truly ended three years later when the South African rugby team lifted the rugby World Cup - much to the elation of the country's black and white communities.
This was despite the fact that the squad contained just one black player - Chester Williams - and the majority were Afrikaners, as well as one Jew in Joel Stransky.
Sport in South Africa before 1995 was still institutionally divided, with rugby and cricket the preferred sports of the whites.
Cue Nelson Mandela.
Played with warmth and grace by Morgan Freeman, he captures Mandela's vision for a new South Africa - starting with the Rugby World Cup in 1995 - and its national side, the Springboks.
Invictus is the Latin name for unconquerable and it is up to Mandela and Springboks' captain Francois Pienaar (Matt Damon) to show the squad that is how they should feel.
Damon is one of my least favourite actors, and he did his best not to change my mind in his first few scenes as Pienaar.
But I was more than convinced by the time the credits rolled.
He may not have had the commanding presence of the captain, but his masterfully subtle performance as a man trying to overcome his prejudiced background is testament to Clint Eastwood's direction.
I have the feeling that he told these two Hollywood giants to play down their roles and, in return, he was rewarded with two great performances.
Rugby is never going to be the most popular sport to catch on camera: in fact, most sporting films fail to capture the imagination.
Eastwood tends to go down the traditionalist route in his films, such as Mystic River and Million Dollar Baby.
But in Invictus, which has a traditional film narrative, the rugby scenes just seemed rather awkward and the computer-generated fans not too realistic.
However, that is my only negative opinion towards the film.
It may sound cliched, but Invictus shows what can happen when two sets of people put aside their differences, even for just a few weeks.
Of course the real life situation is not as simple as that, but this is the movies.
And it is inspirational stuff.
If the sight of Pienaar receiving the Ellis Webb Trophy from Mandela while the moving World In Union is played does not bring a tear to the eye and a shiver down the spine, then you are made of sterner stuff than I am.