By Adam Cailler
YASMEEN Godder's passion for dance is remarkable, but when the Jerusalem-born 44-year-old choreographer talks about dance, she does not just mean the physical on-stage aspect of it.
The daughter of Benjamin and Kamar said: "Dance is continuously challenging in so many different directions.
"It is open enough to embody different kinds of research in terms of themes, context, interactivity etc.
"I love the primal essence of connecting to the body and physicality, what we have every day and what we carry every day.
"I'm drawn to using it as a tool for transformation and expressing things that are beyond what's there in the physical world."
Multi-award winning Yasmeen is premiering her latest show, Face In, from London-based Candoco Dance Company, at Salford's Lowry Theatre on October 24.
The performance is described as "a sensual and disturbing ode to intimacy and imagination, expressed through images interwoven with daring and uninhibited dance".
She explained: "I want the audience to be surprised, engaged, moved and look for something that has a wink of humour.
"That line between deep and tragic and self humour and being able to laugh at ourselves, I hope people find that."
Face In — paired with Beheld by Alexander Whitley — is 35 minutes long and features seven disabled and non-disabled dancers.
It took seven weeks to put together, but also involved a three to four month mental process.
Yasmeen explained the process behind the creation.
She said: "There's a lot of mental digestion where the brain makes new connections. During those months, I'm always thinking about it —whether sleeping or dreaming. This creates the work.
"I came to the group with questions of a simple task that I wanted the dancers to develop.
"I proposed for them to share certain simple rituals with people close to them through repetition and to find new ways of understanding these rituals.
"I also worked on an external side, asking them to bring imagery and asking them certain questions about identity and what's urgent in their lives.
"Then we imitated and recreated it —this dealt with taking on and transforming the body and looking at these other identities."
Yasmeen won't be at the performance, but she believes the work has the ability to have a life of its own.
She explained: "I'm excited by this as it's nice to be able to create something that can do this.
"It's not something I do a lot, but I enjoy the idea of the work having its own life."
Yasmeen's dance influences come from the streets of New York, where she grew up.
Having moved there with her parents when she was 11, she recalled it as being "different" to her previous life in Jerusalem.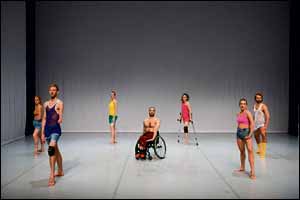 SENSUAL AND DISTURBING: The Candoco Dance Company perform Face In

She said: "In Jerusalem, you're connected to a bigger, much more homogeneous, family.

"In New York, the background has a lot of complexities. I went to a non-Jewish public school which really was a culture shock.

"In Israel I would spend all day outdoors on the streets . . . in New York, not so much!

"Although I did at the start because my parents were a bit naive."

Yasmeen was heavily influenced by the punk scene and could often be found dancing in the streets of New York's sub-cultures.

She recalled: "The Sex Pistols was just the beginning. I was very into the New York hardcore punk scene, with bands such as Circle Jerks.

"I could often be found in (hip New York music club) CBGB. I was a big part of that scene as a teenager."

Her first real foray into dance came when she was five, attending creative dance classes to tap into her arty side.

She described herself as a "creative kid".

Yasmeen said: "I was happy to take the classes and my parents were happy for me to do so.

"The major shift came when I was introduced to modern dance in high school and became part of the hardcore dance scene in New York.

"I was dancing in the streets, like scenes from Rent or Kids.

"My parents had no idea, I was so lucky. The streets were very intense.

"Dance has always been a continuity in my life, so I've never separated from it."

She studied dance at the LaGuardia High School for Performing Arts and the Martha Graham school.

As Yasmeen grew older she began to question how techniques and practices influenced her movement.

"When I wanted to do choreography my body was doing things I was taught, rather than doing something deeper and more primal.

"So I decided I wanted to explore that and went to New York University where my dad (who was a doctor) was teaching.

"I joined their academic and dance programme. I realised that all the information of academia could be funnelled through the dance."

In 1999, Yasmeen was invited to present her solo work, Aleena's Wall, at the Gvanim (Shades in Dance) Festival at the Suzanne Dellal Center for Dance in Tel-Aviv.

This led to her returning to Israel, and living in Jaffa.

She said: "I was in dialogue, going back and forth about it for years. My partner got a job here and at some point I thought it would be good to present my work here

"So after Gvanim I got more and more work. But it was not like there were a million things to do in the dance world in Israel at that point.

"I jumped into research and committed to my work in a way I couldn't in New York because it was too expensive."

Her solo work was well received and she was immediately commissioned to create work for the HaRamat Masach (Curtain Up Festival) — Israel's leading festival for independent dance.

She has since been commissioned a further eight times by the Curtain Up Festival, supporting her to continue research and develop her artistry.

This continuous platform allowed Yasmeen to establish her company which over the years has received local and international acclaim for its depth, impact, and complexity.

In 2007, she opened her own studio in Jaffa, which has become a home for all of her activity and projects including creation processes and rehearsals, open classes and workshops for professionals and non-professionals, community exchanges, performances, and production and artistic support of young choreographers.

But she is planning to return to Europe.

"I am looking to create a new solo work for myself which will, hopefully premiere next autumn," said Yasmeen, who has also worked with Batsheva Dance Company, Matanicola Dance Company and Theater Freiburg.

"I hope to bring that to England as soon as possible."

One a side note, the origins of her surname are from Poland.

She explained: "Godder is the Hebrewfication of Goodlevitch.

"But that was only because my Polish family had to change it from Goldberg during the Second World War."

Details: tinyurl.com/YasGodder and yasmeengodder.com