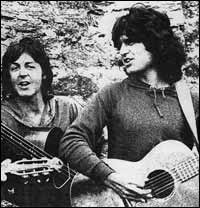 TALENTED: Guitarist Laurence Juber
HE may not be a household name, but the chances are you have heard his guitar playing.
Laurence Juber was the lead guitarist in Paul McCartney's Wings. He also played guitar in the James Bond film The Spy Who Loved Me and also on TV shows such as Happy Days and Family Ties.
And there is the small matter of two Grammy awards.
"I was never truly comfortable in the spotlight - it was not until I went solo that I found it therapeutic," Laurence told me.
Now living in Los Angeles with his wife Hope, the 57-year-old was born into a Jewish family in Stepney, east London.
He was 11 when Beatlemania exploded, but at first his father Norman wanted him to learn the saxophone.
Laurence recalled: "I just had a real urge to play guitar.
"But my dad and I comprised on the clarinet, for some reason.
"I devoured a lot of pop music, jazz ad classical - I thought it would enhance my musical sensibilities.
"I started to learn classical guitar when I was 15."
His love of the guitar meant that he put his schoolwork on the backburner, although he did take - and pass - his A-levels.
He joined a band in Southgate. "I could earn more money from doing that than babysitting or washing neighbours' cars," he remembered.
Mid-1960s' London was a hotbed of music and Laurence soon set his sites on becoming a session guitarist.
He studied for a degree in musicology from Goldsmith College at the University of London and immediately after finishing, he followed his dream and began session work.
The first album he worked on was one George Martin produced for Cleo Laine.
"George had a really nice manner and helped me with different techniques and how to put it all together," Laurence continued.
There is no doubting that his studio work was leading to a lucrative and profitable career - but Laurence gave it up to join Paul McCartney's second band Wings in 1979.
He explained: "I was playing lead guitar in the house band on the David Essex Show and Denny Laine, who was in Wings, was a guest on the show.
"We got on really well and he ended up recommending me to Paul and Linda (McCartney).
But it took another six months for Laine to get in touch and when he did, he invited him to the famed Abbey Road Studios in London to jam with him - and he told him Paul and Linda would be there.
Laurence said: "Paul told me he liked my playing. I guess it was a case of me being in the right place at the right time.
"Even if you are intimidated, your professionalism takes over.
"I had done my degree, but this was a Masters degree from Paul."
Laurence worked with McCartney on the recordings that were to become Wings' Back to the Egg, as well as the subsequent tour.
And Laurence won his first Grammy award for best rock instrumental for the track Rockestra.
He added it: "It was amazing for me to be in Wings because there was so much history, artistry and talent behind Paul.
"It was a constant education and I learned things that I still apply today.
"It was my first opportunity to see a true genius at work, watching him in action was like watching a classical composer."
When the band started to wind down and eventually disbanded, Laurence moved to New York.
But he reckons that the band's demise started when John Lennon was gunned down in December, 1980.
Laurence said: "Obviously, it was a significant loss to Paul and it accelerated our demise because the vulnerability factor set in."
Television spoof character Alan Partridge famously said that Wings were "the band the Beatles could have been".
Perhaps there is more than a touch of sarcasm there, but Laurence believes that Wings were underrated.
He went on: "We were inducted into the Rock 'n' Roll Hall of Fame and within the continuum of Paul's career, that kind of success has not been duplicated.
"It gave him a certain kind of platform - it was something unique. The music critics would criticise us, but the hits kept coming."
Laurence was also full of praise for Linda McCartney, Paul's Jewish wife who died in 1998 and who was also a member of Wings.
He recalled: "She was quite an inspiring person. Linda did not have a high level of musical aptitude, but she had a rock 'n' roll sensibility - she kept the whole thing rocking.
"She had a lovely nature and was a great person to hang around with."
After moving to New York in the early 1980s, he resumed work as a studio musician and also met his future wife, Hope.
They went to live in her native Los Angeles in 1982 and eight years later Laurence released the first of 16 albums, Solo Flight.
Known as a top-tier fingerstyle guitarist, he was voted guitarist of the year by readers of Fingerstyle Guitar magazine, as well as one of the top acoustic players of all time by Acoustic Guitar magazine.
Laurence, who said he still sees McCartney occasionally, won his second Grammy award in 2005 for his solo guitar arrangement of The Pink Panther Theme for Henry Mancini - Pink Guitar.
Laurence has also released a series of instructional CDs which teach basic music theory and arrangement.
And, unlike some musicians, he is not perturbed by the ascent of talent shows such as The X-Factor and American Idol.
He explained: "Talent shows are proven to feed new artists into the commercial music business.
"You know, things haven't changed much in the period from Mary Hopkin to Susan Boyle."
Laurence describes his guitar as his voice and, thanks to modern technology, does a lot of his work from his LA home.
He said: "Technology has provided wonderful opportunities for artists to be self-empowered.
"Beyond that, the mechanics of the business haven't changed much - it's still ultimately driven by the songs, their creators and the companies that license and collect revenue."
Laurence and Hope, who is a writer, have two daughters, 23-year-old Ilsey and Nico, 27.
Nico works for a computer company and is involved with online comedy, but Ilsey is following in the footsteps of her father.
She is a singer-songwriter and has been signed to American Idol's Randy Jackson's record label.
Laurence added: "It is nice to see one's offspring doing well, but having spent many years in the entertainment business, I would not recommend it to anyone who is not going to be really committed.
"Luckily, Ilsey has the benefit of my experience."