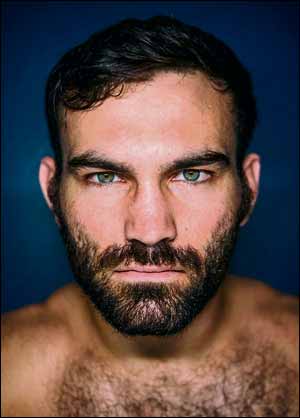 PICTURE: James Musselwhite
BY ADAM CAILLER
WRESTLER David Starr has already achieved quite a lot in his fledgling wrestling career.
The 26-year-old Philadelphia native has won countless titles, wrestled for numerous companies around the world in a total of 465 matches — 466 after his match in Manchester today — and has experienced antisemitism on a regular basis.
Last year, while wrestling for Combat Zone Wrestling, a fan threw money at him and called him a Jew.
The incident made the news across the world because, instead of just ignoring or playing up to it, David — born Charles Max Barsky — stopped the fight, grabbed a microphone and called the fan out.
He said: "It's really cool that you throw change at me because I'm a Jew.
"If you ever f*****g do some racist s**t like that again, I will end you myself.
"I don't care if it's Jews, blacks or gays, you do not do that to another human being."
David told me: "That's been the most extreme case, and the only one where I interrupted the show.
"I've had people throw stuff at me, yell disparaging comments and display blatant ignorance.
"When I'm standing at my merchandise stand, I'll get fans coming up to me and putting Jewish stereotypes on me.
"I can tell the good-natured ones . . . and the ones who mean it seriously. It gets me upset."
David currently holds the Shotgun championship for Westside Xtreme Wrestling — a promotion based in Essen, Germany.
But he was quick to point out that he has only ever experienced antisemitism in eastern Germany.
He explained: "Other than in eastern Germany, everything in Germany is great.
"A lot of people in eastern Germany make me feel uncomfortable. I get weird looks and always get booed and heckled there, despite playing a massive face (good guy).
"Every time I wrestle there, I wear my Hebrew trunks on purpose, which is just me as a person.
"There was this one time when I was in Munich where a fan said that I was one of his favourite wrestlers, but went on to advise me that I change my name when I wrestle there because 'that's a bit of a touchy subject over here'.
"I said 'oh, is it really a touchy subject for you?' and laughed.
"I just don't feel comfortable there."
The abuse doesn't just come during matches or appearances. It also happens online.
"I'll often read people saying 'well his names David Starr so he should expect it'," he explained
"That's like saying that if someone is a black wrestler, we should be able to shout the 'N' word at him or throw bananas!
"It's not like I go out there with a yarmulke on and dance to Hava Nagila.
"I don't play up on stereotypes at all. It's just me paying homage to who I am as a person.
"If the first thing you think when I come out is 'screw that guy, he's a Jew' then guess who has the problem."
Thankfully for David, his fellow wrestlers are not afraid to stand up for him.
David added: "There are plenty of guys ready to go to bat for me. When I stood up for myself at CZW, I got a lot of support.
"The management solved that situation very quickly, and WXW have been nothing but the best to me.
"They recently helped me go on a trip to Bergen-Belsen concentration camp. It was easily the heaviest experience I have ever had."
David posted a photo on Twitter of himself in tears during the visit to the camp.
He wrote that the trip "changed my life forever".
The son of Barbara and Geoffrey Barsky explained: "There's a bunch of people walking around, but nobody speaks.
"The air feels heavy and it just weighs on you. It put a lot of things into perspective.
"I haven't looked into whether or not my family were there, or in any camps, but if they hadn't come to America, who knows.
"My grandfather fought in the Second World War, and I can only imagine what would have happened if we were still in Europe at the time.
"I tell every person, from every walk of life, that they have to see it — everyone grasps the gravity of the situation differently."
There have been many Jewish wrestlers, from Bill Goldberg to Macho Man Randy Savage, but today they are not as well-known worldwide.
Another of those making a name for himself, in the WWE, is Drew Gulak, with whom David has wrestled and trained.
"We've discussed Jewish things and Jewish issues in wrestling," he revealed.
"I have a lot of discussions with my black friends and wrestlers about racial issues in America.
"We have a lot of relatable issues, but I don't think Jewish wrestlers experience the same issues as far as discrimination and prejudice as black wrestlers.
"But there are issues that spread within the white Christian culture of America."
David wrestled in Israel last week, something he never thought that he would do — although he did lose to Yurn Simmons.
He said: "The experience around it was much larger than being able to wrestle there.
"I had one day to myself, so I went to Jerusalem. Every single place you go to is of historical significance.
"It's incredible to see how the city is still together after 5,000- plus years.
"The impact of the events that have happened is just so breathtaking."
David grew up in a Zionist household, and his dad was "very into" Jewish people returning to their homeland.
"He believed in it because he was supposed to, but wasn't hardcore about it," he said.
"I think that there is no reason why Israel has to be a place for these people, but not those people.
"I don't see why it has to be ours or theirs.
"It's a very important land and a beautiful country that a lot of people associate with their creed.
"With everything that has happened to the Jewish people, it makes sense to have an established home, given that we've been spread throughout the world for thousands of years based on hatred and genocides committed.
"As much as it's very idealist, I still believe there can be peace among people."
David had a Reform upbringing and describes himself as a "very American Jew".
He said: "I was always taught to be proud of who I am, but I wasn't forced to do anything.
"I went to Hebrew school until I was 13, celebrated Yom Kippur, Passover etc.
"It really is something I'm attached to and means a lot to me.
"My family history is of big interest to me as it's a big part of who I am.
"I am German, Russian and Irish.
"My grandmother, on my dad's side, was German — her last name was Ginsburg."
Being a wrestler isn't exactly the most Jewish of careers.
He laughed: "Yeah, it's not exactly a doctor or a lawyer!
"My dad always told me I should be a lawyer because I'm very big on debate. There was never a real pressure though.
"My parents split up when I was five, which was when I first got into wrestling, thanks to my stepdad Bill Walz.
"The first show I ever watched was Wrestlemania 12, headlined by Shawn Michaels vs Bret Hart.
"I started amateur wrestling when I was seven and did that all through university.
"My parents told me that I couldn't do professional wrestling training until I had graduated, so I had to hide that from them."
David was trained by Samula Anoa'i — first cousin of Dwayne 'The Rock' Johnson — at the infamous Wild Samoan Pro Wrestling academy.
He made his debut for World Xtreme Wrestling in 2012, which forced him to tell his parents about his training.
He said: "I strategically waited until I had a match before I told them.
"If I was just training they would have been annoyed, but because I had a match they were pumped.
"My step-dad admitted that he figured I was training because he knew I couldn't wait.
"The training was tough, it was very old school. I got the hell beat out of me because it's a big man's school — I took way more powerbombs and chokeslams than you're supposed to . . . I was the bump dummy.
"Given Samula's family history, he has a wealth of knowledge — he has wrestled for every major company that has existed, which is unreal, and he was fantastic at passing that knowledge on."
Philadelphia is known for its rather insane crowds. It was, after all, the birthplace of Extreme Championship Wrestling in the 90s — a company created by fellow Jew, Paul Heyman.
But with Florida being the hotbed of wrestling now, thanks to WWE's Performance Centre being located there, does David plan to move?
"No, why would I want to when you have the best fans and some great companies here?" he replied.
"It's a close enough drive to wrestle in the Mid-West, down south and New England and you can get your gas money covered.
"Every single day I'm working to get better and better and, as long as I can continue to be happy and grow, that's all I'm looking for.
"I try not to worry about having a massive goal of where I want to be.
"I would like to be one of those wrestlers who wrestle all over the world — I'd love to go to Japan."
Follow David on Twitter: @TheProductDS