BY MIKE COHEN
MUSIC producer Jim Kaufman better hope his girlfriend Jasmina is not reading this.
The Arizona-born 35-year-old could find it hard to hit the high notes again when yoga teacher Jasmina hears his confession.
"I've got one love of my life . . . that's recording music," he told me from his Santa Monica-based studio.
"Eventually I will marry and have kids, but at the moment I want to be free in the studio as much as I can."
The passion with which he talks about his recording equipment is normally reserved for how you would talk about your partner.
Jim's love of music began 30 years ago in his family home. Encouraged by dad Jim and mum Shirley, he started to play the piano at the age of five.
"My parents were super-pushy on that," Jim said. "My mum set a timer and I had to play for an hour a day. It's hard when you are going through it, but in hindsight, it was the most important education I had."
He added that by the age of six, he was playing Mozart.
"It's not just the music you learn, but the discipline is lifelong," Jim told me. "It also helps with maths. Music is just maths.
"Being able to use your brain in that way at such a young age . . . every time I think about music, I think about a melody or chord structure, I see it on the piano in my head.
"It was ingrained in me at such an early age that I will never let that go. I'm really grateful for that."
While he was pushed into playing the piano, he says his parents were "not too pushy on the religious thing".
Jim said: "I had three older sisters. My parents let us experience everything we needed to and we picked what we wanted to do.
"I was raised with the festivals and Sunday school, but they weren't too over the top with it.
"I've gravitated back to the Jewish stuff in my adult years. Judaism is my belief system. It's what centres me.
"It's an interesting world out there and I've been touring a lot, so it's my belief that's kept me healthy, stable and able to function."
Jim wasn't barmitzvah, although his older two sisters celebrated their batmitzvot.
"By the time I got into my early teens, my parents had given up on all of that," he said. "Me and the sister closest to me in age did not have ceremonies."
Jim describes the Jewish community in his childhood home of Phoenix, Arizona, as tight-knit.
"We all looked out for each other," he said. "There were a lot of Jewish guys in the music scene. We stuck together and taught each other how to play.
"It was kind of a competitive music scene. We wanted to be in bigger bands than each other and once we started recording, everyone wanted to be better at recording.
"A lot of the kids I grew up with went on to play in big bands. They are all active in the music industry presently."
It's unusual in Judaism for a child to be named after a living parent. But Jim revealed that he wasn't meant to carry the same name as his dad.
"My dad's grandfather Herbert died right before I was born," he said. "My mother put her foot down and said 'We can't call him Herbert', so that is my middle name."
His father's family was originally from Syracuse, New York, but moved to Arizona when Jim Sr was in his early teens.
Music runs in the family. His father likes to write songs and also plays the piano and guitar, while his mother plays the accordion.
"I never had any other career paths," Jim told me. "I've been writing songs since I was seven or eight. I was playing shows by the time I was 11. I played on and off for different bands for about 20 years."
He found his biggest success with industrial rock band Opiate for the Masses, who released five albums.
Jim had formed the band with Elias Mallin, "a Jewish kid from Phoenix; we went to kindergarten together. Elias is a great drummer and he's still active in the music industry".
Jim added: "We did OK. We toured America and Canada. Some records were well received and others not so well received.
"We were never huge, but we made a living and had a good time. We worked with a lot of great producers and I got to be in the same room as them.
"I got to learn their approach; I took pieces of each of them and made them my own.
"To get in the room with guys who had produced bands like Pantera and The Misfits was priceless."
Jim quit performing just under 10 years ago because he was "sick of the road".
He said: "At the time I had been producing a lot of different bands and scoring a lot of films.
"I was using that money to keep the band afloat. It was a really challenging situation.
"In the studio I'd get 14 hours a day working on music, but that's impossible if you are out on the road.
"You are in a bus waiting to get to a new place; you soundcheck and you have to do a bunch of press and go to the radio station and maybe get to do 45 minutes of music at the end of the night if you are lucky or an hour if you are headlining.
"But in the studio, I'm able to work all day. I love all kinds of music. But being in a band, I felt stuck in the genre that my band was. I couldn't write a bunch of different kind of music. Well I could, but no one would listen to it or take it seriously.
"As a producer, I'm able to be involved in different kinds of music, which makes me happy."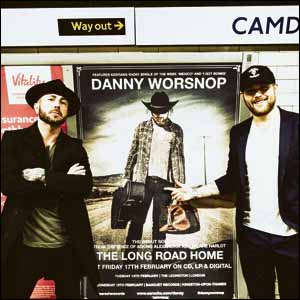 FOR BETTER OR WORS: Jim Kaufman, left, with singer Danny Worsnop. Jim worked with Danny on his solo debut album The Long Road Home

Jim's big break came in 2003, when he became engineer/studio assistant for former-Nine Inch Nails member Charlie Clouser.

Jim assisted him on rock band Helmet's 2004 album Size Matters and also worked on the score for horror film Saw.

"I look up to Charlie as my mentor," Jim said. "He took me under his wing and gave me opportunities."

In 2013, while back in Phoenix to look after his dad, who was fighting cancer, Jim produced a solo record, A Party of One, which he describes as 'dark'.

He said: "I never put it out, although I have used a lot of the music for a number of other artists.

"But I came to the realisation that I didn't want to be an artist. I didn't want to be in competition.

"I want to be of service to other musicians - seeing how it helps their lives and gets their voices out and see how it affects other people.

"I received lots of emails since Danny Worsnop's record came out with people saying it has helped them. That's the reason I do what I do. I can't get that sort of joy from putting out a solo record."

It's Danny's album, The Long Road Home, which has gained Jim plenty of attention.

Danny, who was born in Beverley, near Hull, is lead singer of rock bands Asking Alexandria and We are Harlot. His problems with substance abuse and alcohol addiction have been well-documented.

Jim said: "My passion lies in finding an artist and helping develop a record - like with Danny.

"That was a great project. Danny came to me wanting to do a couple of country songs and he busted out this guitar and it was beautiful the songs he was writing.

"We needed to figure out a voice for him. Coming from a heavy background, I wanted to make a record that would not alienate his fanbase for him.

"He's now a great friend and we've helped each other on a number of levels, both business and personal.

"It helped get him back on track. He's now back in his big band (Asking Alexandria) and not drinking.

"He's got his life together, not just because of me, but by going through the process of making the record; telling a true story and spilling his soul out in the form of southern rock country was very therapeutic for both him and I.

"We went to Nashville and wrote with a bunch of country guys I'd worked with and that opened his eyes about how real he can be and how he can talk about his demons."

Jim added: "I was not familiar with Danny as an icon and a musician, but we'd gone through a lot of the same stuff.

"I'd had my addiction problems and had my heart broken and all the other things he talks about on that record. We kind of connected with that stuff.

"It was like 'Wow this guy's been through such a lot of stuff at such a young age of 26 and he's really lived'. But it was inspiring and I look up to him for being so open."

Jim admits that he can't listen to new music for pleasure.

He said: "I have to wash my ears because I have to be focused in the studio, so mostly at the gym or in the car, I listen to podcasts or audiobooks.

"I can enjoy listening to music from when I was growing up, like Alice in Chains or Portishead, and not pick it apart and feel like I'm 16 - but if I'm listening to a new band I'm completely analysing it."

Jim, who also ran record label American Voodoo for five years, advised that anyone who wanted to be a producer should be prepared for hard work.

"School won't give you the education you need to be successful in the industry, but it will give you the terminology so you can go in the studio and know what people are talking about.

"Then intern, sleep under the studio desk at night. Spend 22 hours a day for 10 years working at it. It's a wonderfully-rewarding career, if you do it right."

With the advent of illegal downloading and people preferring to stream their music rather than buy it, upbeat Jim concluded: "Even if records are being given away or being sold, you still need someone professional who knows what they are doing to help you make it."