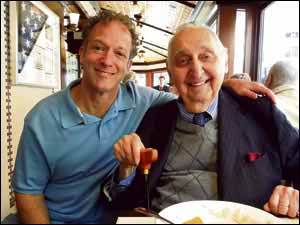 LEGEND: Erik with legendary Jewish actor Fyvush Finkel, who died earlier this year
BY ADAM CAILLER
FILM-making is a strange hybrid between a personal vision and a deeply collaborative process, according to Erik Greenberg-Anjou.
Erik is the producer and director of the documentary Deli Man, which showcases Jewish food and its inseparable link to American Jewish culture.
The star of the documentary is Yiddish-speaking French-trained chef Ziggy Gruber - a third-generation deli owner (Kenny and Ziggy's in Houston).
Erik explained, from his temporary base in St Petersburg, Russia: "It was around 2012 that I visited Houston, where my previous Jewish-based films have a nice fan base.
"There was a screening of my documentary about The Klezmatics, which just so happened to be sponsored by a man called Ziggy Gruber.
"I had never met him before and didn't know of him, but you can't meet Ziggy and not fall in love with him.
"He invited me to the restaurant and stuffed me silly - that was the beginning of a beautiful friendship. I was impassioned by Ziggy's passion."
What Ziggy was doing with Jewish food, Erik admits, falls into the same emotional and cultural set that he tries to achieve with two of his previous Jewish documentaries - The Klezmatics: On Holy Ground and A Cantor's Tale.
The 55-year-old continued: "Ziggy is trying to keep Jewish tradition and cultural tradition alive in America.
"He is a pretty young guy in an industry populated by older gentlemen - it is pretty much a dying business.
"Ziggy is the narrative engine, and he is game for anything."
Featured in the documentary are alumni of the entertainment world, such as Jerry Stiller and Larry King.
Erik used chutzpa to get the latter involved.
He recalled: "There was no incentive for these people to be involved in this little movie that nobody has heard of.
"We knew who out there was passionate about the deli and Larry King has a famous back story where he would 'hold court' with his buddies at one of the legendary delis in Beverly Hills.
"Somehow, someone got his mobile number for me and I cold-called him. He clearly didn't pay attention to the number and picked up!
"I introduced myself to him and told him about the documentary - I quoted a few of his own lines about delis to him.
"He said he would love to be involved and asked whether or not I could pay him . . . I said no and he was the ultimate mensch.
"When the DVD came out, he actually did a signing for us."
The deli business will never grow again, according to Erik.
New York City, once home to at least three delis on every street, now has just five in the city - only four of which are kosher.
Erik continued: "There's too much cultural economic change and dislocation.
"But, and there is a wonderful but, there is a chorus of really impassioned, energised young guns who are interested in the food and the culture and have set up these little stores throughout the country which are gaining critical mass.
"When you have giants fall, for instance when a New York landmark such as Carnegie Deli closes tomorrow, there's no replacing that.
"That being said, there is a passion for the food and the culture, but you'll have to work harder to find it and be willing to pay a bigger dollar, especially if you're preparing a kosher product - it's just a more expensive product to prepare and serve.
"The deli business will survive, but on a smaller more discrete basis."
Deli Man doesn't just focus on Ziggy Gruber, it also features delis throughout the country.
Although, Erik admits, not everyone was so keen to be involved.
He told me: "We had one guy in Los Angeles, who will remain nameless, who was kind of a son of a b***h.
"Once he figured out that he wasn't going to be the hero of the story, he wasn't so happy to co-operate.
"But the deli business is a pretty small family - people understand the stakes and the economic pressures.
"They are family businesses and they understand that this movie is a good thing.
"The idea was to try and get the word out that this is a food group that can compete with any other group such as Thai, Indian, Chinese etc."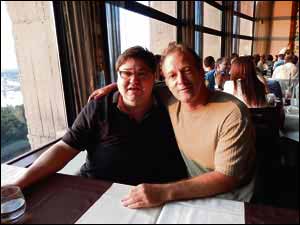 FOOD FOR THOUGHT: Erik, right, with Ziggy Gruber

The majority of the world view food in one of two ways - you either eat to live, or you live to eat.

Erik explained: "One of the surprises and great victories for me of this film was seeing the passion of these guys.

"You watch of film and see how easy it flows but anyone involved knows how difficult it is to get the equipment in place, the crew etc - the deli business is the same.

"When you're presented with that beautiful bowl of soup you don't realise all the work that goes into it. Each one of these deli men or women take this job very seriously.

"They are only as good as their last bowl of soup or their last sandwich.

"They are there to please and, God forbid you don't please a Jewish customer, you will never see them again."

Erik's passion for this documentary is evident, but his career could have been different - in fact it might not have been in the film industry at all.

He recalled: "I went to a small liberal arts school in Vermont and I was torn between two different disciplines.

"I had a lot of pressure from my family to go the medical route.

"My father Sigmund and three uncles were physicians - it was in our DNA. But I was really interested in American literature - which I majored in.

"I'm of the belief that for you to have a career in something, you really have to love what you do, and I didn't love the medical side."

Marketing a film such as Deli Man has been "difficult" for Erik.

He said: "We are still figuring it out. There's been huge international interest from Jewish film festivals as well as normal film festivals.

"But we believe that there is a bigger market out there for this film.

"We're not just dealing with Jewish food, there is also ethnic perpetuity and cultural integrity - these are things which have become more atomised."

Erik discovered film in his senior year and took a class with a man called Ted Perry, the former director of the film department at the Museum of Modern Art in New York City and chairman of cinema studies at New York University.

He continued: "He was a wonderful professor and a seminal film student and he influenced and inspired me to pursue film as a career."

Another side to Erik is music. He is very close to The Klezmatics lead singer Lorin Sklamberg - featured on this page last month.

He recalled: "In 2010, I made a documentary with them and had asked Frank London to make some of the music for a couple of my films.

"Unfortunately, because of scheduling, he couldn't do Deli Man, but I had developed a great relationship with Lorin so I approached him and he was more than happy to.

"We sat down and watched the film and you just kind of feel it - we had pieces from other recordings, but some pieces needed to be classically scored.

"We listened and talked about tone and decided where there needed to be silence or where music was needed to fill it.

"I hear certain things musically, but my job as a director is to hire someone who is more brilliant than I am - Lorin is that guy."

What's next for Erik?

He said: "I am working on a number of different projects.

"There's a large, ambitious crime story, La Fatura, in the works, which takes place in Philadelphia.

"I'm working on a screenplay as well as directing and producing a documentary about Jewish music.

"I also teach classes at two New York Universities."

If you have any memories of the legendary delis of America or if you have been to Ziggy's deli, email acailler@jewishtelegraph.com