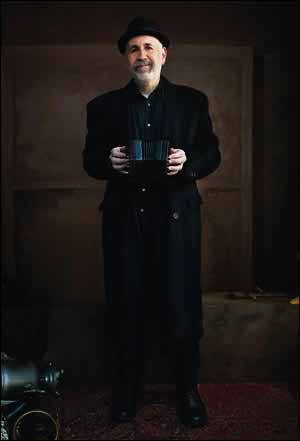 LORIN Sklamberg
By Adam Cailler
LORIN Sklamberg co-founded klezmer pioneers The Klezmatics 30 years ago - and he has no intention of stopping yet.
The Grammy Award-winning band is celebrating its anniversary with the release of a new album, Apikorsim-Heretics.
The 15-track album is the New Yorkers' first to feature just the six members - no guests or extras and no cross-genre collaborations.
"This was partly due to a financial consideration," Lorin joked. "We basically produced this ourselves.
"Until label World Village stepped in, we were going to release it ourselves, but they were really interested in putting it out.
"It's a combination of things we have written, played for a while and stuff we have never played before!"
The album, Lorin admitted, is "wide ranging" and has "a little something for everybody".
He continued: "It's a back-to-basics kind of album for us. We still have to learn some of the songs, so we should probably start cracking on that.
"It's still a learning adventure and we, the band, are not done yet - far from it."
The six-piece band, made up of Richie Barshay, Matt Darriau, Lisa Gutkin, Frank London, Paul Morrisett and Lorin, was formed in 1986 when the latter moved to New York.
The 60-year-old said: "I was dabbling in classical, medieval and baroque music. Through my boyfriend at the time and my singing teacher, I became involved in this brass band which played Balkan music.
"I was playing accordion, which I had taught myself to play, somewhere along the way.
"Frank had just moved to New York from Boston and came to watch our rehearsal.
"He saw me playing and I bumped into him afterwards at a local Moroccan restaurant which had live music every Wednesday.
"He asked if I was interested in being in a klezmer band. I had played klezmer before and didn't think it would connect to anything so I said yes."
Lorin went to "someone's apartment" where the original six band members met for the first time.
He said: "The idea was to make some extra money by playing at weddings.
"There was no grand plan to become a concert band, but it grew into something more because we got asked through Frank's friend (Liverpudlian) Ben Mandelson to play at the World Music Festival in Berlin.
"It was the beginning of the boom in world music and the advent of the CD.
"They wanted a band who was contemporising klezmer music, but at the time, we were not.
"We were just doing the music as it was, but we were starting to pick material which was more interesting than just singing nostalgic pieces."
The band went to Berlin but, Lorin admits, hadn't done "much in the way of concert music at all".
He said: "We played there for five nights, but had made a deal that we could have a recording studio available at the end of it.
"We went to a big studio inside a German radio station and ended up recording our first album - Shvaygn = toyt."
For Lorin, music has always been a theme in his life - as has his Judaism.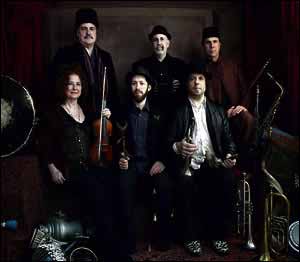 KLEZMER PIONEERS: The Klezmatics

PICTURE: Adrian Buckmaster

He recalled: "Judaism was always a positive thing for me.

"It is very much a part of what I do for a career, although I didn't know that when I was growing up.

"All the things I learned when I was growing up have come in very handy.

"The music side, especially the singing part of it, came to me supposedly before I could talk.

"I first played piano and picked up a guitar, which I taught myself, when I was seven."

The Los Angeles native's mother Libby was a "bit of a folkie".

Lorin said: "She played guitar and sang folk songs to me. I had her example, and that of the radio - it was a huge influence on me.

"I was growing up in the middle of the American folk revival and every night of the week there was something on the radio which I could listen to.

"There were a couple of particular hosts who played a great variety of folk and ethnic music, which shaped my musical aesthetics.

"I would listen to music from the Balkans and Greece, and bands like Jim and Jean who were connected to protest singer Phil Ochs."

Lorin was also influenced by Austrian folk singer Martha Schlamme, who fled Nazi persecution to France in 1938 before ending up in America.

He said: "I saw her perform when I was five. As I got older I got into more classical vocal music, but I really started out with American folk music and world music.

"My mum was nothing but supportive of my musical career - although I'm sure she would rather I had played piano.

"You just couldn't pull the guitar out of my hands - I was always absorbing things.

"My parents split up when I was about six, and I didn't really have much involvement with my dad at all.

"I was so young that really having a single parent was OK as I had no other reality.

"Later in life, it made me a happier person.

"I remember my mum sending me to a summer camp for 'boys from broken homes' when I was 11, run by the Jewish Big Brothers.

"Each year, kids who had attended a few times would get an award which meant they had gotten what they needed from the camp and didn't need to keep going back.

"I got the award the first time I went - but I wanted to go back because I really liked it, so I went back three more times."

Lorin's attendance was so successful that the Los Angeles Big Brothers used him as a model for what could happen at the camps.

He said: "I met a councillor called Stan Brickman, an amateur singer who played guitar.

"We clicked and started duetting together.

"We performed at one of these big fundraising events at a hotel in a massive banqueting hall.

"This had a big effect on me in that Stan taught me how to perform in front of people and just be myself.

"I joined the choir in junior high school and started singing with other people at school, as well as forming a group with my friend from my local synagogue, which we called Rimonim."

Lorin formed the group to play music at his sister Leslie's batmitzvah.

He continued: "We began to play locally and had a decent regional career from the age of 15 to 21.

"We played at a lot of weddings and barmitzvahs, and had a repertoire of pop songs that were in the charts at the time."

Later in life, Lorin became involved in the Jewish student association Hillel International.

"I became the cantor at the Hillel at the University of Southern California, but then moved to New York when I was 27 in 1983.

"I had become involved in the gay synagogue Beth Chayim Chadashim as a cantor and started singing with a guy called Elliot Kilshaw.

"We sang Israeli folk songs and went on a tour across America.

"I visited New York for the first time and realised that that was really where I had to go."

The pair had made a recording, but shortly after that Lorin made the move to NYC - on Halloween.

"I met a voice teacher called Marcy Lindheimer, who was the go-to teacher for people who were a part of the early New York music scene," he recalled.

"She used something called the Feldenkrais method, which was created by Israeli Moishe Feldenkrais.

"It is often used to correct issues caused by strokes, but she was using it to help teach singing."

Lorin's voice has been described as "transcendent, ethereal and sensual," which, he said, is mainly down to Marcy's teachings.

He added: "Nobody could quite understand why I sound like I do, but when she heard me sing she said, 'No matter what you are singing, you're not utilising the fundamental part of your voice'.

"I studied with her for nine months and I'm still singing OK thanks to her.

"She later admitted to another student that she got the best deal from me because I still send people to her now!

"I definitely got value for money..."

Details: klezmatics.com