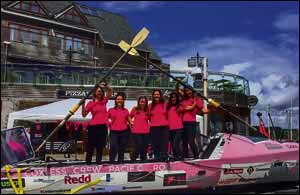 8,000 MILE CHALLENGE: Natalia Cohen, second right, with her Coxless Crew mates
By Simon Yaffe
NATALIA Cohen has always been drawn to the water and has a love of the ocean.
So much so that the 41-year-old was part of a history-making team of six women, known as the Coxless Crew, who became the first all-female crew to row more than 8,000 miles across the Pacific.
It took them nine months to cross the world's largest expanse of open water, rowing from San Francisco, on America's west coast, to Cairns, in north-east Australia.
In the process, they have - so far - raised around £70,000 for two charities, Breast Cancer Care and Walking With The Wounded.
A documentary, Losing Sight of Shore, has been made about the crew's adventure and is due out in the next year.
Natalia, who was raised in Hale Barns, Cheshire, told the Jewish Telegraph: "I saw an advert for the Coxless Crew, so decided to apply for it.
"I had worked for many years in the travel industry, leading adventure tours and then working in operational management.
"I had spent so much time living and working in developing countries and came across people who had little, but had an incredible strength of spirit.
"It was an interesting opportunity for me to look deep within and find that strength of spirit that I think we all have."
The former Manchester High School for Girls pupil, who read leisure management and recreational leadership at the University of Leeds, went through a recruitment process which led to her selection.
Natalia and her fellow crew members, Laura Penhaul, Emma Mitchell, Isabel Burnham, Lizanne van Vuuren and Meg Dyos, went through mental, physical and practical training.
They received mental training from a sports psychologist and physical training from a strength and conditioning coach.
Natalia recalled: "Because we are all different types of people, we had to learn how to work together, how to bring out the best in each other and understand what brought out the worst in us.
"We did all our own sponsorship and administration. Each of us had an area which we led and for which we made sure we were accountable."
The crew also learned sea survival skills and spent as much time on the boat - known as 'Doris' prior to their challenge.
When they left San Francisco, all the crew's parents were there to bid them farewell - apart from Natalia's.
She explained: "I made that choice. I did not want them to spend the money, plus I thought it would be an extra emotional drain having them there.
"They were in Hawaii, though, when we stopped there."
The crew left San Francisco at two in the morning, sailing under the Golden Gate Bridge.
"I hoped it was not going to be the calm before the storm, but after 24 hours we hit really bad weather," Natalia laughed.
"Our main emotion, at first, was frustration because we spent a lot of the time fighting against the currents and winds."
Because of the almost-immediate adverse weather conditions, the crew had to row back to dry land after just 10 days.
They spent six days in Santa Barbara which, Natalia said, turned out to be a blessing in disguise to give them an opportunity to fine tune everything on the boat.
"We also received much stronger sea sickness patches and my brother, Jared, sent me an inspiring email," she recalled.
"We headed back out with a renewed energy."
During the challenge, Natalia explained how she tried to keep herself "in the moment," rather than thinking about the past or future.
"That is how you limit your fear, otherwise the worries rush in," she said.
"You bring yourself back into the moment and enjoy the journey as much as possible.
"If there was a beautiful sunset or sunrise, we would stop and enjoy it. We would play word games and tell each other our life stories.
"Izzy had a knack for narrating films word-for-word. We would use performance enhancing strategies to shift our mindset.
"It could be 100 degrees in the cabin and there was no escape. There was no privacy. The only escape was by going into our own minds.
"We were in a tiny boat surrounded by a never-reaching horizon, yet I felt the most free and connected that I ever had."
Although she does not practise Judaism, Natalia said she has a belief in the universe.
She continued: "I suppose it is a faith. I had an unquestionable trust that the ocean would look after us, as well as maintaining self-belief in myself and the team."
The crew also communicated with their family and friends via a satellite phone and each of them blogged on a regular basis.
During their journey, they also encountered sharks.
But, perhaps in a bid to humanise them, fluent Spanish speaker Natalia named them 'Hernando' and 'Eduardo'.
"When the conditions allowed, we went into the water to cool down and to get our bodies moving," she said.
"One time, I was in the water and suddenly I heard a splash. Straight away, I assumed it was a shark and it was the most fear I had ever felt.
"It turned out just to be Suzanne moving her oar in the water."
Once they arrived in Australia, there was a "sense of relief, but also a small part of sadness," according to Natalia.
"Life in the ocean was actually quite magical," she recalled.
"There is something to be said for a simple way of life with no societal pressure, no distractions and no noise. Our senses came alive."
Natalia and her crew spent a week in Australia. Her parents were there to greet the boat when it arrived in Cairns, too.
And it was not too difficult for Natalia to adjust to life on dry land.
"As human beings, we are wonderfully adaptable," she said. "That first night, we slept beautifully.
"Walking was difficult, though, because our muscles had atrophied. We had to take things easy for a while.
"I remember that eating fresh fruit and vegetables for the first time in ages was amazing."
Having lived in a variety of countries, including Peru, Egypt, Thailand and Nepal, Natalia, who is now living back in Cheshire, would like to revisit Israel, a place she first went to "a long time ago".
And now she is sharing her experiences to audiences across the country.
"I am helping them come to the realisation that we are capable of doing anything we set our minds to," Natalia explained.
"It is about dedication, belief and then taking action. You could say I am coaching people through their own Pacific."