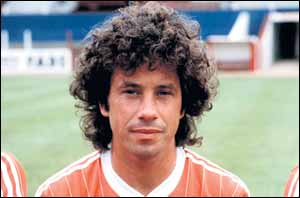 HERO: Barry during his playing days
FROM playing top flight football to overseeing multi-million pound transfers, Barry Silkman has lived the life that schoolboys dream about.
And if the 57-year-old is to be believed, the Premiership - and indeed world football - could look a whole lot different if certain big-name managers had paid a little more attention to him.
He said: "Six months before Cristiano Ronaldo went to Manchester United, I offered him to Everton.
"But the Everton chief scout was only prepared to take him on trial and he passed.
"In any other profession, you'd have to pay for making such a big mistake, but he is still the chief scout at Everton.
"I also recommended Zinedine Zidane to Newcastle, but they turned him down, saying he was overrated.
"And I took Harry Redknapp to see Nemanja Vidic play before he joined Manchester United, but he was too busy watching the game and not the player.
"Vidic was absolutely brilliant, but Harry hadn't seen all the work he'd been doing and said he didn't want to buy him for just £800,000 because he thought he hadn't been in the game.
"I have got so many stories and insights about things that have happened and I just state facts, not opinions."
Barry now spends his time rubbing shoulders with some of the sports most recognisable names, but it hasn't always been a smooth journey, with fall-outs and controversy littered amid an otherwise glamourous career.
Born in Whitechapel and brought up in the East End of London, Barry said he "went to shul for the important festivals" and had a barmitzvah.
He added: "I was brought up Jewish and I'm Jewish through and through.
"It is my daughter's batmitzvah next year so I take her to shul when I can."
A pupil at Canon Barnett Primary and Robert Montefiore Secondary schools, Barry's life was always dominated by two passions.
"All I ever did was play football and sing," he said.
"My mum was a singer and a mad Spurs supporter and my dad was also in to football, although not quite as much as mum.
"I used to play football in the streets and the playgrounds until it got dark."
But it was a chance encounter between his father and a Queens Park Rangers scout at a function that opened the professional-playing doors for the 15-year-old.
He said: "My dad told the scout I was really good and so he took me for a trial.
"But all the other players were useless, so afterwards the scout said that I had looked good and should go back for another trial with better players.
"I wasn't like English players, who play in too many straight lines - I was looked at as a bit of an outlaw.
"In fact, in about 1976-77 there was an article in Shoot magazine that said I played completely wrong. They believed the game was more to do with strength and pace rather than ability."
Unfortunately for Barry, the QPR manager took a dislike to him and, even more unfortunately, having joined Fulham, the manager followed him there and Barry's days at the club were numbered.
"I ended up not playing for a year and was doing a lot of singing at the time," he said.
"I didn't know whether I wanted a career in football or music.
"But then I was taken to Wimbledon for a year in 1971 and had a great time."
In 1973, with his reputation soaring, Barnet offered Wimbledon what was then a record fee for a non-league player, and his earnings went up from £5 a week to £20.
He said: "My most memorable moment was against Chelmsford on Boxing Day.
"They had a great player called Frank Peterson who loved his nights out drinking and smoking.
"At the start of the game he said he wasn't feeling well, but then midway through the first half I turned round and he was being sick on the halfway line - he said he was still drunk and was quickly substituted."
He remained at Barnet for a year before joining Hereford United, where he said he "got on great with the manager outside of football, but looked at the game from different angles".
He quickly departed and joined Crystal Palace in 1976 under manager Terry Venables - although it was to be another short stay.
"We beat Blackburn 5-0 and it was the best game I ever played in my life," he said.
"I set up all five goals and, as I was walking off the pitch, Terry said that it was the best display he'd ever seen from a midfielder.
"But then I was dropped for the next game and I knew I had to leave when all the midfielders were injured and two unknown 17-year-olds were named in the team while I wasn't even on the bench."
In 1978, he went to Plymouth Argyle, and then on loan to Luton Town, which he described as "a very strange place".
After walking out on them after just three games, Barry rejoined Plymouth before making the biggest move of his career in 1979.
He said: "Manchester City signed me and it was a massive move for me - as far as I was concerned, the bigger the stage, the better.
"The media started calling me the Muhammad Ali of the time because, when asked if I was going to get in to the first team, I said I wasn't there to play in the reserves.
"I got on really well with everybody and had the best time of my life.
"I managed to score a header on my home debut - I hadn't scored with my head since I was 16-years-old."
He added: "I used to love heading the ball when I was younger and I used to be fantastic in the air.
"But then at my first league game for Hereford, their striker stood in the mirror taking all his teeth out.
"From that point on I thought I'm never going to head the ball again, but I used to get away with that."
While at City, he became a racehorse owner and, by the late 1980s, had become a successful greyhound trainer.
Like so many ventures in his career, the City days came to a sudden end after just 19 games when he was informed that the chairman wanted him out.
But when one door closes, another opens, and Barry was to become the first player to make a transfer overseen by football's first super-agent, Pini Zahavi.
"Pini was a journalist who had been commandeered by the owner of Maccabi Tel Aviv to find a player who could offer something different," he said.
"He was told about me being a Jewish player and watched me for a week before signing me up.
"I loved it at Maccabi Tel Aviv and the way the coach played football was the way I had wanted to play my whole life.
"But then a new coach was brought in who was a lovely man, but totally clueless about football, and from then on I found things very difficult."
However, despite reports suggesting that Barry returned to the UK after realising he may be drafted into the Israeli army, Barry has a different version of events.
He said: "Every Saturday we had a team meeting at 12.30pm, which was always in Hebrew.
"One Saturday, I went to the beach before the meeting to tell my dad and girlfriend where I had left their tickets, but when I returned to the clubhouse the players weren't there.
"Outside, the coach put his head in his hands and said, 'Oy, oy, oy', because he had forgotten to say in English that the meeting had been brought forward."
He added: "Then the newspapers said I had been sleeping on the beach when I was supposed to be at the team meeting and I knew I had to leave.
"I told them my mother wasn't well, came home and just never went back.
"The truth is that I wouldn't have joined the army because I went there to play football, not start a war."
Barry joined Brentford before Venables snapped him up at QPR.
"I was only 27 and was very fit, probably the fittest athlete Venables had ever worked with," he said.
"I used to love running and lived to play football, so I find it funny when modern players complain of playing twice a week."
Barry spent four years at Leyton Orient before joining Bobby Moore at Southend United, who he described as "a lovely man".
But he ended up taking the club to court - and winning - over a breach of contract.
He said: "I used to be enthralled with law and read a lot about contractual law.
"Less than 10 per cent of footballers actually read the whole of their contracts."
After a brief spell at Crewe Alexandra, Barry ended up "sitting around for a year waiting for the phone to ring".
It was a friend who got him back onto the football field, but this time he was to stretch his muscles for Jewish non-league team Wingate and Finchley.
"My friend was the manager and he asked if I'd help out with some of the young Jewish players," he said.
"I stayed there for a couple of years and had a good time."
It was after receiving a phone call out of the blue that Barry's career as a football agent took off.
He said: "I was asked to help find a club for a player called Alan Kimble and after watching Wimbledon on Match of the Day, I spoke to their manager and got him to watch Alan.
"He eventually agreed to buy him and, although I was clueless as to what I was doing, that was the start.
"Alan then told other players about me and they began calling.
"It's not the greatest job in the world and can be very frustrating."
In recent times, football agents have been getting a bad press, not least during the bungs scandal of 2006, where Barry's name was mentioned alongside a long list of supposed underhand workers.
But he blamed the Football Association for "setting in motion something that it didn't want".
He added: "The whole thing was an absolute load of rubbish.
"It started out being about managers and turned into a witch-hunt against agents.
"A lot of it was born out of jealousy because people think agents get millions of pounds a year, but if there were no agents then none of the best players in the world would be in England."
He continued: "Nine out of 10 times it is the agent who puts clubs in touch with players.
"Personally, I never look for a player - they approach me.
"I come from the football side of things, so when I look at players I think I can help their football careers.
"The money always comes second with me, football first."
Premiership transfers that Barry has overseen include those of Mark Schwarzer, Geremi, Micah Richards, Yakubu Aiyegbeni and Patrik Berger.
Barry returned to Israel during the summer to take part in the Masters football at the Maccabiah Games, where he helped his team to gold.
"I try to go to Israel at least once a year, if not twice, and I love it there," he said.
"But the standard of Israeli football isn't a lot better than when I played there.
"They have two or three good teams with some good players, but overall it's not a great standard.
"However, there is a young Israeli, Guy Assulin, at Barcelona who people tell me is exceptional."