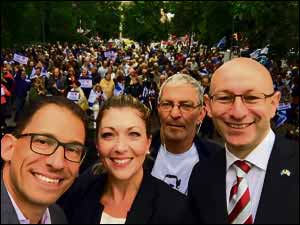 ISRAEL SUPPORT: Saskia at the pro-Zionism rally in Stockholm on Sunday with, from left: Daniel Radomski, chairman of the Zionist Federation of Sweden, Amnon Israeli and Arsen Ostrovsky, executive director of the Israeli-Jewish Congress
BY SIMON YAFFE
WHEN Saskia Pantell moved to Sweden as a youngster, she was told never to mention the 'J' word.
There was to be no talk of being Jewish.
The only notable difference to the blonde-haired, blue-eyed Swedes was that she was green-eyed and spoke in American-accented English.
However, more than 25 years later, Saskia has truly embraced her Judaism and a love for Israel.
She is executive director of the Zionist Federation of Sweden, having previously served in numerous positions in Zionist organisations.
The turning point was when she returned, at the age of 19, to live in her native New York for four years - where her father, Richard, still lives.
"I began to live freely, as a Jewish person," the 31-year-old told me. "I could tell my boss that it was Pesach or another yomtov and that I needed the time off - and it was fine.
"I could not go back to Sweden, having been who I was in New York, and not be me. I felt I had to do something."
So, on commencing reading peace and conflict resolution with pedagogics at the University of Uppsala, on Sweden's east coast, she set up the campus' first Jewish students' society.
Saskia was born in Woodstock, New York, to an American father, originally from The Bronx, and a Swedish mother, Carina.
Of Russian, Polish and Ukrainian descent, she moved to Sweden when she was five after her parents divorced.
Interestingly, Saskia and Carine lived in a refugee camp, as her mother worked with refugees to Sweden.
"One of the camps had a lot of Iranians and, at one point, we had to move because Ayatollah Khomeini issued a fatwa stating that all American women and children should be killed.
"We moved to another camp, which was full of Albanian and Chilean refugees."
Once in Sweden, Judaism was never spoken about. Saskia could never tell her friends she was Jewish.
"Because of a wave of immigration at that time, there were neo-Nazis roaming the streets," she recalled.
"The fact my mother worked with immigrants put us in danger - and it would have been much worse had they known she was Jewish.
"They burned her office with a Molotov cocktail and, another time, she had to rely on the police and security experts to get home."
When Saskia was 16, she moved to a secondary school in Stockholm. Her relocation coincided with the second intifada in Israel and 9/11.
Those two events combined to, incredulously, create hostility towards both Israel and America in Sweden.
Saskia recalled: "9/11 took place in my home city, a place I had spent so many happy times.
"I became politically-active when I went to Stockholm.
"I could not understand how New York, my city, was attacked and, suddenly, me, as an American Jew who identifies with Israel, is seen as the enemy."
The Swedish right joined up with the country's left. And both political ideologies have one thing in common - their hatred of Israel.
"Curiously, for the average Swede, religion is seen as bad, even though Sweden is originally a Lutheran country," Saskia explained.
Now though, she said, because of the increase in Muslim immigration, the country's far-right is claiming to support Israel.
"It is down to the old adage - my enemy's enemy is my friend," Saskia added.
"I am sure that if the far-right did not hate Muslims, they would come after the Jews."
After she had established the Jewish Student Organisation of Uppsala, Jewish students on campus began to come out of the woodwork.
Yet they were so assimilated and distanced from their religion and culture, they, too, saw Israel as the enemy.
Saskia said: "They came to me and said, 'I know nothing about being Jewish' and 'If I join, does it mean that I have to take part in Zionist propaganda?'.
"In the end, a lot of them felt relief to find other Jewish students and we became like a close family on campus."
But the Jewish students faced antisemitism on a regular basis on the Uppsala campus.
"I remember going to a bar with a Kosovan Albanian friend who was a Muslim," Saskia recalled.
"Some guy started hitting on her and asked if she was Muslim. She said she was and he said, 'that's good, because I don't like Jews' - and looked at me.
"Another guy bragged that he was going to get a tattoo across his back which would read, 'Death to all Jews'."
Her mobilisation of Jews on campus caught the attention of the European Union of Jewish Students.
Saskia took part in many of its activities, including EUJS Youth Ambassadors in Geneva, at the United Nations' 22nd General Session.
She was elected EUJS vice-president and appointed as a director of the World Union of Jewish Students.
Saskia said: "I remember going to the WUJS congress in Jerusalem. I was filled with pride at meeting fellow Jewish students from around the world who had a love for Israel.
"It was nice to be around people you are not going to have an argument with about Israel, but I was also jealous because they could be who they wanted to be on campus."
After graduating, she temporarily moved away from student politics and began work as project manager for the Swedish government's Official Minority Project.
But she left that position after becoming frustrated with the project's aims.
"They were more concerned about concentrating on reviving Yiddish rather than the 50 more important problems Sweden's Jewish community was facing," Saskia explained.
Offered a post as global campus initiative co-ordinator by the World Jewish Congress, she moved to Brussels in August, 2013.
She spent a year in the Belgian capital, helping to empower Jewish students around the world on how to counter BDS on their campus.
As she was travelling to and from Jerusalem for her job, she decided to move permanently to Israel in May, 2014.
That summer's Gaza conflict was just brewing, yet when it escalated and the rockets began to land in Israel, Saskia felt warmly reassured.
"I actually felt safer hiding in a bomb shelter than being in Sweden," she said.
"At that time, every Jewish person I knew in Sweden was being attacked - whether it was physically or through social media - because of the conflict.
"Antisemitism went up by more than 400 per cent in Sweden that summer."
As Saskia was working for Sweden's ZF at the same time, she was also involved with the country's Jewish community in the wake of the antisemitic shooting in Denmark in January, 2015.
A young Jewish man was shot dead outside Copenhagen's Great Synagogue during a barmitzvah celebration.
"It was a significant moment for Sweden's Jews," Saskia said. "It was so close to home and something we expected much more to happen in Sweden.
"We always felt that our Danish brothers and sisters lived a much safer life.
"Our entire community went on lockdown and I was soon back on a plane there to take part in crisis meetings and be with my community."
On Sunday, Saskia helped to organise a ZF rally in support of Israel in Stockholm city centre.
It could be seen as something brave to arrange, as Israel-Swedish relations have been strained for a number of years.
In 2010, after a sharp rise in antisemitic attacks in the immigrant-heavy city of Malmö, its then-mayor, Ilmar Reepalu, denied the rise of Jew-hatred - but also said he would not accept Zionism nor antisemitism.
He also criticised Malmö's Jewish community for its support of Israel.
Foreign Minister Margot Wallström, in January, called for an investigation to check whether Israel was guilty of the extrajudicial killings of Palestinians.
Sunday's rally had a theme of Taking Back Zionism.
"Our main goal was for Jewish and non-Jewish Zionists to declare their sentiments within a safe environment," Saskia said.
"We wanted to re-educate Swedes about the meaning of Zionism and that they should be proud to go public if they are a Zionist.
"It was our fifth annual rally and, the more vocal we have been about them, the more many Swedes are daring to come and join us."
She has even inspired her mother to return to her roots and to support Israel.
"My mum has become involved with various hasbara groups," Saskia said.
"She deliberately orders wine at the local store from the Golan Heights, just for the principle - she never drinks the bottles when they arrive."
Saskia estimates that there are around 15,000 to 18,000 Jews in Sweden, but that there are many more "in the shadows" who are Jewish by halacha but not by practise or tradition.
But does Tel Aviv-based Saskia fear for the future of the community in Sweden?
"I don't think 'fear' is the right word," she explained. "If we, as a community, are fearful, we will end up going underground and going into hiding.
"We will marry out and forget where we came from. As much as antisemitism, that attitude is equally as threatening to Swedish Jews."