By Adam Cailler
DONALD Trump becoming president of America would be a good thing for Israel, according to public relations consultant Jonny Daniels, who is close to the Republican nominee.
The 30-year-old told me how he once spent an hour talking to Trump about politics "while sitting around his swimming pool".
He said: "Mr Trump is a very smart man. One of his favourite conversations with me was talking about Iran and his utter disbelief that President Obama would make a deal with the biggest enemy of the Israel - in Iran they call for the annihilation of Israel.
"He just couldn't understand it, but the questions he asked me related to this were very detailed, structured and smart. He knows what he is talking about.
"If he became president, it would be better than if Hillary Clinton won - he understands Israel."
Jonny also organised former vice-presidential candidate Sarah Palin's trip to Israel in 2011. He admitted that "she's nuts".
He said: "We took her to see the tunnels underneath the Kotel.
"When I explained to her about the current situation, including the difficulties with the Dome of the Rock, she looked at me very seriously and said 'well why don't you just move it?'.
"Everyone there was just thinking 'really?' - she had no idea about anything."
These two contacts might seem like ones built by someone at the top of the political world, who was always destined to be there.
But, Jonny admitted that his career has been borne from "graft and hustle".
He said: "I am not the smartest person, and there are people who have better skill-sets than me, but I work incredibly hard.
"If you are not willing to fail, you will succeed.
"My skill-set is pretty much based around my mouth - I can speak and I can flog stuff."
Born in Edgware, London, Jonny moved to Finchley at 13 and was brought up in a modern-Orthodox household by parents Marc and Michelle.
"I've always grown up with a very strong connection to Israel," said Jonny, who has three sisters - Suzie, Amanda and Elizabeth.
"My late grandfather was an 'eighth-generation Israeli' and, from a very early age, I would spend every summer holiday out there.
"I felt an incredibly strong connection to the land, the people and the country - I always felt like it was my home.
"I was accepted into University College London to study Jewish history, but never went. I went to a yeshiva at 18 before joining the Israel Defence Forces."
Jonny knew that England "never felt like home" to him.
He said: "I sat down with the rabbi of the yeshiva and he knew that it wasn't for me.
"Studying was not my forte. He told me that I should go out and volunteer and do something.
"So I came to Israel on gap year and started volunteering for Zichron Menachem, which deals with children who have cancer.
"A lot of my experiences there really did impact upon my life, but it also showed me this level of inner strength that I did not know I had.
"More than anything else, spending time in Israel made me feel at home."
The father of two girls was a paratrooper during his time in the IDF.
He continued: "When I finished at the age of 21, I was still looking for more to do. I got a place at Bar Ilan University to study political science.
"Living in Israel you become somewhat political and I was always interested in it.
"Bnei Akiva wouldn't let me be a leader once because I was too right-wing.
"I once said there was no such thing as a two-state solution and I was booed out."
At the end of his first year, Jonny was able to get a role as the right-hand man for Israel's permanent representative to the United Nations Danny Danon, former Minister of Science, Technology and Space.
He added: "The main focus of my work with Danny was to build his brand as a member of the Knesset outside Israel.
"We wrote a book called Israel: The Will To Prevail, which became an Amazon bestseller.
"As a result of building his brand in America, I also became quite well-known, especially within the Republican establishment.
"America is a very pro-Israel country, and they see the Prime Minister of Israel as 'Mr America'. We managed to promote Danny so that people would take him if they wanted an interview on Fox News or CNN instead of just using the PM."
A poignant moment in Jonny's life was a trip to Auschwitz-Birkenau.
He said: "I was completely shocked. I had grown up on stories of the Holocaust and my great-grandfather was able to escape just beforehand, but his entire family was murdered in Poland.
"I had heard so much growing up, and was fascinated by the stories, but never felt like I needed the trip.
"It was only when former Fox News presenter Glen Beck started his own television channel, GBTV, and asked me to 'take the journey' with him that I went.
"I felt it was important that such a significant person in America was not alone and went with someone who was Jewish.
"I had had Glenn in my home for Shabbat dinners on many occasions, so he was very interested in that."
On Beck's travel blog, he spoke of his "new friend Jonny" joining him on the trip.
He wrote: "Every member of his family was killed there except his grandmother.
"She remembers Mengele looking into the crowds and selecting who would live and die.
"She remembers the day she and all of Johnny's family got off the train from Hungary.
"He (Jonny) gets quieter and quieter the closer we get to the camp. I notice he keeps looking at a piece of paper when he thinks no one is looking. He later shows it to me.
"It is the list of family he never met that were killed at the camp."
Jonny recalled how the trip changed his "view of the world".
He went on: "I flew to Poland and it was a big experience. I started to look at organisations I could get involved with, but everything connected to the Holocaust were big, static institutions.
"Yad Vashem is a great institution, but they are very much focused on the museum.
"There are no young people involved and it feels like a stuffy place.
"The March of the Living does great stuff, but it's just a money-making machine.
"I wanted to be involved in something more pure - it was on my mind for a while."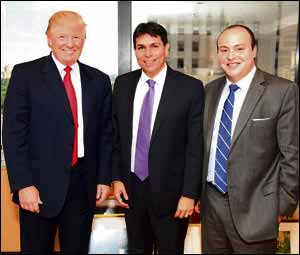 SMART MAN: Jonny Daniels, right, with Donald Trump and Danny Danon

Jonny flew back to America and had breakfast with Holocaust survivor, Elie Wiesel, who gave him a piece of advice which would inspire him to set up the charity From The Depths.

He recalled: "I told him that I want to be involved, but I wasn't a survivor, educator or someone with doctorates so how dare I be involved or even think about it.

"Elie said, 'You have to, you are my witness - if your generation doesn't stand as witnesses for the witnesses then everything will be lost'.

"At that point, I decided that with the skill-set I have and the people I know there was something I could do to get the younger generation involved and interested in Holocaust education.

"I knew I had to get politicians involved and that I had to do something that had never been done before. I wanted to take the Knesset to Auschwitz."

Jonny was told that there was "no way" he would get the Knesset there, because of internal fighting and logistics.

But, being someone who clearly does not take no for an answer, he succeeded in getting the Polish and Israeli governments to join together for a session on International Holocaust Memorial Day 2014.

A delegation of British MPs also attended, with 68 MKs.

He continued: "It was a huge achievement to convince two governments to do this, and I also had to raise $1.5 million to pay for everything from a dinner for 800 people in Krakow, two flights from Israel and on-ground transportation.

"It was a very expensive thing to do, but with a little chutzpa I was able to raise that money."

Jonny had planned to return to Israel and continue with his PR work, but now spends half of his time in Poland.

He said: "The trip brought a lot of positive attention and led to Poles from all different walks of life reaching out to us with stories and artefacts.

"It became clear that there was a lot of things left on the ground in eastern Europe - the fact that we only know where four million Jews were murdered and there are still two million unaccounted for.

"These Jews, our brothers and sisters, were murdered in mass graves.

"As it stands, we are losing eye witnesses so we have to go to the small towns and speak to people.

"Through this, we are uncovering dozens of mass graves and Jewish cemeteries which we did not know existed until now. It has become an international pursuit."

The charity works closely with the UK's special envoy for post-Holocaust issue Sir Eric Pickles, as well as politicians across the world.

Jonny was proud to admit that he has "never" had any antisemitism while being based in Warsaw.

He said: "Polish people are incredibly receptive and open. It is unfair to assume that all Poles are antisemites - by and large they are not.

"The truth is, it is a comfortable place to work. I walk around and wear my kippa proudly and I am a pretty well known Jew here.

"I'm more nervous wearing my kippa on the tube in London.

"Antisemitism in Europe is a huge topic of discussion in Israel and it is seen as a virus that is spreading which people don't seem to be able to deal with.

"It is just a matter of time and we are freeing up room for people to come to Israel - it's very sad."

Jonny is also a fan of Tottenham Hotspur, but doesn't have "much free time" to watch his beloved club.

"Thankfully my friends on Facebook keep me updated so I can't really keep away," he said. "But, there are more important things in life than football."

Details: fromthedepths.org