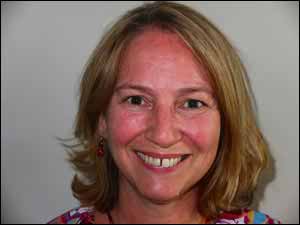 Dr Miriam Dwek
PERHAPS it was a family tragedy which led Dr Miriam Dwek to becoming an expert in cancer research.
Her younger brother, Martin, died of leukaemia when he was four. Miriam, one of five children, remembered the period as a "difficult and defining time".
"I think it did influence my career decision," she told the Jewish Telegraph.
"I had always been interested in human biology, so it was a dream come true to work in the field.
"It is great to have the opportunity to work in something which might eventually benefit so many people."
The 52-year-old is currently Reader and Group Leader of the Breast Cancer Research Unit at the University of Westminster.
Her current research interests are in the area of cancer biomarker discovery, the development of new approaches for the in silico and in vitro study of breast cancer behaviour, diet and lifestyle aspects of breast cancer progression.
Dr Dwek's latest work has been discovering if patients who have been diagnosed with breast cancer have seen the disease spread elsewhere, using a simple blood test.
She said: "We have a bank of our patients' blood samples.
"We take samples from those whose cancer has spread with those whose cancer has not and pick out marker proteins in the blood.
"We have developed a rapid test and from that screened a whole set of patient samples. Our protein marker was able to diagnose those which had spread to other parts of the body.
"It gives us an opportunity to develop a test where individuals whose cancer might have spread, but might not have yet developed the symptoms.
"If you can identify the cancer spread while it is small, the greater the chance there is to treat the individuals"
Born in Germany to a German mother, Erika, and Egyptian father, Raymond, Miriam and her family moved to the UK in 1967, firstly living in her paternal grandparents' home in Stamford Hill, London, before moving to Woking, in Surrey. "It was a difficult and definings time because Martin was ill at the time," Miriam recalled.
"When we moved to Woking, we became members of the South London Liberal Community. Rabbi John Rayner was very kind to us after Martin died."
The family later moved back to north London, where they joined the North London Progressive Synagogue.
Miriam's father had escaped Alexandria in his native Egypt in the aftermath of the 1956 Suez Crisis, along with thousands of other Jews.
"His family lost everything - it is a sad story," she explained. "Dad's parents were from Alexandretta, near Aleppo. One of his uncles had moved to Egypt and became a leather merchant and the family followed. Dad took a circuitous route to reach the UK, via France and Italy.
"Once he was here, he was taken by the Red Cross to an internment camp outside Warrington and members of the Liverpool Jewish community helped him. He ended up going to school in Liverpool."
Miriam's father became a successful businessman and speaks six languages. He lives next door to her in London. "Dad enjoys making Sephardi food and brings me carrot juice every day," she said.
"When he first encountered Ashkenazi food he did not know what to do with it, as he had never come across it before!"
Her father has never returned to Egypt as, Miriam said, his home had been "left to rack and ruin".
Before she went to university, she visited her father's family in Israel, where she worked on a moshav. Miriam remembered: "It was absolutely fantastic.
"Even then, back in the early 1990s, the science which was going on in Israel was mind blowing. They are brilliant innovators."
Miriam, whose mother lives in Leeds, went on to read applied biology part-time, while working in various roles, including process and product development at Smith and Nephew Medical, in Hull.
She then joined the biotech company Oxford Glycosystems as a manufacturing scientist, her first foray into the field of glycobiology. Miriam said: "We discovered that molecules had special sugars attached to them. It does not refer to sugar you'd put in your tea or coffee - it is a much more specialised area." Miriam moved back to London to gain her PhD at University College London Medical School's department of surgery, under Dr Anthony Leathem.
Her focus was identification of glycosylation changes in aggressive metastatic breast cancer and subsequently focused on proteins that show alterations in glycosylation in cancer.
After two periods of post-doctoral work, Miriam moved to the University of Westminster, where she set up her own laboratory in 2002. She explained: "Cancer is caused by lots of mutations. It can end up with a cell which is able to keep growing and spread around the body.
"For example, cigarette smoke might cause a mutation in the DNA of a cell and, therefore, its behaviour may cause a change in its behaviour. We are trying to find a way to stop the cancer behaviour.
"Our lab has been working on identifying what these changes are and where we find them within the cell, as well as how we might be able to inhibit those changes.
"We are looking to see if any of those changes on the cell might be detectable in the blood of the patient. It is like looking for a needle in a haystack.
"The idea behind it is, if a patient has a level of chemical in the blood which has changed due to cancer, maybe the cancer is not responding to treatment or spread, if we know there is a marker in the blood we can use that to monitor patients.
"It is about putting the pieces of a jigsaw together."
Breast cancer research is well-funded because it is so common, Miriam continued. "The idea is, if you can find changes which happen in breast cancer, then they can appear in other cancers, too, so we can apply our knowledge to cancers such as colorectal," she said.
Is breast cancer more prominent in Ashkenazim, as a number of studies have found?
"There are two forms of cancer as we might think of it," Miriam explained. There is Type-F cancer, which might be inherited due to a mutation in a gene.
"With Ashkenazim, there are two main gene mutations, BRCA1 and BRCA2, which we know are inherited."
Miriam's lab does not currently have any research collaborations with Israel, but it is something she would like to happen.
"We do have some links with researchers there, so we are informally working together," she said.
"With the BDS movement, I do not think it helps solve any problems which it thinks are problems.
"People need to talk to each other. Academic boycotts are not going to help anything. I am hugely against it - it is about being biased against one nation. Why is Israel being singled out?"
Miriam lives with her partner, Graham Slater, who is not Jewish, and their two children, Rosa, 18, and 16-year-old Martha.