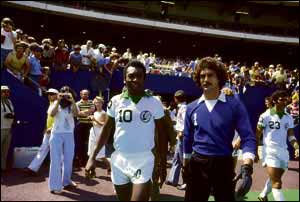 MEMORIES: Shep with Pele in their New York Cosmos days

BY SIMON YAFFE

SHEP Messing never saw a football until he was 16 and never played a game until he was 18.

Yet the American became one of the most celebrated names in the sport and played alongside stars, including Pele, Franz Beckenbauer, Eusébio and Carlos Alberto.

Messing was goalkeeper for the New York Cosmos, which became the most famous soccer team in America.

Shep was raised in a Jewish area of The Bronx called Parkchester.

"We had no parks and no places to play soccer, it was not a big sport back then," the 66-year-old told me from New York.

"We played handball and other games out on the street. Soccer was not a game I knew about."

It wasn't until Shep went to read political science at New York University, by which time he and his family had moved to Long Island, that he first played the game.

An all-round athlete who excelled in American football, baseball and basketball, he recalled: "American football was cancelled after a player suffered a serious injury.

"One day, the soccer coach walked over to me, told me his goalkeeper was injured and asked if I wanted to take over. I'd never even watched a game.

"I saw 20 guys running around like crazy and then two guys dressed in black at opposite ends and thought it looked pretty cool.

"I was good from that first game - it felt natural. I learned on the job, plus our coach was excellent."

He took to watching and analysing England great Gordon Banks and the Soviet Union shotstopper Lev Yashin during the 1966 World Cup.

Such was his natural aptitude for the game, Shep was named in the American squad to represent the country at the 1969 Maccabiah Games, in Israel.

"I guess I had been insulated from the rest of the world - I was a Jewish kid from The Bronx," he recalled.

"Going to Israel was really eye-opening. It was wonderful to be there. I played against Argentina, Germany and Brazil - I never even realised that there were so many Jews from around the world. It was a life changing event."

Also in America's delegation was weightlifter David Berger, one of the 11 Israelis murdered at the 1972 Olympics in Munich by Arab terrorists.

Shep remembers those horrendous few days vividly, as he was also in West Germany, representing America. At this time he was studying at Harvard's law school.

"For most American sporty kids, their biggest dream is to compete in the Olympics and I was no different," he said.

"There was such sheer excitement and pride among us - we were a bunch of college soccer players representing our country in the Olympic Games."

His American team drew 0-0 with Morocco, lost 2-0 to Malaysia and were then dispatched comfortably 7-0 by West Germany.

Then, on September 5, members of the Black September terrorist organisation broke into the Olympic Village and took Israeli athletes, coaches and officials hostage in their apartments.

"I remember there was a knock on my door at 4am and, standing there, were two German soldiers with rifles who asked me to go with them," Shep continued.

"They were rounding up all the Jewish athletes to put us into protective custody, as the authorities were not sure whether the terrorists were going to start targeting us, as well.

"I watched it all unfold and it was a complete nightmare."

International Olympic Committee president Avery Brundage insisted the Games continue.

"I thought that it was a complete joke," Shep said. "I felt so horrified. I never felt my Jewish DNA as strongly as then."

Raised in a Jewish home by Dublin-born Anne and lawyer Elias, a decorated Second World War soldier, Shep was 10 when the family moved to Long Island.

"Where I grew up was a very traditional Jewish neighbourhood - I didn't experience anything other than a Jewish life," he remembered. "I was surrounded by Jews!"

As per the American college soccer system, after the Olympics, Shep was drafted to play for Montreal, but did not want to go to Canada.

As he had trained with New York Cosmos, his rights were signed to them. Cosmos, who played in the North American Soccer League, were coached by Englishman Gordon Bradley.

"Gordon took me out for a cheeseburger and asked me how $2,300 sounded," Shep explained. "Being a Harvard guy, I digged maths, so I thought he meant per game. He meant for the season - so I said I would think about it!"

He eventually signed for Cosmos in 1973, although the NASL did not have much traction then.

But, in 1975, the Cosmos pulled off what was then the coup of the century when they signed Pele.

Brazilian international Carlos Alberto, German captain Beckenbauer and Italian Giorgio Chinaglia soon followed.

Shep also played alongside Israeli legend Mordechai Spiegler and then-Israeli international Roby Young at the Cosmos.

Backed by Warner Communications' Jewish president Steve Ross, the Cosmos began to garner attention as the most glamorous football team in the world.

"It was a case of the right time in the right place in New York City," Shep said. "New York was bankrupt and its star athletes, Joe Namath and Walt Frazier, had left the city. There was a void in the sporting marketplace for the stars.

"Before Pele signed, we had 1,500 at games - afterwards there were 20,000. The guys who owned the team were smart enough to put the Cosmos and Hollywood together. The team would go to a nightclub and Elton John would be there.

"It was about the glitz and the glamour. It really caught fire.

"Beckenbauer, who had won the World Cup and title after title, said the best time of his career was at Cosmos."

A year into his contract, Shep posed nude for Viva magazine, for which he was paid $5,000.

His club was not impressed, however, and terminated his contract due to a "moral clause".

"It was good money," Shep laughed. "My mom, surprisingly, for a Jewish mom, did not mind -she was a professor of sexual education and thought it was great.

"She was more horrified that her good Jewish son was playing soccer for a career, as she wanted me to finish law school."

Shep signed for Boston Minutemen and even saved a Pele penalty against Cosmos.

When his replacement at Cosmos, Bob Rigby, broke his collarbone in the next game, Pele recommended they take Shep back.

He spent a season back in New York, before signing for Oakland Stompers and then Rochester Lancers.

While in Oakland, California, Shep and his lawyer father set up the first NASL players' union.

Shep, who appeared in the 2006 Cosmos documentary Once in a Lifetime, said that to be a goalkeeper "you have to have a combination of serenity and the aggressiveness of a train crash - there is such a fine line".

He explained: "I was a maniac on the field - before a game I would drink loads of coffee and not shave. Franz, Carlos and Pele were the same.

"Off it, though, I am the most simple, kind and generous guy. I cry at every movie - I am a mush."

Shep also had a habit of poking an opponent with a safety pin which he kept pinned to the band inside his shorts.

"I figured out that things got rough on corner kicks," he recalled. "I am not proud of it, but you did what you had to. I was always aggressive in the six-yard box and in my area,"

After leaving Rochester in 1978, Shep became the first player to sign with the Major Indoor Soccer League when he joined the New York Arrows in 1978.

He spent six years there, winning numerous titles.

And, such was the ferocity of playing indoors, Shep underwent 14 operations during his indoor career.

"In a way, the MISL caused the NASL to go out of business," he said. "There was a salary war between them.

"With Cosmos, Beckenbauer and Pele left and the crowds diminished."

The NASL eventually folded in 1985. Shep had left New York Arrows in 1984, moving on to play for Cosmos' indoor side, Pittsburgh Spirit and New York Express.

A member of the National Jewish Sports Hall of Fame, the New York Sports Hall of Fame and the Nassau County Sports Hall of Fame, he retired in 1987.

Since then, Shep has worked as a television sports broadcaster, covering numerous World Cups, as well as working as an analyst for Major League Soccer side New York Red Bulls.

"America being given the 1994 World Cup really was a seminal moment," Shep said. "Soccer in this country has now arrived on a solid footing.

"Baseball, American football and basketball are the big sports here, but all the data shows that soccer is really catching up. It has already overtaken hockey.

"I really believe that the Cosmos laid the foundations for the spread of soccer over this country."

Cosmos reformed in 2010 and currently ply their trade in the NASL. Shep, together with Pele, is a club ambassador.

He also works as a broadcaster across Cosmos' media channels.

"We were all thrilled when it happened," Shep recalled. "It's akin to Manchester United disappearing 30 years ago and then coming back.

"Cosmos have a long mountain to climb to get back to where they were. They are still the most famous soccer team in America - more than Red Bulls and Los Angeles Galaxy. Cosmos' name resonates across the country."

The father-of-two and grandfather-of-four has been married to Arden (nee Rothenburg) for 42 years, having met at college.

But, Shep revealed, his wife has little interest in soccer.

"Arden was doing a crossword last week and the clue was 12 across, four letters, soccer goalkeeper, surname Messing," he said.

"She honestly could not think of the answer."