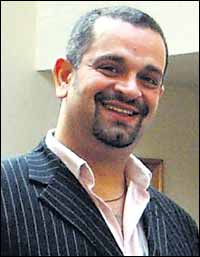 DAVID: 'I am now looking for an exciting new challenge'
THE build-up to next weekend's national Limmud conference is exhaustive. But David Israel, who co-chairs the event, is relishing it.
"It's a huge honour and privilege to take it on," he said.
"I could not say no when asked — and it has been an amazing year planning things."
He added: "A major challenge was the financial situation due to the credit crunch.
"We were really worried we'd not get the kind of numbers we had 12 months ago when around 2,000 attended.
"At one time we thought we'd be down to 1,500, which would have meant budgetary cuts. But we could now be as high as 2.500.
"It's a nice problem to have, but we have to be realistic about logistics. We want to accommodate everyone."
Based at Warwick University, a record 2,500 delegates of all ages and ranges of Orthodoxy will be spoilt for choice when it comes to selecting educational topics throughout the event, which runs from December 27-31.
Around 500 delegates will also be on campus for the Shabbat Limmud (December 25-26) before the core schedule begins in earnest the following day.
The host of lectures and seminars enables participants to develop enthusiasm for "all things Jewish", whether studying alone, with friends or in groups, attending an interactive Art Zone, panel discussions, Dine 'n' Discuss groups or enrolling for four-part intensives.
David says of the schedule: "We have some fantastic headline educators including David Saperstein, who has been described by Newsweek magazine as the Most Influential Rabbi of 2009, playwright and poet Bernard Kopps, Simon Wiesensthal Centre director Ephraim Zuroff, 2008 Nobel Peace Prize candidate Michelle Citrin and Cool Jew author Lisa Klugg. "The spread of speakers and range is better than ever because it's important to move forward each year," said David, who is sharing the key decisions with Rebecca Lester.
"We made a decision early on that if something is not broken don't fix it," he added. "But we are trying to make it that bit better than last time.
"With an event like this you do not need to reinvent the wheel. We know why people come to conference — the presenters and social aspect.
"Our challenge is to make the presenters and social aspect that bit better and delegates come in droves.
"There was no need for a new fancy venue or a new fancy video conferencing or any big ideas.
"You just need to do what you do very well that bit better."
He went on: "When it comes to catering, security, logistics and so on we have central core team that is 22-strong who have met regularly.
"Every aspect of conference has been analysed and reviewed, whether it's families, the venue or meeting areas of the schedule.
"On a wider conference team there are around another 150 people all volunteers, and all doing it because they love what Limmud is all about.
"Everyone does Limmud because they want to and not because they have to. That is what makes Limmud so special and successful."
A former RSY-Netzer youth leader, David was born in London in 1968 before moving to Leeds with his parents, Val and Joe Israel, as a baby.
Educated at Leeds Grammar School, he spent a gap year in Jerusalem and Kibbutz Lotan prior to leading Israel summer tour in 2000 on top of summer/winter camps.
At university, he was an active member of Oxford Polytechnic J-Soc and was on the National Union of Students national executive.
His working life started as a senior property valuer followed by a couple of other jobs before a decade of communal service.
David's first paid communal role was as community development project co-ordinator with Leeds Jewish Representative Council in 1997.
"Though not a new role, I changed its focus leading to greater participation in social, cultural and educational activities for young Jewish adults aged 18-30 in Leeds," he recalled.
The role is now known as Leeds Jewish Initiative co-ordinator and efforts are currently being made to resurrect the post as it is seen as essential for the future of a viable Jewish community.
For seven years, David — who has a younger sister Rachel — worked for UJIA, initially as renewal and later NE regional director.
He said: "I helped bring Melton, Limmud and Torah l'Am to Leeds, pioneered educational visits to cities with Jewish histories such as Budapest and Prague, and was an educator on visits to Auschwitz-Birkenau.
"I also helped facilitate the first leadership programme that culminated in the Leeds strategic plan.
"This is still unique for any Jewish community in the United Kingdom and a model used by Jewish communities across East and West Europe."
David went on to design and facilitate a lay leadership development programme that has run twice in the city.
He is currently acting as a consultant for the course being introduced in Manchester.
"Three courses have run in Leeds, training up 20 new leaders and improving the skills of 12 existing leaders," he said.
David also wrote a five-year strategic plan for the Leeds Jewish community alongside a committee of volunteers and Paris- based consultancy, which is being implemented.
As Leeds Jewish Welfare Board commercial manager until last summer, he brought his years of experience to a brand new role.
"I created and implemented a new working system for the community centre flexible enough to accommodate service users and business clients," he said.
"A marketing strategy encouraged businesses to use the centre."
David left the post last summer and is currently looking for a new challenge.
"I'm adept at community and lay leadership development, event planning and building management so am able to turn my hand to just about any role in an organisation," he said.
"I am looking to find an exciting new challenge in my next work role."
Limmud has always been central to David's thinking.
His first voluntary role was at national conference in 2000 as resource room manager.
Since then he has been on the conference core team three times and helped re-introduce "day" Limmud activities nationally after helping facilitate Leeds Limmud nine years ago.
"I was on four Leeds 'day' Limmud teams, took Limmud to Newcastle and was regional Limmud co-ordinator for six years covering more than two dozen events," he said.
"In that time, we doubled the number of "day" Limmud activities and trebled the number of people attending.
"In addition, we pioneered pre-Limmud "day" evening events and Limmud city tours."
Looking ahead to next week, he said: "As organisers you get a massive buzz when you see all your year's work come together.
"On that first day when people arrive to register there is an amazing atmosphere.
"Participants get so much from the event."