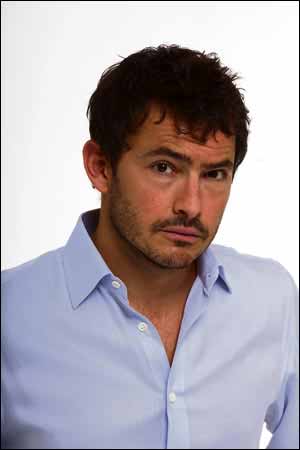 Picture: Colin Thomas
BY ADAM CAILLER
GILES Coren may have had a strained relationship with Judaism, but his son Samuel was brit mila - and our conversation was littered with more Yiddish than an average day in Stamford Hill.
The restaurant critic told me that his late father, writer and satirist Alan Coren, was "brought up Orthodox and was the star of cheder".
However, it was during his father's time at Oxford that it all went awry for the Coren clan.
"He told me this story of when he came down for breakfast and the landlady had made him bacon and eggs," Giles said. "He just went 'erm . . . f*** it', and ate it.
"My mum Anne's parents left Bratislava (in then-Czechoslovakia) just before the Nazis arrived in 1939 and all their relatives died in the Shoah. They all went different ways, religiously.
"My mum's great-auntie Serena, who survived Auschwitz, was frum, as was my grandfather Michael, but my grandma Isabelle decided it was all b******s.
"This was basically the two ways of responding to the Holocaust - either become more religious or turn away completely."
He added: "My mother had always felt a level of antisemitic persecution during her childhood, which was originally in Derby and then in London.
"Her best friend was the daughter of a local vicar and once they found out she was Jewish, the friend wasn't allowed to play with my mother any more.
"That kind of thing made my mother very angry so she became sort of anti-Jewish and she also didn't like segregation in shul.
"Making their way in media in London in the 1960s and 1970s, they found it easier to sort of not be Jewish. They basically ended up not, although I had a brit."
Giles was born in Swiss Cottage and raised in Cricklewood. He regrets never having a barmitzvah. The 46-year-old said: "By the time I was 13, my mother's father was dead and I didn't want a barmitzvah.
"I would ask why I wasn't given one and was told 'well you didn't want one'. I reply with 'it's not meant to be a choice, what Jewish boy ever willingly wants one?'.
"I also attended private schools and boarding schools where outwardly Jewish boys didn't have the best of times, so I shrunk away from it, I'm ashamed to say."
Giles admitted that he had explored returning to the religion "but it's hard".
He explained: "Because our family was Orthodox, it has always looked down on anything less, as it has anything more - it looked down on Reform as it did Chassidim.
"I never learned Hebrew so returning to a United synagogue would be hard enough as it is. At my age, if I was going to learn a new language, it would probably be more useful to learn Mandarin."
Giles, who read English at Keble College, Oxford, told how he "accidentally" went on a press trip to Israel while working for The Times.
He recalled: "As a young journalist, aged around 25, one of the perks, despite not earning very well, was travel freebies.
"There was a cruise to the 'Land of the Bible' which was 10 days around Egypt, Israel and Lebanon - but we never went to the latter. Around that time, any planned trip to Lebanon didn't happen.
"I went to Israel with around 400 elderly non-Jews, got on to the coach, arrived in Jerusalem and there it is. You are a Jew and I'm my father's only son, and he was his father's only son who was his father's first son who was the eldest Coren who came over at the end of the 19th century fleeing the pogroms.
"I would be the head of the entire family if we had not lapsed, so I did feel some kind of strange responsibility. Seeing Jerusalem, the Wall, the foundation stones etc has an effect on you. You think 'f*** me', this is where I'm from."
While in Jerusalem, Giles came across a plaque on a wall which he thought said 'Shlomo Coren'.
He explained: "I saw this memorial to Rabbi Goren and I thought it said Coren. That had an effect on me as well, but there is something about seeing the place with all these non-Jews that also had an effect.
"Seeing all these people with paper yarmulkes, running after them as they fell off while trying to film it with a cine camera - it just made me feel like 'I am not one of you, I am one of those guys with the black hats and beards'."
The father-of-two, who is married to Esther and is father to Kitty, admitted the family did Pesach "and the occasional Friday night".
He added: "My father had the most beautiful Hebrew singing voice. He wept as he sang, especially at Pesach.
"He would have liked to have gone back into the religion, but my mother was so against it.
"I spoke to some cousins and rabbonim about it. My family worried that it would be taking them backwards as they had worked hard to assimilate in the community - they just wanted to be English.
"There was a low-level insidious sneering towards Jews in their day and they wanted to be chic and English, but they still had Jewish friends and loved their Jewish parents. It's part of the whole de-religiousifying of the whole country, I guess."
His daughter, who attends a non-Jewish private school in Golders Green, has asked about being Jewish, as Giles' wife is not Jewish.
Giles explained: "It was during Chanucah. Her classroom had a little menorah. I said to her 'Look, it's Chanucah today and you are sort of Jewish, but it's complicated so this is sort of you' and I left these gentile teachers to explain it to her.
"I had my son circumcised which was an absolute deal-breaker - although it was done in a hospital by a Muslim woman.
"I regretted not having it done by a mohel, but it did happen to fall on the eighth day so I was pleased with that, but the experience wasn't very good.
"It gives my son that option, later in life. Should he want to return to be a Jew, he won't have to do the one thing that no grown man would want to do."
The brother-in-law of comedian Alexander Armstrong admitted that he likes having that Jewish connection but "isn't proud".
He said: "I'm not ashamed of it or afraid of it any more. I still find it hard, when people are being slightly teasing or mean about Jews or talking about Israel, to rip off my shirt and say 'I am a Jew, deal with it'.
"I went through a phase of being very pro-Israel and defensive of Israel without being a theoretical Zionist. I would be goading people into being antisemitic."
About his chosen career, Giles told me: "I grew up in a house where books and novels were revered. My father was a huge reader of novels . . . but he had never written one, which he regretted.
"He didn't regret it hugely because writing funny things in newspapers supported a family, but there was always an awareness he was one step down from writing novels.
"So wanting to step out of his shadow, I thought I could make my own name by writing a novel. I thought it would be easier than it is."
His journalist career had a helping hand from his father. He explained: "My dad rang a friend at The Times and said 'my son is sitting about doing nothing, but smoking joints and working in a bar, can you give him work experience for a week?'."
Having spent a week writing book reviews for The Times that "they seemed to like", Giles moved to the Daily Telegraph.
He recalled: "Once the Telegraph started publishing things, The Times saw them and thought 'oh, he's good' and, while I was still cheap, they got me back and I became perfectly good at it."
On his return to The Times, Giles started writing culinary reviews.
He added: "When I was 24, having started in 1995, I was paid £300 for 800 words and £500 for 1,000 words - I would be earning £40,000 a year only working two days a week. Now, it's capped at 30p per word in some places.
"Food writing exploded in the 90s and I grew up in a house where people liked to eat - that was the Jewish in us. Most of the London food critics are Jewish - our entire culture is built on restaurant criticism.
"At Pesach we sit criticising the charoset, discussing the last ramification of every mouthful and whether it was made the Ashkenazi way or the Sephardi way."
Giles then broke into television "because I was the only 'thin' restaurant critic available, so I looked good on TV.
"I never really wanted to be on TV given that my father and sister had done it, but it just happened."
Giles found himself mired in controversy in recent times, mainly for saying, in 2008, that Polish people were in denial about the Holocaust. And it is still something that he stands by today.
He said: "I had a letter from the Polish ambassador to say that the Holocaust was Polish only in the sense that it took place on Polish soil. Anyway, we all know what the Poles did during the Holocaust."
He described his father as "a very angry man who never showed it in his writing - it was always jolly and quirky, so everyone would think he was happy and jolly. He was also dark, angry and melancholic. I put all of my dark s*** into my writing these days - I can't stand the French kind of writing that you get in The Guardian where it's defeatist.
"People do eventually discover that I am actually terribly nice."
As for the future, Giles plans to write a memoir of his dad.
He also joked: "Maybe I'll do a 'Back in time for Pesach' TV show, although I don't think the food will change and the kiddush wine will be as disgusting as ever."
Follow him on Twitter @gilescoren