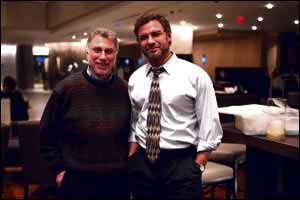 SEEING DOUBLE: Marty Baron with Liev Schreiber, who plays him in Spotlight
By Adam Cailler
A PROFILE of Martin - or Marty - Baron could easily fill a couple of pages. The fact that a film, Spotlight, has been made about just one aspect of his life underlines this point further.
But as a newspaper man himself, he understands the limitations on an article.
The current executive editor of the Washington Post, Marty was born in an area called Davis Island in Tampa, Florida, in 1954 to Israel-born Rebecca and Howard Baron, of Germany.
"My father had gone from Germany in 1936 to (then) Palestine and they lived in Haifa," Marty explained. "They spent two years in Paris and arrived in America in 1954 where my father was offered the opportunity to work.
"My parents were members of different synagogues when I was growing up, initially Conservative and then Reform.
"I was active, I went to a religious school and had a barmitzvah. We were a fundamentally cultural Jewish family."
Marty is clearly a private person when it comes to his family, as was evident from our conversation. He did admit to visiting Haifa on many occasions as he has family connections there.
His career in journalism was heavily influenced by his upbringing.
He recalled: "There was a ritual in our household where we got a newspaper every day. Of course, it was a local newspaper as there were no national papers at the time.
"My parents read it cover to cover and then in the evening we watched the local news for half-an-hour and then the national news after that.
"They were keenly interested in what was happening in this new country of theirs and they were very interested in what was our world, given that they were from overseas.
"In that way I became interested in the same things, such as world affairs and public affairs.
"It interested me intellectually and in high school I was made editor of the newspaper, so when I went to college, I knew this was what I wanted to do for a career."
Marty took journalism classes and did an MBA and a Bachelors degree at Lehigh University in Bethlehem, Pennsylvania.
He added: "From the first semester on, I worked at the school newspaper and I became the editor in junior year.
"I worked every summer as an intern at my home town newspaper, the Tampa Tribune.
"My parents thought this would be a phase and I would go and become a lawyer or something.
"Even after I took my first job, my mother kept asking me if I would consider going to law school like most of my friends, which I didn't because I thought it would be boring."
Marty began working for the Miami Herald in 1976, before moving to the Los Angeles Times in 1979. Next was the New York Times in 1996 before returning to the Herald as executive editor in 2000. It was under his stewardship that the paper would run one of his first major stories - the case of Elian González.
Elian's mother drowned in November, 1999, while attempting to leave Cuba with her son and boyfriend to get to America.
The Immigration and Naturalisation Service placed Elian with maternal relatives in Miami, who sought to keep him in the country against his father's wishes.
A federal district court's ruling that only Elian's father, and not his extended relatives, could petition for asylum on the boy's behalf was upheld by the 11th Circuit Court of Appeals.
After the Supreme Court declined to hear the case, federal agents took Elian from his relatives and returned him to Cuba in June, 2000.
Marty recalled: "The story was already ongoing when I arrived. That controversy was beginning to take hold . . . but I was accustomed to overseeing a local news staff, graphics staff etc.
"It was a larger staff than I was used to, around 300 people, but I felt comfortable taking that position.
"The story provoked a lot of ethnic feelings in Miami. There were strong views, specifically among Cuban-Americans.
"For them, it was as if Elian had been thrown over the Berlin Wall and someone was asking to throw him back, which they saw as a grave injustice to be denied the freedom he wanted and his mother wanted for him.
"Other views were that he should be with his father in Cuba.
"Our objective was to try and focus on the story and capture the sentiments of both sides, but there were legal issues as well involving the American government and international law.
"You just try to cover every angle. We didn't take a position on the story as a newsroom, we just tried to reflect what was happening in the community."
Marty moved from the Herald to the Boston Globe in July, 2001, as executive editor.
In Spotlight, one of the first encounters with him was around a meeting table with the editors to find out what they were working on, but it was the previous evening where Marty had come across the story which would shake Boston to its very core, and become the subject of international media as well as winning a Pulitzer Prize for the newspaper.
Marty recalled: "I had read a column from Pulitzer Prize winning columnist Eileen McNamara which had appeared in the paper on the Sunday before I began on the Monday.
"It talked about one priest, John Geoghan, who had been accused of abusing as many as 80 children.
"In the column, she had quoted the attorney for the survivors, saying that the hierarchy of the church, including Cardinal Bernard Law knew of this abuse, but had allowed the priest to remain in the ministry even to the point of reassigning him from one parish to the next after they became aware of the abuse.
"And then she pointed out the Church had said that these allegations were baseless and irresponsible, and she concluded by saying that the truth may never be known because the documents were under court seal.
"I read that column and was intrigued, so I went into the Boston Globe on my first day and went round the table and nobody mentioned it."
The paper's investigative team, known as Spotlight, was worried it would be cut by the new editor, but as the meeting progressed, it became clear that the church case would be the team's to pursue.
Marty added: "I asked if we could try to get to the truth of the matter, but was told 'no' due to the court seal.
"I replied, 'In Florida, we would file a motion to unseal the documents. Have we considered that?'
"There was dead silence because I don't think anyone had expected this new editor on his first day to be talking about filing a motion against the Catholic Church.
"We had also decided to launch a parallel investigation, using the Spotlight team, whether we got the documents or not to determine whether the cardinal knew, and to determine whether this was a one-off.
"Originally my plan that day was to go around and meet people, as one normally does on a first day."
As the information came to light, "I knew that we had the most powerful institution in Boston on its heels and I knew that they would do everything possible to minimise the significances of this," Marty said.
"They argued that they were doing everything possible to implement reforms to take care of this problem once and for all, but it became evident, through our own reporting, that this was not the case.
"It was just an effort to continue the cover-up, so we kept on reporting and that's why we did 900 stories in the first year-and-a-half and spent nearly $1 million reporting this."
He added: "I would have felt guilty if we hadn't reported on it.
"You begin to wonder whether you are printing too many stories and we had to be careful that it didn't look like we were on a crusade.
"We didn't have an animus towards the Church and we were motivated by the desire to reveal the full extent of the cover-up and document the extent of the abuse."
The film points out that it "takes an outsider" to start the investigation.
Marty said: "I arrived in the city and didn't know anybody, so nobody was going to say anything to me initially.
"At a subsequent date, I got feelings from some in the Jewish community who were worried that it would reflect poorly on them and people would blame Jews for the crisis in the church.
"I also received a letter from a prominent person in town who was complaining about some aspects of the coverage, saying that it would never have happened under editors with names like . . . and every name he listed was Irish-Catholic.
"I wrote him a stern letter in response and he later apologised saying that my interpretation was not what he meant, but I was pretty offended by it.
"It did help that I didn't have any strong attachments to people in that community, no friends to placate, no school or church.
"The fact that I was completely independent and came in with fresh eyes on this story mattered a lot."
The investigation paused briefly because of the 9/11 attacks in 2001. Part of the news coverage was that two of the flights hijacked had come from Boston.
Marty recalled: "9/11 had to take precedent, although we were all anxious about putting the case aside for a while, but we had to as this was the first attack on America since Pearl Harbour.
"This was a national crisis and it was an event that shapes the country to this day.
"My job as a journalist is to maintain a distance from this, just cover it and act professionally."
Around six weeks later, the Spotlight investigation resumed and the stories began to come out with the first one being published on January 6, 2002.
The reaction surprised Marty, as he had been expecting protests outside his office that morning.
He said: "The newsroom had an eerie silence, there were no complaints because people were angry at the Church.
"It was so well put together and included internal documents so the community could see, for the first time, how it happened.
"The level of documentation was so thorough that nobody could credibly accuse us of engaging in anti-Catholic bias.
"I think the Catholic community was essentially stunned into silence."
Marty was impressed with the level of dedication shown by the team who created the Spotlight film as they went through every court document and spoke to every person involved.
He added: "When I met with Liev Schreiber, who played me, he came to speak with me at the old office of the Washington Post for around two hours.
"It became evident that this was not really an interview, it was an observation session for him to capture my every movement which would be displayed for millions to see.
"I was happy with the way the film came out and felt that it was faithful to the broad outlines of how the investigation unfolded."
Marty has high hopes for the film - and not just for its commercial success.
He said: "I hope it causes owners, editors and publishers to rededicate themselves to investigative reporting.
"I hope the public can reflect on the necessity of it and what it takes to do it right.
"I also hope that it causes everyone in society to listen to those who have been pushed to the margins of society and been left largely voiceless because they have important and largely powerful things to say."
On the future of newsprint overall, Marty feels that printed newspapers will be "a smaller and smaller part of what we do."
As for the Spotlight team themselves, Marty was happy to report that the team is still active and has expanded.
Spotlight has won numerous awards and has been nominated for a number of Academy Awards, including best film.