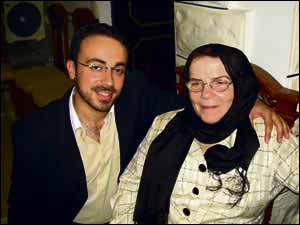 JEWISH PAST: Mark Halawa with his grandmother Rowaida Mizrachi
BY DOREEN WACHMANN
MARK HALAWA is still officially a Palestinian refugee, the son of a PLO activist, who was a contemporary of Yasser Arafat.
But Mark is also an Orthodox Jew living in Jerusalem, intent on improving relations between Muslims and Jews.
His maternal grandmother, Rowaida Mizrachi, was the daughter of a Jerusalem headmaster, a descendant of Turkish Jews.
At 16, Rowaida married an 18-year-old Palestinian-Jordanian soldier, Mohammed Al-Masri, who was stationed in the city. They settled in Nablus and she converted to Islam.
They later moved to oil-rich Kuwait after the 1970 Black September uprising when Jordan's King Hussein purged his army of Palestinians.
Mark's father, Jamal Halawa, was a Palestinian, born in Beit She'an under the British Mandate.
Like Arafat, Jamal went to work as an engineer in Kuwait in the 1960s.
"Every Palestinian engineer had a portion of his salary sent to the Palestinian Liberation Organisation," Mark said. "My father also spoke on behalf of the PLO."
Jamal went on to own a successful construction company which built some of Kuwait's popular landmarks.
But despite the family's prosperity, Jamal and his children still have Palestinian refugee cards.
Mark said: "I have a Palestinian refugee card which bothers my mind. We were never refugees. We were always blessed with a lot of good things and lived well."
Although registered as having Muslim identity, Mark's father was very anti-religious.
Mark said: "My family was secular. My father was not into religions. My dad kept us away from religion."
But Mark was not immunised against anti-Israel sentiments.
He recalled: "They told us in school that the Jews want to destroy Islam. In maths class, we were asked, if one rocket could kill seven Jews, how many would you need to kill 100 Jews?"
In 1990, the Halawa family were on holiday in Spain when Iraqi dictator Saddam Hussein invaded Kuwait. They never returned to Kuwait, but moved to Jordan.
Mark said: "The atmosphere was much lighter in Jordan than in Kuwait. I enjoyed my time there.
"I could watch Israeli TV. I had heard all these negative things about Israelis. But they didn't look like criminals, just normal mums and dads."
The family then spent some time in Canada before returning to Jordan, from where Mark went to university for a time in Syria.
But, having loved the free Canadian lifestyle, he eventually went to study industrial organisational psychology in London, Ontario.
And this led to him reconnecting with his Jewish roots and making his first Jewish friend.
It was at the advent of high speed internet that Mark conceived of a scheme to link Muslims and Jews online.
He said: "What we needed was to introduce people to each other face-to-face, to see that they are human beings just like us.
"People live in Canada in absolute peace. I thought we could bring the same to the Middle East."
He met a Jewish-looking man in his university library, called Dr Yitzchok Block.
Mark approached the retired philosophy professor about his project and asked him if he was Jewish.
Dr Block answered, "No, I just like to dress this way" and smiled.
"I was not used to people with beards smiling in the Middle East," Mark added. "I had learned a lot about Jews, but not that they were funny."
Mark began to tell Dr Block about his background, only to be informed that if his maternal grandmother was Jewish, then he was Jewish. The knowledge freaked him out.
His mother told him to stay away from anything Jewish and his grandmother broke down crying as she told him about her Jewish past.
Deciding not to upset his family, Mark put the knowledge of his Jewish identity on a back burner until he damaged his right wrist in a rollerblade accident.
Realising that it could be a sign from above not to abandon his Jewish heritage, Mark went to a nearby Chabad synagogue where he was overwhelmed with hospitality. The rest is history.
During a war between Israel and Gaza, Mark staged a demonstration at Toronto's York University to free Palestinians from Hamas.
He was approached by a rabbi to join a leadership trip to Poland and Israel.
Visiting concentration camps made him aware of the Holocaust, about which he had never been told in the Middle East.
He said: "The concentration camps opened my eyes to a reality I had never imagined.
"It connected me with my grandmother, who went through a spiritual Holocaust and lost her Jewish descendants."
It was in Poland that Mark decided he needed to marry and have a Jewish child to continue where his grandmother left off.
Not having sufficient documentation to prove his Jewish identity, Mark began a conversion process with the Toronto Beth Din.
After studying for more than three years at Aish HaTorah Yeshiva, Jerusalem, he was converted there.
He now lives with his wife, Linda, the daughter of a Lutheran priest from Finland who converted with his family to Judaism, and their baby daughter, Atara Esther.
Mark uses his Middle Eastern and Jewish connections to forge business links between the two communities and to encourage mutual understanding.
His first project was to import lulavim from Jordan and Abu Dhabi when the Muslim Brotherhood took over Egypt and banned the export of the palm branches.
He now acts as a business conduit between Israel and the Gulf states.
He also connects online in Arabic with people all across the Middle East.
He said: "I am one of the very few people who have come out and spoken up about leaving my Muslim identity behind.
"I have received thousands of supportive emails from Arabs who applauded me on the changes I made to my life.
"Today, it is better than ever to connect with young people in the Middle East through social media.
"Youngsters with new iPhones in Saudi Arabia can bypass government restrictions and access Facebook, YouTube or Twitter.
"This is the time to reach out to Arab youth and not leave them to be taken advantage of by Salafi extremists."
Mark is currently piloting the video Ask Halawa, in Arabic, to clear up misconceptions about Israel for StandWithUs.
Follow Mark on Twitter @HalawaMark