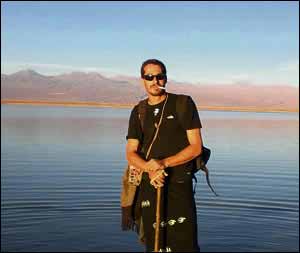 Elliot Ness-Singerman
By Simon Yaffe
THE first time Elliot Ness-Singerman received a phone call from rock star Fish, he thought it was a friend playing a joke.
The recording engineer simply did not believe it was the former lead singer of Marillion wanting him to work on his 1997 solo album Sunsets on Empire.
Elliot recalled: "I was seeing a girl in Oxford and we were having an argument one day when the phone goes.
"The guy on the other end goes, 'It's Fish from Marillion - can you come up to Scotland for an interview?'
"I thought it was a friend taking the p***, so I just said, 'yeah, very funny'. Fish said, 'no, this is Fish' and I went, again, 'yeah, very funny'.
"Fish said: 'Listen, do you want the f****** job or not?' He had been sent my CV and needed an engineer for Sunsets on Empire.
"Back in those days, before the internet, I would do a mail-out and send my CV to all the music studios. If I sent out 200 and received three replies, that would be good.
"That is how Fish got hold of my CV - it had been passed on to him.
"I went to Scotland to see him and we ended up getting on like a house on fire."
He was credited on the album as Elliot Ness.
The London-born 47-year-old now lives in Israel, having resided there on and off for the last 13 years.
Following Sunsets on Empire, he went on to produce Fish's solo albums Raingods with Zippos (1999), Fellini Days (2001) and Field of Crows (2004).
Fish had enjoyed huge success with Marillion, including top 10 hits with Kayleigh and Lavender, before going solo in 1988.
"At the end of the day, the buck stopped with Fish, but I had room to manoeuvre," Elliot said. "There were only a couple of chair-throwing moments!"
"Field of Crows is my favourite Fish album because it sounds like a band having fun.
"Nobody actually performed together, funnily enough. It was overdubbed."
Sunsets on Empire was produced by Steven Wilson, who later lived in Israel and formed Blackfield with Israeli musician Aviv Geffen.
"Steve is a musician and I am not," Elliot said. "He is also an immense talent.
"I saw myself on Raingods with Zippos as more as the captain of the ship and it was the same when I produced Fish's other albums.
"Funnily enough, on my first day living in Israel, I bumped into Steve in a cafe. I said to him, 'I can't get away from you, can I?' We were both laughing."
The Arsenal fan has come a long way since dropping out of school as a 15-year-old.
Growing up idolising David Bowie, Lynyrd Skynyrd and Neil Young, he first became interested in music production while at school.
"I was in some school productions, but I hated being on stage - I preferred the prop-building and the behind-the-scenes stuff," he recalled.
After leaving his education behind, he went to work at a north London music studio, helping to record local bands.
He moved on to become a tea boy at a music studio in Soho and from there went to work at the famous Britannia Row studios, Fulham, where Pink Floyd had recorded Wish You Were Here and Animals, as well as parts of The Wall.
Britannia Row was used by Stevie Wonder's touring production company.
And it was that link which led to Elliot working for the Motown legend on 90 shows across four continents for 18 months during 1987/88.
He ran 16 track backing tapes and mixed them for front of house and monitors during the concerts, while also acting as the tour's drum technician.
Elliot explained: "Stevie's people had a problem with one of their guys, so I was asked to go to Wembley to meet Stevie.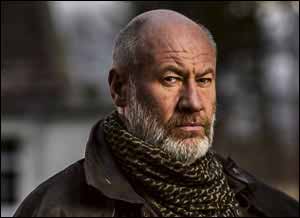 Fish

"It was totally surreal, as I had never done any live work.

"I went first to the conference centre at Wembley and I told them I was there to work, but I was told there was nothing happening there that day.

"I had gone to the wrong place, so I went over to Wembley Arena. I was pointed in a direction and saw Stevie.

"He is very funny and a nice guy and, of course, a musical genius. He also loved his practical jokes."

On his return to the UK, Elliot freelanced at a number of places, including Konk Studios, owned by The Kinks' Ray Davies.

He also worked on the Stone Roses' first album, and continued to work on live gigs, including more than 70 shows - in 16 countries for Fish - 200 shows as front of house engineering, including at Glastonbury, for Dr Didg, and 30 shows as front of house engineer for The Egg.

Elliot, who was raised in a culturally Jewish home was born with the surname Singerman - and only changed it once he started working.

He explained: "I worked on an album with Brian Eno, who is a god of mine. When it came out, I rushed to the music shop to see my name next to Brian Eno's - but it was spelled wrongly.

"Ness came about because a film called Pete's Dragon came out in the 1970s and the dragon was called Elliot.

"Then, there was a cartoon series called The Family Ness, plus The Untouchables (starring Kevin Costner as federal agent Eliot Ness), so I just put them together."

Elliot fell out of love with working in music studios, so he stopped working and went travelling through Africa.

"I was still doing stuff with Fish at the time," he recalled. "If he needed me for a session, he would send me an email, book me a flight and I would go home and then go back to Africa and carry on travelling.

"I was backpacking, so it was cheap and nasty. I had been working since my youth in studios - I'd spent too much time in them."

He still keeps in touch with Fish - born Derek William Dick - via Facebook.

Elliot, who first visited Israel when it was his sister Samantha's wedding, admitted he was "pretty anti-Zionist" in his younger years.

"I know it sounds incredulous now, but I was very liberal and left-wing," he admitted. "I have become a Zionist since I moved here.

"I do believe in our right to our ancestral homeland, just as much as the Scots have their right to their ancestral homeland."

Eno, one of Elliot's musical heroes, has long campaigned for the Palestinian 'cause'.

Elliot said: "The left is liberal with most things until it comes to Israel.

"I have seen it more and more on social media and have got into a lot of arguments with my liberal friends.

"I hear lies about Israel, such as it perpetrates apartheid and genocide. I mean, come on.

"When it comes to Eno, everyone has their own views.

"Sometimes I wish he would keep out of politics, but he is a human being like the rest of us.

"He has been an icon of the left for 30 years, so it does not really surprise me."

Since moving to Tel Aviv, Elliot has worked for sound and light companies and recently started working in the studio again for a number of Israeli artists, such as Zohar Ginsburg and Elad Koren, while working with Yehuda Poliker on his live show.

"Poliker is a long-time rock star here," Elliot continued. "He is kind of like Fish, but Israel's version, although obviously not as big.

"Music is a much smaller industry here. There are seven million people in Israel and many of them are quite old, so therefore they don't buy music.

"If you go to a gig with a good, young band, the place is usually empty, but if you go and watch rubbish, mainstream stuff, the place is full.

"Every musician I know in Israel has another job, such as playing in a wedding band."

Moving to the Jewish state has, he confessed, made him a more relaxed person.

Elliot explained: "I have become more Buddhist in my approach.

"If I am working on a live show, it does not matter if it is the worst show in the world - there is always another one.

"Working on an album, I would be stressing over and over. I have actually been in my studio mixing this week, but I sometimes find it torturous.

"I generally prefer recording, as it is much more fun."

Elliot has also worked with such names as Pink Floyd, The Fall, Primal Scream, Adamski and Seal, PJ Harvey, Wet Wet Wet, Moby and Supergrass.

Sunsets on Empire, Raingods with Zippos and Fellini Days have just been remastered. Each CD boxet features the original album plus two extra discs of demos and live tracks along with a 48-page booklet written by Fish. They are only available from http://shop.fishheads.club