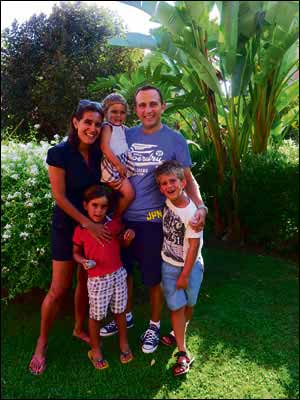 FAMILY LIFE: Samantha with husband Philip and children Zevi, Zeabella and Rafael
BY SIMON YAFFE
SAMANTHA Simmonds started her love affair with television by appearing on Blind Date.
The Sky News presenter was a contestant in 1993 on the Cilla Black dating show while reading history and communications studies at the University of Liverpool.
Leeds-born Samantha said: "I went with a load of friends to an audition for Blind Date for a laugh, as they were going around universities looking for people to take part."
Samantha - who picked 'Zenon from Inverness' as her date - had already had her interest in TV piqued following work experience on Yorkshire TV's Calender News.
"It was a good experience as it gave me a real insight into how television works," the 42-year-old said.
"It was an opportunity for me to ask lots of questions to experienced television people."
When Cilla Black died in August, Samantha tried to reach her former date as she thought it would make a fun piece for Sky News, but she could not find him.
Ironically, a few months later, Zenon connected with her on the networking website LinkedIn.
Since joining Sky News in 2005, Samantha has broken some of the biggest national and international stories of the past decade, including anchoring the rolling news coverage when Michael Jackson died.
Samantha was raised in the Alwoodley area of Leeds. Her mother, Shahnaz, arrived in the UK from Iran in the 1960s and now lives in Cheshire while her father, Stefan, still lives in Leeds.
Samantha's original career plan had been to become either an actor or lawyer.
But that changed when she was at university in Liverpool, where she began to write for the student newspaper.
And the spell at Calendar increased her desire to work in journalism.
Incidentally, her grandfather, Paul Simmonds, was a cameraman on Calendar and knew the news presenter Richard Whiteley.
"It was during my second year of my degree and as soon as I walked into the newsroom, I loved it straight away," Samantha said.
"I loved the interviewing and the immediacy of television news."
After a post-graduate course in broadcast journalism at London's City University, Samantha moved back north and worked for six months in local radio in Yorkshire.
It meant she saved enough money to travel for seven months, visiting Indonesia, Australia, New Zealand, Thailand and South Africa.
In 1997, Samantha landed a job as a news producer on the then- recently-launched Channel Five.
"I did everything from the ground up - floor managing and editing, together with journalism," she explained. "It was a good grounding for me in how a newsroom worked."
After nine months, she landed a job at BBC News 24, again as a producer.
It was around another year before Samantha got her teeth into reporting.
"If I look back at myself in front of the camera for the first time, I would probably look like a rabbit caught in headlights," she laughed. "It took a long time to feel comfortable with it.
"It was a case of feel the fear and do it anyway, even if it was nervewracking and frightening."
Samantha was the first to declare she wanted to go to New York City on 9/11, minutes after the second plane hit the Twin Towers.
"I stood up and told the producer I would go, so I was told to go home and pack a bag," Samantha recalled.
By the time she arrived at Stansted airport, she was joined by fellow journalists from BBC, ITV and Channel Five - but they all had to wait for two-and-a-half days as America had shut down its airspace.
"We eventually had to fly to Canada and we got a chartered plane to New York and set about work straight away," Samantha added.
"I will never forget getting closer and closer to Ground Zero and seeing the smoke. It got to me, knowing what was happening."
Samantha spent two weeks in America, including producing coverage from Washington DC.
While at the Beeb, she also covered the Soham murders in 2002, as well as the Potters Bar train crash in the same year.
And, three years later, she was on the scene as the 7/7 terrorist attacks in London developed.
Samantha said: "I was on the Tube on the way to BBC London and had to get off, along with the other passengers. We were told it was a power surge.
"I called the news desk and they told me to get down to Edgware Road, where I saw blackened faces. It was powerful and dramatic."
Later that year, Samantha joined Sky News.
She said: "I had been at the BBC for a long time so, career-wise, it was time to do something else or be at the BBC for ever.
"It was the right time for me and, after a couple of weeks reporting, they asked me to present."
Samantha has embraced the challenges which live television brings. It is not just a case of reading an autocue.
"You come in to work and do not know what the news agenda is," she said. "The news team decide which stories are to be covered. Breaking news is all ad-libbed.
"You have the producer talking in one ear at the same time as doing a live interview and the story is continuing to break, all while trying to compose your thoughts and think of the next thing to say.
"There are so many challenges, but I love the adrenaline and the pressure. Your abilities are really put to the test - you are totally exposed."
Samantha was on-air during last December's Sydney hostage crisis, as well as during last October's shootings at the Canadian Parliament and in 2012 during the mass shooting at a Colorado cinema.
"I had to interview live witnesses who had run out of the cinema fearing for their lives," she recalled.
"You are reacting to events on live television, so you have to get the tone and the questions right."
Work doesn't stop outside the studio for her, either.
When two Greater Manchester Police officers were shot dead in September, 2012, Samantha raced to the scene as she was in the city for yomtov with her Manchester-raised husband, Philip Davies, and their children.
"I called the news desk and asked if they would like me to go and ended up presenting the live coverage for several hours," she said.
But it is not just sad events which Samantha has covered - she also presented live outside Buckingham Palace for the wedding of Prince William and Kate Middleton, as well as the London 2012 Olympics opening ceremony, in which her husband took part.
Samantha was raised in a "culturally Jewish" home. She "re-connected" with Philip in shul one Yom Kippur.
"We had known each other for many years," she said.
The couple married eight years ago and have three children -Rafael, seven, five-year-old Zevi and Zeabella, two.
A former member of the Jewish youth movement Habonim Dror, Samantha admitted juggling family and working life does have its challenges.
She explained: "I am super-organised and always have been, but it can be stressful - especially if things change at the last minute.
"When I finish work, I just go home and back to being mum again."
Samantha, who writes a blog about her work and family life, is not recognised often, but when she is, it can prove to be amusing.
"I rushed to Ikea straight from work the other week and this bloke turned around and said, in front of his wife: 'Weren't you in my bedroom this morning?'," she said.
"I had a laugh and said to his wife, 'Yes, I am really sorry about that'.
"People are usually very nice and when they know my name it is even more surprising."
Visit www.samanthasimmonds.com and follow her on Twitter @skysamantha