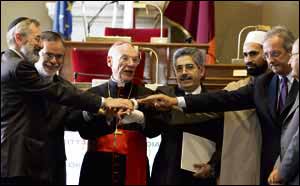 LINKING UP: In 2006, Rome's Chief Rabbi Riccardo Di Segni, left, met with, from left, St Egidio Community president Andrea Riccardi, Pontifical Council of Interreligious Dialogue's French Cardinal Paul Jean Poupard, Secretary of the Islamic Cultural Centre Abdallah Redouane, Rome Mosque Imam Sami Salem, Rome Mayor Walter Veltroni, and Leone Pasermann, president of the Jewish community of Rome

BY DOREEN WACHMANN

JEWS have lived continuously in Rome since the time of the Maccabees in the pre-Christian era.

But their presence has not always been easy, as for centuries Rome was the centre of Christian antisemitism.

In fact, the first ghetto for Jews was built in Rome in 1555.

However, since Nostra Aetate, the ground-breaking papal document which radically changed the Catholic Church's relationship with Judaism 50 years ago, the situation has changed dramatically for the better.

The man currently representing the Rome Jewish community in its relations with the Pope is Chief Rabbi Riccardo Di Segni.

Di Segni is a chief rabbi with a difference. Most chief rabbis outside Israel are chief rabbis of countries, not just of capital cities.

But Rome, with its autonomous Vatican City, is important enough in its own right to have its own chief rabbi.

The other major difference between Rabbi Di Segni and other chief rabbis is the fact that until recently he was a part-time chief rabbi, working in the mornings, heading the radiology department of Rome's San Giovanni Hospital.

But, although unusual nowadays, the model of a rabbi combining his rabbinical duties with another trade or professional was an ancient Jewish tradition recommended by the mishna.

In fact, in combining a medical career with the rabbinate, Rabbi Di Segni is following in the footsteps of no less a rabbinical luminary than Maimonides.

He said: "Once it was the rule that rabbis did their personal jobs and devoted part of their day to studying and teaching. Now it is very unusual. With a lot of effort I am trying to keep this model alive."

Historically, the ancient Rome Jewish community has been homogenous. But Rabbi Di Segni's background is more mixed.

His father came from an ancient Jewish family from the town of Segni, 50 kilometres from Rome.

The family was recorded as being in the Rome Ghetto in 1555.

His mother, on the other hand, was of Romanian and Bulgarian origin. The daughter of a Bulgarian rabbi, she came to Rome to study.

Rabbi Di Segni said: "It seemed strange at the time. Jews have lived in Rome for so many years that they have developed their own particular style of Judaism. Each new arrival was looked upon as something very unusual."

But he said: "My mixed origin gave me a particular approach. Having relatives all around the world made me more open-minded.

"It made me feel part of a very wide family of Jews all around the world."

Yet Rabbi Di Segni's education was very Italian Jewish in style, combining secular studies with rabbinic ones. Probably because of the relatively insular nature of Italian Jewry, it has been less influenced by the recent tide of charedisation, which has affected other Jewish communities worldwide.

Rabbi Di Segni qualified in medicine at Rome University at the same time as he gained his rabbinical ordination from the Italian School for Rabbis.

I asked the rabbi about this school for rabbis. Was it a yeshiva? No, he answered.

He said: "It is different from a yeshiva. It is a seminary for teaching for the rabbinate."

That is certainly a concept which is currently alien to British Jewry, with its accent on purely yeshiva education and more reminiscent of the 20th century Jews' College.

But Italian Jewry seems to have retained that broad-minded 20th century Jewish approach with its attendant problems of assimilation.

Indeed, Rabbi Di Segni's biggest challenges lie not in papal relationships, which are extremely cordial as long as Israel is left out of the conversation by the rabbi who shuns politics in his interfaith work, nor by antisemitism, which is thankfully minimal, but in counteracting assimilation.

He said: "My biggest problem is to get Jews to be more observant."

Rabbi Di Segni's predecessor, Rabbi Elio Toaff, used to be lenient over conversions, allowing the children of non-Jewish mothers and Jewish fathers to be converted at birth.

Rabbi Di Segni has tightened the conversion policy, which has brought much criticism from locals affected by the issue.

The chief rabbi is very much a scholar.

In the days before he entered the professional rabbinate he published works on the reasons for kashrut, as well as on a social anthropological approach to Jewish legends, including those about Jesus and Christianity.

Since he became chief rabbi in 2001, Rabbi di Segni has had cordial relations with popes John Paul II, who died in 2005, Benedict XVI, who resigned in 2013, and Francis, the current pope.

Rome's Jewish population, which currently numbers around 13,000, has been affected by demographic contraction, through aliya and emigration as well as assimilation.

The community is officially Orthodox, although Rabbi Di Segni says: "People behave as they want. But the prevalent style is modern Orthodox."

It is only in Rome that a chief rabbi would be found joining a protest on behalf of a group of Jewish families who were banned from selling Christian souvenirs outside the Colosseum.

Rabbi Di Segni said: "I supported families who are now without a livelihood."

The chief rabbi, who is a member of the standing committee of the Conference of European Rabbis, said: "The Jewish community in Rome is the oldest in the western world.

"Our continuous presence was a result of providential design. We have to witness at the centre of what was once a very hostile world.

"In past centuries the Church was one of the leaders of persecution and hostility against Jews. My aims are to establish a relation of friendship with the Church and to keep the flame of Judaism burning in Rome."