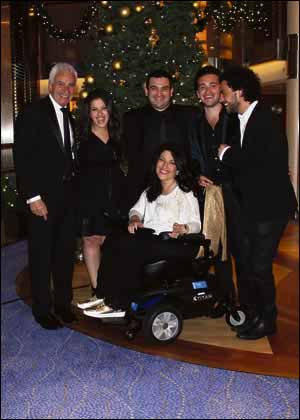 LOVING: John with his children, Serena, Sam, Joey and Ben and wife Danielle
BY DOREEN WACHMANN
LANCASHIRE'S only Jewish deputy lieutenant is proud of the fact that he can make a difference to his local community by acting as the Queen's representative on the Fylde Coast.
John Barnett was born into an extremely charitable family. His parents Leslie and Anita Barnett were founders of the Committee for Aiding Deserving Societies (CADS) in Blackpool.
John recalled: "When I was around 11, my father was chairman of CADS. I was brought up to hold events on the Promenade.
"I collected money as a very young boy and I have continued to do that all my life."
John left school at 16 and took on various jobs on Blackpool's Promenade. But his favourite occupation was as a DJ.
His lifelong interest in the music industry led him to found Stardream Ltd, an entertainment and events consultancy, now run by his sons Sam, Ben and Joey.
Ben, who performs as the Sax Man, recently won a London Club and Bar Award for best entertainer. John also has a daughter, Serena.
Besides entertaining the general public, Stardream also played music at many Jewish weddings and barmitzvahs all over the country and more recently installed the sound system at St Annes Hebrew Congregation for the induction of Rabbi Ephraim Guttentag.
A lifelong member of Blackpool Hebrew Congregation, John is now a member of the St Annes community, after the two Fylde Coast synagogues amalgamated.
With his passion for music and entertainment, John's dream was to start his own local radio station.
This was realised in 1992 when he founded Radio Wave. John and wife Danielle had won an independent licence to found Radio Wave the previous year as a test to see whether a small commercial radio station could survive.
He said proudly: "We were very successful and used as an example for the development of independent radio across the whole country."
Indeed, in 2000, John was awarded an MBE for services to radio broadcasting.
Radio Wave is now owned by Ulster TV Radio, but John still acts as chairman.
Naturally John used his radio station as a means of raising money for local charities, including millions of pounds for Blackpool's Victoria Hospital's MRI scanner and cancer unit, Trinity Hospice and Donna's Dream House for terminally ill children.
Then a cause for concern came much nearer home.
His Southport-born wife Danielle, nee Goldberg, became wheelchair-bound with multiple sclerosis.
Danielle would not allow herself to be a charity case, but used her indisposition to help others.
John said: "Danielle is a remarkably unbelievable woman. She thinks she is fortunate because there are people less fortunate than her.
"Although she has secondary progressive MS and can't walk at all, she smiles a lot and always thinks of others more than herself. She is very active and is involved in most things I do.
"Danielle is an inspiration to so many. Behind every good man is a good woman.
"She was a very successful businesswoman, running the party company Party House. I am proud of her."
On Danielle's instigation, John became a joint founder and patron of the Blackpool Carers Centre with her.
John recalled: "Danielle got me into it. Local philanthropist Trevor Hemmings invited Danielle and me to set up a carers centre in Blackpool."
The project was announced when Princess Anne spoke in Blackpool during Carers Week in 2004.
The centre was opened the following year with much fundraising help from Radio Wave.
Now the Blackpool Carers Centre, renamed the Carers Trust Fylde Coast, has just purchased a new building with the help of the Beaverbrooks Charitable Trust and John and Danielle have embarked on a million pound fundraising campaign to make the new premises fit for purpose.
John said: "We want the new Beaverbrooks House to be an absolute flagship, a centre of excellence to be hopefully emulated across the rest of the country. The new centre will secure the future excellent service and delivery for carers across the Fylde coast."
I asked John whether he considered himself Danielle's carer.
He replied: "Danielle has a helper at home, whom she calls her personal assistant. She does need help, but Danielle is my carer."
John was appointed Lancashire deputy lieutenant in 2007. His role is to support Lancashire's Lord Lieutenant as the county's royal representative.
Occasionally he stands in for the Lord Lieutenant at events around the county.
He recently received the flag on Armed Forces Day and dedicated a new Blackpool lifeboat.
He officiates at citizenship ceremonies.
He said: "There is always a royal representative to welcome new British citizens into the county where they have chosen to live.
"I love being deputy lieutenant. The whole thing is looking out for people less fortunate than oneself.
"I attend committees and meetings, am a patron for organisations, help with the governance of charitable organisations and support corporate social responsibility.
"I help people enter for the Queen's Awards for Voluntary Service. We support the great work the Royal Family does to help people and charitable organisations."
He added: "We are all brothers and sisters in one human family, no matter what religion or colour we are.
"It doesn't matter what religion we are, as long as we follow the laws of the land, as long as we all respect each other's beliefs and help others. That's what we encourage new British citizens to do.
"It's a wonderful honour being able to do something that makes a difference. If you can help somebody or make a difference to an organisation, it's brilliant."