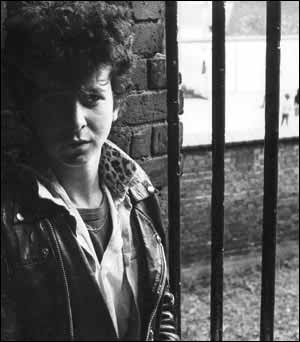 IN THE PICTURE: Andy Rosen in 1977
BY SIMON YAFFE
ANDY Rosen has long since ditched his camera professionally. But a five-week exhibition showing previously unseen photographs of the early British punk scene may develop a new interest in his work.
The End of Generation X will launch on Wednesday (6.30pm) at the Proud Gallery, Camden, London. It will be followed by an evening of live punk bands.
"I didn't feel that motivated to exhibit my work since I left London in 1984," Los Angeles-based Andy told me.
"In the back of my mind, I thought I should leave my photographs until they became more historical.
"Around five or six years ago, I came back to London to help my mum and dad move house.
"I found a box of my old images and took it back to LA, where I slowly went through them."
On a following visit to London, he took a walk around Camden and was amazed at how much it had changed in nearly 30 years.
"I was overwhelmed, so I dived into the nearest building which turned out to be the Proud Gallery," Andy recalled.
"The main gallery is such an incredible space, so it suddenly hit me, if I was to hold a exhibition, this would be the perfect place.
"It has all come kind of full circle."
A few of the highlights to be unveiled publicly for the first time include photos of a young Boy George working the cloakroom at Soho's Blitz Club, out-takes from the cover shoot for The Jam's Setting Sons album, a slew of live shots of The Clash and intimate portraits of The Sex Pistols' Johnny Rotten.
Andy's passage into the world of photography came by way of his father, Gerald.
"Dad was an avid photographer back in the day," the 54-year-old said. "He taught me the technical side - I remember going into his dark room, which was in the attic.
"I had to climb a ladder and go through a hatch to get in there.
"I have great memories of those days."
Andy left school in the summer of 1977 - and moved into a squat in Camden Town.
He sold hand-printed T-shirts at nearby Camden Lock Market.
Andy explained: "In those days, living in a squat did not have bad connotations - it was quite normal. It sounds more dramatic now than it was.
"I suppose I was a bit rebellious, but I always had a job.
"I left school because it was the time of the three-day week - we were the no-hope generation."
And the bleak time stoked the emerging punk music scene.
Many of its adherents were neo-Nazis, while others were supporters of anti-racism groups.
Andy, who said he never encountered antisemitism in his career, told me: "I saw swastikas, but a lot of these kids did not know what it meant.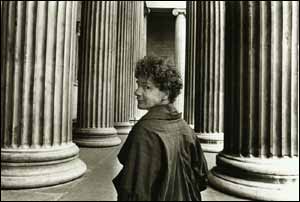 LOOKING BACK: Andy Rosen's photograph of Jewish punk svengali Malcolm McLaren, which features in his exhibition

Picture: Andy Rosen

"They were just grabbing on to symbols, as many juveniles did.

"It might have looked like that in the press, but most didn't see it first-hand.

"If I'd asked them if they knew about the Holocaust, they would not have understood."

Andy, who was already a keen amateur photographer, began his career as a paparazzi on Fleet Street, working for the Evening Standard and the Evening News, as well as the high-brow Ritz Magazine.

"Back in those days, you had to go and learn the craft," he continued.

"Photography wasn't hip in those days and was not a 'glory' profession.

"Punk was just beginning and, one day, I walked into the office of Record Mirror.

"I showed my portfolio to editor Alf Martin and he took me under his wing. Once you were in, you were in."

Andy later worked for NME, Sounds and The Face, among many other magazines.

He also turned his focus on iconic band The Jam.

Andy's shots were used on the A Town Called Malice single cover and the Setting Sons album cover.

He also photographed many of their live gigs - including their final one in December, 1982, in Brighton.

"Paul Weller rang me up and said 'come and capture our last gig'," Andy recalled.

"My photograph of the guys waving to the fans at the end of the concert became one of my favourites."

Disillusioned with Britain by 1984 - especially its music scene - he headed Down Under.

"The music scene by then was pretty bad and lost," Andy said.

"All the bands were wearing frilly shirts and were effeminate. It was the opposite of what I was used to."

So he headed to Australia with his trusty camera equipment.

"There was an incredible music scene bubbling under in Australia," Andy continued.

"The lifestyle was the complete opposite of what I was used to - it was all outside.

"A few years earlier, I had been sent to Holland to cover an INXS concert and spent time with (frontman) Michael Hutchence and the band.

"On my second day in Sydney I was in a club and I bumped into Michael and he remembered me."

The chance meeting led to Andy shooting the Australian band for their breakthrough Listen Like Thieves album.

Having to move on because of his visa and what Andy describes as a "small market" in Oz, he first went to New York City and then Los Angeles.

"New York was too similar to London, so I went to LA," he said.

"People say to me about LA, 'where is the culture?', but the culture there grows around you."

While in LA, he worked for a French news agency out of Hollywood and snapped many stills for film posters, including working with such star names as Kiefer Sutherland and Robert Downey Jr.

He soon tired of music photography, as the LA music scene was all "heavy metal, Spandex and long hair".

Andy founded a talent management and production company, The Underground, with Island Records founder and legendary music mogul Chris Blackwell, who is also Jewish.

"It was around the birth of the MTV generation, so we understood that videos and commercials were the way forward," explained Andy, who is married to Peggy.

"We worked with many artists, but then the market changed.

"The internet was coming in and soon everyone thought they were directors."

Moving into a totally different sphere, Andy started a software company, a multimedia design company and a web application to cast films online.

It was utilised by Universal Studios to cast the 2003 film American Wedding, part of the American Pie franchise, which was directed by Andy's friend - and Bob Dylan's son, Jesse.

"I am quite a spontaneous guy," Andy said, in response to my question of his eclectic career.

"I am the guy who jumps in the shallow end and then learns how to swim."