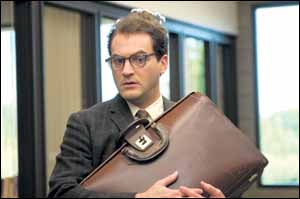 FALLING APART: Michael Stuhlbarg as Larry Gopnik in A Serious Man
Click here to view a clip from A Serious Man... (Windows Media)
WHISPER it quietly, but actor Michael Stuhlbarg should be a household name within the next few months.
Well, mainly in Jewish households.
The 41-year-old plays neurotic university professor Larry Gopnik in the Coen brothers' new film, the black comedy A Serious Man.
"I kept asking periodically Ethan and Joel (Coen) if I was in the running - they took six weeks to put me out of misery," Michael told the Jewish Telegraph.
Michael does indeed look like a serious man, but has a warm and friendly manner, which, no doubt endeared him to the Oscar-winning Coen brothers.
The film is set in 1967 St Louis Park, Minnesota and focuses on family man Larry, who is struggling to hold his brood together.
Wife Judith (Sari Lennick) is seeking a divorce and wants to move in with patronising family friend Sy Ableman (Fred Melamed).
Children Sarah (Jessica McManus) and Danny (Aaron Wolff) are running wild and Larry's socially inept brother Arthur (Richard Kind) is living in the family home - hogging the bathroom as he drains his sebaceous cyst.
Larry turns to Judaism, but the three rabbis he speaks to are all unhelpful.
Michael said: "I think it is a universal story about someone trying to get through life as best he can with lots of bad things going on."
Michael, who was born and raised in Long Beach, California, was more noted for his work on stage than in film.
His link with the Coen brothers began when he kept crossing career paths with actress Frances McDormand, the wife of Joel.
Michael recalled: "We first met through a children's theatre company in New York called the 52nd Street Project.
"Children write the plays and professional actors and directors act them out.
"We later got cast together at the Lincoln Theatre, which is also in New York."
McDormand brought her husband to see Michael in David Mamet's The Voysey Inheritance.
The Coen brothers don't like to do things the easy way and asked Michael to audition for the Yiddish-language mini-film which opens A Serious Man.
He had to study Yiddish for that audition.
Michael explained: "Five months passed by and then I was asked to read for uncle Arthur and Larry - they were laughing during my audition, so I think I made them happy.
"They finally told me I had the part of Larry just as they started shooting the film - and I was just happy to have one character to work on."
And to immerse himself into Larry's persona, he learned about physics with a professor from Massachusetts,
"He sat down with me and explained everything - so I could feel confident during Larry's physics scenes," Michael said.
The film has an almost all-Jewish cast - but most of them are an unknown ensemble in the film world.
And open auditions for the roles of Larry's children Danny and Sarah were held at the Sabes Jewish Community Centre in Minneapolis.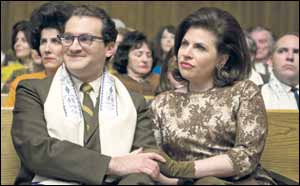 PROUD PARENTS: Larry Gopnik (Michael Stuhlbarg) and his wife Judith (Sari Lennick) celebrate their son's barmitzvah

But does Michael think it is dangerous for the Coens to make such a Jewish film?

He revealed: "I honestly do not think it is a gamble, although truthfully, it probably resonates more with Jews.

"I think you have to take it for what it is. But I love the film, obviously, and I think lots of people will enjoy it.

"I love Ethan and Joel's work ethos and their sense of humour and I think that comes through with the film.

"The narrative of the film is unique. You are taken into a world which has not been seen too often before on film.

"These are Jews who are doing their best to assimilate themselves into the American mainstream society, but all their customs, traditions and worries are still there."

Michael's upbringing was a world away from the Jewish Midwest community portrayed in A Serious Man.

And he was not a victim of antisemitism, unlike the thinly-veiled race hate that is apparent from Larry's next door neighbour in the film.

In Long Beach, Michael attended a Reform Jewish synagogue, where he celebrated his barmitzvah.

He recalled: "There was a real mix of ethnicity and people.

"I went to Jewish summer camps, cheder and the local Jewish community centre.

"I felt, like the Gopniks do in the film, a part of something, and it was hard not to become immersed in it.

"I guess it was a big part of my childhood."

Michael took up acting at the age of 11, appearing in local plays and shows.

After training at New York City's prestigious Julliard School, he studied acting at the National Youth Theatre of Great Britain, the University of London and the University of California.

All the guidance and tutoring he received in the art of acting let Michael make a name for himself in the theatre world.

Awarded a Drama Desk gong in 2005 for his role in The Pillow (he also received a Tony Award nomination), he has appeared in numerous television series, including Ugly Betty, Law and Order and The American Experience.

He also appeared as a lawyer in Ridley Scott's Body of Lies and as a chassid in the much-maligned 1998 film A Price Above Rubies, which was set in the heart of Brooklyn's Orthodox Jewish community.

New York City-based Michael has noted the differences between performing on stage and screen.

He explained: "You do not have to do as much vocally when you are in front of the cameras - the cameras capture everything, they can see your thought process.

"But I have really only been doing TV and film work for the last six years or so.

"There is a great sense of comfort in theatre, especially if it is going well, because you can sense and feel the audience's reaction when you are acting on stage."

However, his preference for the theatre is not stopping Michael pressing ahead with his television and film career.

He started work on Martin Scorsese's new HBO series Boardwalk Empire last month.

Based on the origins of gambling Mecca Atlantic City's boardwalk, it is from the same people behind the multi-award winning The Sopranos.

He plays Jewish gangster Arnold Rothstein and is excited about getting his teeth into the role - as well as working with Scorsese.

Michael added: "Marty is a fun guy and he is so passionate about what he does."

A Serious Man is released next Friday.