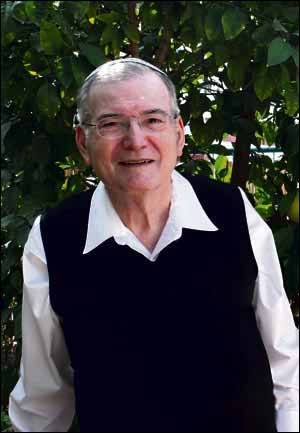 Picture: Lori Polly Nimoy
ISRAEL Rubin was born in 1932 in a little village near Haifa. As a young child, his religious father took him to pray at the Kotel, where he became aware of the "ruthlessness" of the British Mandatory authorities in restricting access to Jewish worship.
Israel recalled: "The British patrolled a narrow aisle in front of the Kotel. Jews were not allowed to blow the shofar there.
"They were not allowed to sit near the Kotel, only stand. Even my ailing grandfather was not permitted to sit. The British were ruthless."
Now, aged 82 and recuperating from neurosurgery, Israel, who returned there in 2005 after a long sojourn in America, has written a book about his beloved Kotel.
His professional experience as an engineer led him to marvel at the Wall's construction as well as at its tragic history and its magnetic appeal to Jews and non-Jews.
The narrator in A Stone Speaks - The Voice of the Kotel (Mosaica Press) is a stone of the Western Wall, which recounts Jewish history from 1150 BCE to the present day as it describes its pent-up emotions at all the tragedies and some of the jubilations which have taken place before it.
Israel's own family history is the subject of his coming books. Determined to fight his debilitating physical conditions, he is currently in the process of completing a book on the history of the Krymchaks.
His father, Eliahou, was born in Crimea to a Krymchak family whose ancestors dated back almost 2,000 years to survivors of the Bar Kokhba Revolt.
Unlike most of their Jewish neighbours who were Karaites, Israel stresses that the Krymchaki were rabbinic Jews.
Israel is also in the process of writing his autobiography, From Palestine to Israel and Back Home to Israel, as well as a volume of his collected writings.
Unlike his father, Israel's mother, Rebecca, came from a secular Russian Jewish family.
She was the first woman - and the first Jew - to graduate from St Petersburg Conservatory of Music.
An ardent Zionist and youth leader of Hashomer Hatzair, she was incarcerated in Siberia where she was given the choice of abandoning her Zionist beliefs or leaving the country.
She chose the latter and fled to then-Palestine where she eventually met Eliahou, whose family had fled the Crimea after the First World War and the onset of communist rule.
As a manager in Shemen Industries, in charge of 1,000 employees, Eliahou and his family were given a six-month European holiday in the summer of 1939.
After visiting Greece, Italy and Albania the family ended up in Paris in August.
Israel, who was seven at the time, recalled: "We were in a Paris hotel. My father came back one morning with his face white like a sheet.
"Apparently the French government had threatened to mobilise all foreign nationals between the ages of 18 and 56. We decided to return to Palestine. But the British, implementing their White Paper, barred our return, although we were British citizens with Mandate passports. All our possessions remained in Kiryat Hayim."
With brothers in New York, Eliahou took his family there, obtaining the last cabin on the Queen Mary.
Israel qualified as an engineer and management consultant at the prestigious Cooper Union and Massachusetts Institute of Technology.
After a high-powered career in these industries, Israel retired to devote himself to the campaign for Soviet Jewry and subsequently teaching Judaism to Russian Jews who settled in New York and New Jersey.
He recalled: "The first meeting of the Students' Struggle for Soviet Jewry was held in the basement of our home.
"When Perestroika opened the gates, many of those Jews who ended up in America had never been to synagogue before. I worked patiently with them eventually and was able to influence some of them to adopt an observant lifestyle."
Israel was also active in the International League for the Repatriation of Russian Jews, which was composed of top American professionals who both used their influence with American politicians and smuggled religious objects to Soviet Jews when they visited to give seminars there.
Israel's first writing success was at the age of 14 when he won an essay competition. He subsequently had many articles published in journals all over world.
When, following in the footsteps of his married daughter, he made aliya in 2005, he devoted himself more fully to his writings.
A Stone Speaks - The Voice of the Kotel not only depicts virtually the whole of Jewish history, but also Israel's views on recent events.
He writes of current Islamic attempts to a superior claim to Israel and Jerusalem.
"The legitimacy of the Jewish claim to the Holy Land extends back 4,000 years to Abraham," he wrote.
"There is no basis for the Arab entitlement either in biblical history or in archaeological findings. I find their contention that Jerusalem be the capital of state outrageous.
"Why isn't Jerusalem mentioned even once in the Koran? The Jewish presence in Jerusalem preceded the Muslim arrival by more than 1,500 years."
He describes Moshe Dayan's "gesture of goodwill" of allowing the Jordanian Waqf to administer the Temple site as a "staggering blunder".
He writes: "Instead of appreciating our magnanimity, the Muslims have rewarded us with four decades of hate-filled killings."