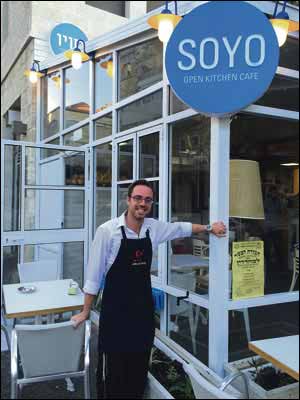 KOSHER DELIGHTS: Josh Steele
BY ZOE COHEN
NEVER play with your food is one thing that Jerusalem-based chef Josh Steele didn't follow growing up.
For the London-raised chef is now tingling people's taste buds by showing kosher food can be just as tasty as non-kosher food.
Last year, Josh was the only Orthodox contestant to compete on Masterchef Israel.
Though he didn't win, his unique style of cooking was noticed by fellow chefs and opened many doors for career opportunities.
He said: "A lot of chefs saw I was not cooking in the standard way that others were.
"That was my culinary style, there was no way I was going to change it.
"The experience was amazing, but stressful and difficult as I was the only person to cook kosher on the show.
"I am stopped on the streets in Israel, but the difference is, in England I would be recognised as 'that guy on television'.
"But in Israel, people stop me and notice me for the work I have done and wish me blessing and success in my career."
The first dish he made which caught his competitors' eyes was based upon a rather sweet dream.
Josh explained: "I had a dream that was based on Charlie and the Chocolate Factory.
"I opened a blank menu and could pick anything to make with pasta.
"So I picked chocolate ravioli filled with walnuts, wrote the dream down and this became my first iconic dish."
The 30-year-old is now the executive chef of the only mehadrin kosher restaurant in Emek Refaim, Jerusalem, called Soyo.
He described it as a "fine dining experience".
Josh added: "The competition is a lot higher in Israel.
"We have put an English twist on the food with scones and cheeses, which work well with Israeli flavours.
"I wanted to include international forms of cuisine on the creative menu."
Josh was raised in a traditional Jewish family in Edgware, north London.
He recalled: "I would always go to the United Synagogue with my mum.
"My grandfather had passed away soon after I went on Israel tour at 16.
"I was studying philosophy at the time, which made me wonder if God exists.
"I rejected yiddishkeit and decided to go to Tenerife with my friends the next summer.
"My parents wanted me to go on an Aish trip to America."
To his surprise, Josh didn't enjoy his Tenerife experience and came to an agreement with his mum to go on the Aish trip.
He said: "I knew this was a wake-up call. I went on the trip with open eyes.
"We had a nine-hour overnight coach journey from New York to Niagara Falls, so I had a discussion with Rabbi Moshe Mayerfeld, who convinced me that God existed and through this I became more religious."
Josh, known to many as 'The Steele Chef,' explained that he has always had a knack for cooking.
He said: "When I was a kid I loved my grandma's cooking. I asked her how to cook when I was seven and she taught me how to make a pavlova.
"I would come home after school and, like any Jewish mother, she would prepare these large meat meals, so I never had the need to cook.
"As I grew older, I cooked a meal for my friends once a year. One day I had my first Indian meal at a restaurant and was blown away.
"Every mouthful was a different sensation like I had never experienced before.
"I wanted to recreate this in a kosher-style and took into account other traditional Jewish cuisine."
The Kings College University graduate studied for two years at Aish HaTorah, Jerusalem, and five years at Mir Yeshiva, Jerusalem, and gained semicha from Rabbi Zalman Nechemia Goldberg.
While deciding whether or not he could stay in Israel, his friend from New York recommended an American girl to him, Elana.
She had just finished reading physiotherapy for seven years and was spending six weeks in Israel.
The couple hit it off and married in June. They live in Katamon, Jerusalem.
Josh also runs a widely-read blog on the Jerusalem Post website called Appetite For Perfection with The Steele Chef.
In every post, he challenges himself to make a creative dish for a large group of people whether it is for an event or family.
Josh said: "Right now I am making a big breakfast for my cousins.
"It includes a 200-year-old recipe for butternut squash jam that I am experimenting with.
"All of the elements use classic French techniques for elegance.
"One of the advantages of having this restaurant is that I am able to invite youth groups and organised trips down for a meal at a cheaper rate for the programme.
"I speak to them about my story and am showing people that kosher food does not have to taste disgusting.
"It is amazing to be part of people's moments and for them to appreciate the food."