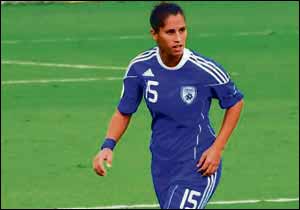 PICTURE: DANIEL ENI
BY ALLON SINAI
IT was while lying in a hospital bed that Israeli football star Oshrat Eni made a decision that would change her career forever.
She was already an accomplished player, arguably one of the best in the country.
Oshrat had been an integral part of the Israel national team for more than a decade, while also winning eight local championships and State Cups.
However, while bed-ridden by a lung infection, she realised she could achieve more. She knew that she hadn't fulfilled her potential.
Almost two years later, Oshrat is finally on her way to doing so.
The 30-year-old signed with Belgian giants Anderlecht on her birthday in August - and will be only one of two Israeli women to play in Europe this season, along with goalkeeper Meirav Shamir.
Anderlecht play in the BeNe League with the top teams from Belgium and the Netherlands and are currently fourth place with four wins from six matches.
They are just three points behind joint leaders Twente, Standard Liège and Ajax.
"It was like a wake-up call," Oshrat said. "I told myself that what I had done until now was nice, but it wasn't enough.
"Playing for the national team and winning championships and cups is nice, but I never had to work really hard to achieve that."
Oshrat hired a personal trainer to build up her fitness and contacted an agent last year in the hope of finding a team in Europe.
She had some trouble before she managed to put together a DVD of her highlights, as almost none of the Israeli league's matches are televised.
There was some initial interest, but nothing concrete until her agent called the day before the close of the transfer window.
Oshrat insisted that money wasn't her motivation to move abroad, but it will certainly be refreshing for her to earn a reasonable salary after having to make ends meet with the meagre pay she received in Israel, often several months late.
"During the six months that the league is taking place I did my best not to work anywhere else, and if I did, it was only part-time so that I could focus on soccer," Oshrat explained. "I put my all into soccer.
"As a result, in the six months in which there is no league play, I had to work in two jobs. The bank couldn't care less that I am a footballer.
"Top players in the Israeli league can survive on their salary, but they can't count on it, as often it is not paid on time."
While progress has been made in women's football in Israel since Oshrat began her career 15 years ago, there remains plenty of room for improvement.
"The girls put in a lot of hours apart from training with the team and they are desperate that the Israeli league will become more professional," she said.
However, that is about to change, with the Israel Football Association directing all Premier League clubs to open a women's team next season and a women's youth side the following year.
Oshrat believes there will be another positive development next summer when Israel hosts the 2015 UEFA Women's Under-19 Championships.
"The championships are a big and important step," she added. "As soon as people are exposed to top quality women's football and get to know the players, it will benefit the sport."
Oshrat also works to promote women's sport in Israel by lecturing in schools, as part of the Athena project, the national council for promoting women's sport in Israel.
Despite playing for Israel for more than a decade and captaining the side for three years, Oshrat was dropped from the squad by coach Meir Nahmias ahead of the 2015 World Cup qualifying campaign.
She admitted she was stunned by the snub, but continues to back the team.
Israel defeated European Championship semi-finalists Denmark 1-0 on the road in their final qualifier last month.
Oshrat described it as the team's greatest-ever win.
The blue-and-white ended qualifying Group C in fourth place with 12 points.
"I think this campaign symbolises a change," Oshrat said.
"As soon as more players go abroad, the team will improve and will be able to build on its recent success."
Oshrat is hopeful that she will make a return to the national team and help it to even greater accomplishments.
In the meantime, she is focused on cementing a starting role at Anderlecht, while keeping one eye on the next challenge.
"I hope I am good enough to play in the best leagues in Germany, Sweden and France," she said.
"I believe I am and I know I can do it."
(Jerusalem Post).